Discover more from VeradiVerdict
A weekly newsletter by Paul Veradittakit, crypto investor at Pantera Capital
Over 26,000 subscribers
About Berlin
VeradiVerdict - Issue #50
I spent most of last week in Berlin for the Web3 Summit and the city might be the most developer-centric ecosystem outside of Silicon Valley.
I still remember some of the earliest equity deals in Berlin being funded were Ascribe (digital art on the blockchain) and Bitbond (p2p loans using Bitcoin). Since then, Ascribe changed their focus and name to BigchainDB and now Ocean Protocol, a decentralized data exchange protocol. Bruce and Trent really helped spearhead the community in Berlin. The deep tech and cypherpunk background of the city help gravitate folks to crypto. Bitbond on the other hand recently performed the first German STO (security token offering).
One of our portfolio companies Polkadot has a strong base in Berlin while other startups can enjoy working in a blockchain co-working space called Full Node. Investors in the city ranged from traditional VC funds like Earlybird VC and Blueyard Capital to more crypto-native ones like 1kx and Greenfield One.
What I really noticed during the meetups that I attended was that the majority of the attendees were developers. I believe that there are a wealth of developers interested in working on blockchain-related projects in Berlin. Companies like Celo and Kraken have seen this and even set up remote offices in Berlin. I think more companies in the US should look to Berlin to hire developers and possibly set up a remote office, as the talent and cost-benefits are apparent. A lot of capital has gone into open-source projects in Berlin but I'm looking forward to more commercial blockchain companies/projects emerging from the city. Overall, strong community and lots of promise.
After a long week in Europe, the trip ended with a lovely dinner hosted by the folks at Vega, picture below: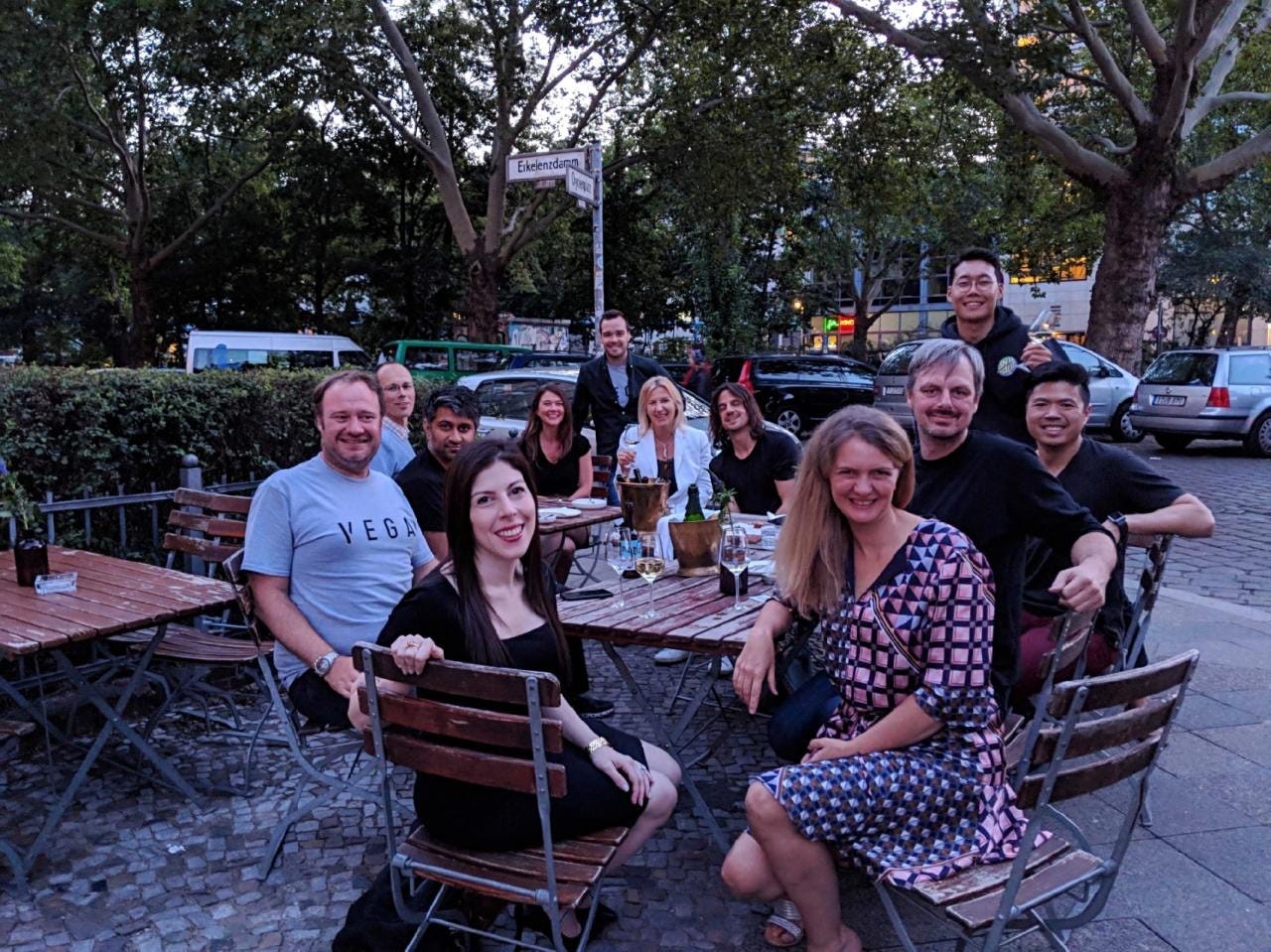 ---
DIGESTS
 "Already far too controversial to serve as CEO"
This report provides an overview of the global crypto hedge fund landscape and offers insights into quantitative elements such as liquidity terms and performance, as well as qualitative aspects such as best practice with respect to custody and governance.
---
IN THE TWEETS
---
NEWS
An analysis by Arcane Research shows how the real market dominance of bitcoin is way higher than what is traditionally reported.
Problems with Amazon's cloud service, AWS, are disrupting services at some cryptocurrency exchanges on Friday.
---
REGULATIONS
Mark Carney, the current governor of the Bank of England, has offered a proposal that would replace the U.S. dollar with a digital currency similar to Facebook's Libra, according to a report by Bloomberg.
Facebook is reportedly already under investigation by the EU over antitrust issues related to its Libra cryptocurrency project.
---
NEW PRODUCTS AND HOT DEALS
Deribit claims it's becoming the first crypto futures and options exchange to provide large-volume trades of bitcoin and ether derivatives.
Blocko, a South Korean blockchain firm working on enterprise applications of the tech, says it's raised 9 billion Korean won (around $7.44 million) in an Series B+ round.
---
MEET WITH ME
New York City, September 3-6
Shanghai, Shanghai Blockchain Week, September 16-18
Montreal, September 27-29
---
ADDITIONAL INFO
Hi, I'm Paul Veradittakit, a Partner at Pantera Capital, one of the oldest and largest institutional investors focused on investing into blockchain companies and cryptocurrencies. The firm invests in equity, pre-sales/IEO rounds, and cryptocurrencies on the secondary markets. I focus on early-stage investments and share my thoughts on what's going on in the industry in this weekly newsletter.
👋 Working on building new technologies? I'd love to hear about it, shoot me an email
🙏 I'd appreciate it if you forwarded this email to someone who would might benefit from it
💡If you have any content you want to share on this newsletter, please send it to me and we can make it happen
Please click here to help me improve this newsletter and your experience by filling out this NEW survey!