Discover more from VeradiVerdict
A weekly newsletter by Paul Veradittakit, crypto investor at Pantera Capital
Over 26,000 subscribers
Berlin Blockchain Week
VeradiVerdict - Issue #49
This week I'm traveling to Europe to visit what I think are the two cities with the most blockchain activity on the continent, London and Berlin.
London has been known as a FinTech hub and blockchain startups revolve around exchanges, settlement, and decentralized finance. I look forward to catching up with companies and investors. If any folks are around for a Thursday happy hour in London, let me know.
Afterwards, I'll head to Berlin for Berlin Blockchain Week and Web3 Summit. For the last couple of years, this summit and the events surrounding it have brought together a strong community of technical talent and mindshare. Berlin is known to be the developer hub of Europe and some of the most well-known scalability projects have headquarters or offices in Berlin. This is my first time visiting Berlin since joining Pantera and look forward to participating.
Pantera will be hosting a meetup on August 19th on the Web3 Stack, and I will be speaking at a few events, all listed below, so hope to see everyone around!
August 19: The Web3 Stack with Pantera, bloXroute, Enigma, LivePeer, and Near (click at attend)
August 20: Token Wirtschaft 2.0: The Evolution of DeFi from Global Perspectives (click to attend)
August 21: Cryptocurrencies and Blockchain: The end of Venture Capital as we know it? (click to attend)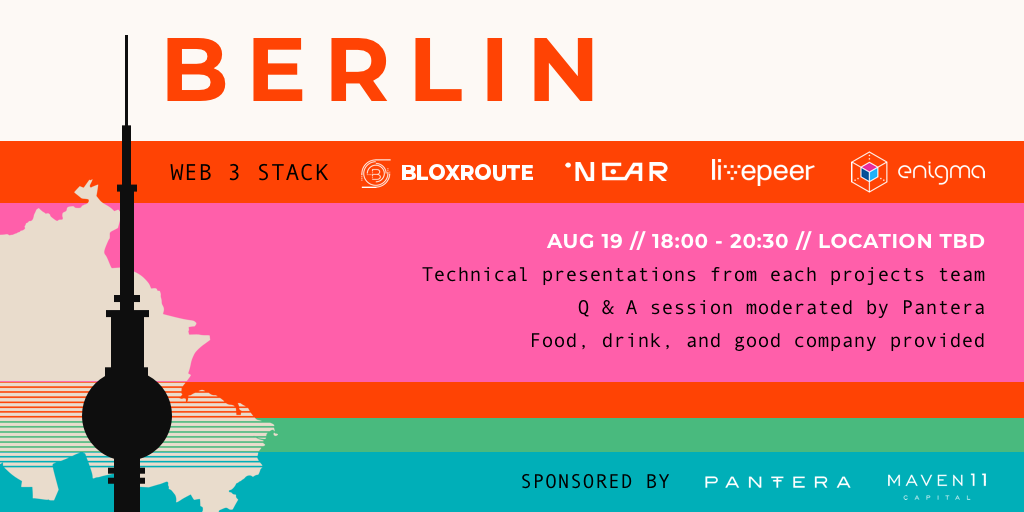 ---
DIGESTS
What follows is data and analysis from a survey of American adults regarding general sentiment toward Bitcoin — the survey was conducted online by The Harris Poll, on behalf of Blockchain Capital, from April 23–25, 2019 among 2,029 American adults.
The growing popularity of cryptocurrency has led to a revolution in the digital currency industry. Enterprises that were of noncrypto origin now have or plan to have their own crypto product. 
IN THE TWEETS
---
NEWS
Market intel from Goldman Sachs suggests investors should capitalize on the current price dip and buy bitcoin.
Tron (TRX) founder Justin Sun has said that getting the cryptocurrency listed on the American version of Binance or Coinbase is his company's number one priority.
---
REGULATIONS
The U.S. Securities and Exchange Commission (SEC) delayed making a decision on three bitcoin exchange-traded fund (ETF) proposals Monday.
The IRS' recent warning letters to 10,000 traders offer hints at what its forthcoming guidance on crypto taxes might say.
---
NEW PRODUCTS AND HOT DEALS
Blockstream has launched a colocation mining service and already counts the Fidelity Center for Applied Technology and LinkedIn founder Reid Hoffman as customers.
Exchanges like Coinbase have ballooned in size by taking the mechanics of equity markets and fitting them to cryptocurrency markets, but as the space expands in its scope and craftiness, new exchanges trading asset classes native to cryptocurrency are taking off and attracting the attention of top Silicon Valley VCs. Oh, and Coinbase, too.
---
MEET WITH ME
London, August 15-16
Berlin, Web3 Summit, August 19-22
Los Angeles, August 23
New York City, September 3-6
Shanghai, Shanghai Blockchain Week, September 16-18
Montreal, September 27-29
London, September 30
---
ADDITIONAL INFO
Hi, I'm Paul Veradittakit, a Partner at Pantera Capital, one of the oldest and largest institutional investors focused on investing into blockchain companies and cryptocurrencies. The firm invests in equity, pre-sales/IEO rounds, and cryptocurrencies on the secondary markets. I focus on early investments and want to share my thoughts and what's going on in the industry in this weekly newsletter.
👋 Working on building new technologies? I'd love to hear about it, shoot me an email
🙏 I'd appreciate it if you forwarded this email to someone who would might benefit from it
💡If you have any content you want to share on this newsletter, please send it to me and we can make it happen
Please click here to help me improve this newsletter and your experience by filling out this NEW survey!