Discover more from VeradiVerdict
A weekly newsletter by Paul Veradittakit, crypto investor at Pantera Capital
Over 26,000 subscribers
Better Bitcoin
VeradiVerdict - Issue #97
Ampleforth (AMPL) is a synthetic commodity that represents a new type of money. What is unique about Ampleforth is that the protocol automatically adjusts its supply in response to demand.
Pantera was one of the earliest investors alongside True Ventures, Founder Collective, and Brian Armstrong, CEO of Coinbase.
Since mid-June, Ampleforth has soared to become one of our best performing assets. While it's target price is $1, the price has reached over $4 and the market cap over $1B fully-diluted. Rebases (adjustments to supply) happen each day at 7pm PDT. If the price is higher than $1.06, AMPL holders will get a positive rebase, or tokens added to their holdings based on rules. If the price is lower than $0.96, AMPL holders will get a negative rebase, or tokens subtracted from their holdings based on rules. Not quite a stablecoin so far but likely lower volatility with more liquidity and users. Stephen McKeon of Collaborative Currency Fund wrote a great piece that details the mechanics of how the protocol works.
Liquidity has been a very important factor for DeFi projects to increase distribution and users. Ampleforth got listed on Uniswap and after launching their geyser program, became and is still the #1 liquidity pool in Uniswap, current $44m. While the protocol wasn't the first to deploy liquidity incentives on Uniswap, one unique mechanism is to reward with a 1x multiplier in the beginning to 3x after 8 weeks. The project has attractive investors who will celebrate rebases with creatives memes, and the meme culture has been a strong factor for many of the most active communities in the space.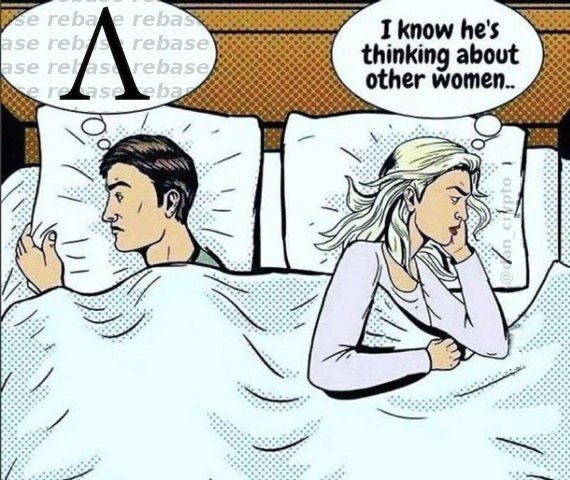 Recently the project published its State of the Network which really summarized the success of the geyser and community initiatives as unique users, unique wallets, and retention rate numbers were strong. Ampleforth also detailed their updated token supply breakdown and how the protocol would progressively decentralize through community governance and removing pausability, basically the emergency switches.
The use cases of Ampleforth include an asset for portfolio diversification, collateral for DeFi, and eventually money. Gauntlet, a firm that produces economic analysis of DeFi protocols, came out with a report that stated AMPL's historical returns have been uncorrelated from both BTC and ETH across various timescales. It's pretty similar to how investors think about Bitcoin's value proposition. Stephen McKeon wrote a second piece on the vision of Ampleforth.
With success comes clones, and Ampleforth has spurred newcomers, one notably called Yam Finance. The project had similarities like a price target of $1 and supply elasticity but differences in that there are 2 rebases per day, a reserve (which was the original mechanism for Ampleforth when it was previously called Fragments), and an on-chain governance token without a pre-mine (similar to YFI). The team behind Yam warned folks that the protocol was created from start to finish in 10 days and the code was not audited, in addition to the token not having any value.
Yam accumulated over $400m and provided very attractive yield but earlier today, collapsed due to a fatal rebase bug. The price of YAM had an epic crash of -98.9% in the last 24 hours.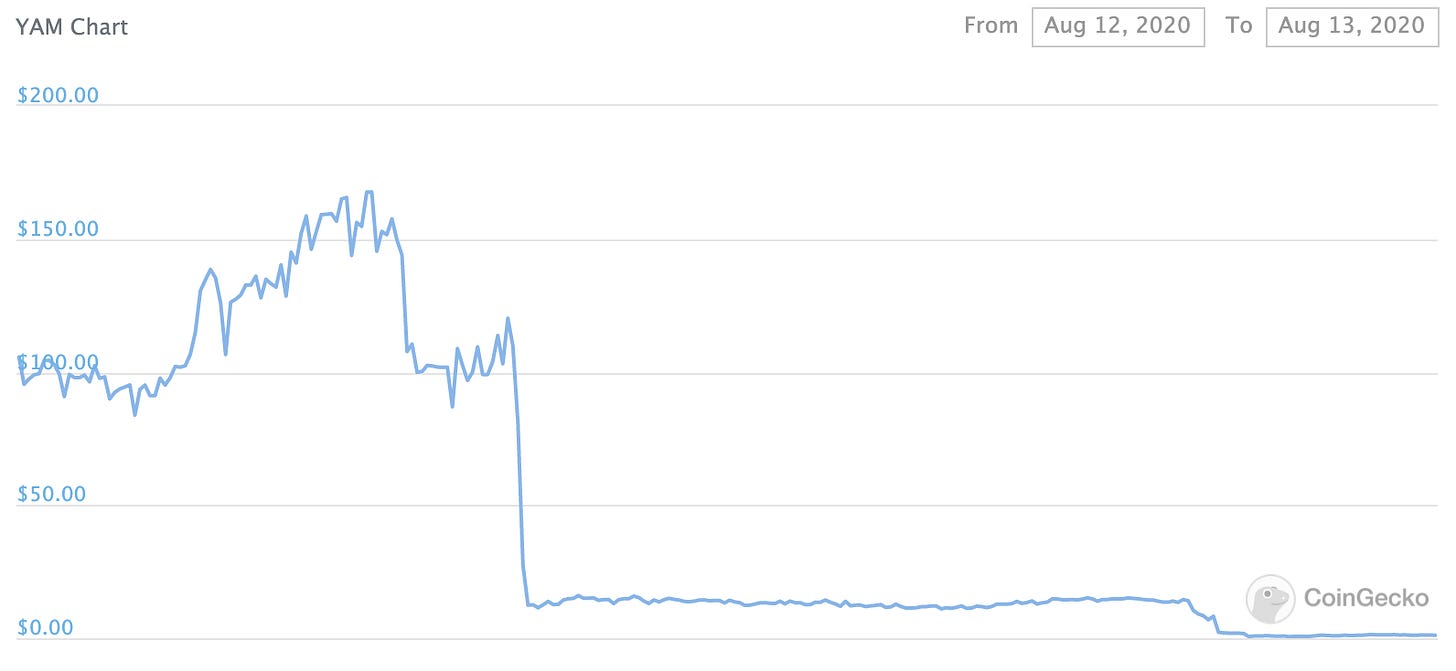 In summary, I think Ampleforth is a fascinating asset that with more education and execution could really become a financial primitive for DeFi and a base layer money. It's a good case study on supply elasticity and liquidity incentives that will be looked into by newer protocols. Though not starting very decentralized, there is a path toward decentralization (similar to Compound) but up to a certain level, as the vision is to be that decentralized rules-based money. On the other hand, Yam Finance started off very decentralized, bridging together aspects of both Ampleforth and YFI. The team was prudent in warning folks that the project was an experiment and investors should risk only what they can afford to lose. When the bug was discovered, the community rallied together in such a short time to pass a proposal to fix the bug, but in the end, couldn't overcome it. Even though Yam Finance may seem like DAO 2.0, to see some of the success of voting and community involvement/engagement from both YFI and Yam Finance, I think there can be some good lessons learned and positives to give hope for successful DAOs (decentralized autonomous organizations) in the future. It does highlight that there is risk in DeFi investing and that code should be audited before reaching scale, and investors should be aware and prudent.
- Paul V
---
DIGESTS
Paul answers 6 questions about his thoughts on the space and about himself
Fred Ehrsam of Paradigm discusses insurance for the blockchain ecosystem.
---
NEWS
Developer platforms are crucial to the adoption of new technologies. As the defacto standard in blockchain, Alchemy already powers the most sophisticated teams. Today, their public launch gives every developer the tools they need and accelerates the entire space towards mainstream adoption.
The internet of money is being built with blockchain technology and without banks. We call it DeFi, short for Decentralized Finance, and this is where you can hear the builders and users of this cutting edge world tell their stories first hand. Hosted by Camila Russo.
---
REGULATIONS
A former New York Stock Exchange broker has pleaded not guilty to charges alleging involvement in a crypto trading scheme that defrauded over a hundred investors.
---
IN THE TWEETS
---
NEW PRODUCTS AND HOT DEALS
1inch is currently facilitating over $20 million in trades daily. And the firm doesn't plan to stop there. There are currently about 17,700 wallets registered on 1inch, according to the startup. 
Chia Network, led by BitTorrent creator Bram Cohen with the aim of creating a programmable money platform, just raised another $5 million in an equity round led by Slow Ventures.
Ava, Polkadot, and Near protocols recently had successful large public sales.
---
LETS MEET UP
Walks at the park or Zoom coffee meetings
---
ABOUT ME
Hi, I'm Paul Veradittakit, a Partner at Pantera Capital, one of the oldest and largest institutional investors focused on investing in blockchain companies and cryptocurrencies. The firm invests in equity, pre-auction ICOs, and cryptocurrencies on the secondary markets. I focus on early-stage investments and share my thoughts on what's going on in the industry in this weekly newsletter.