Discover more from VeradiVerdict
A weekly newsletter by Paul Veradittakit, crypto investor at Pantera Capital
Over 26,000 subscribers
Bitcoin Halving
VeradiVerdict - Issue #84
Today marks a much anticipated moment for Bitcoin enthusiasts, as the Bitcoin rewards for mining gets cut in half. In the past and even this past week, there was a rise in Bitcoin price and much volatility leading to and around the halving block. It's quite fascinating to monitor the markets during this time and is another milestone in Bitcoin's history.
Pantera thought it was be great to celebrate Bitcoin halving with a discussion with some of the earliest and most influential entrepreneurs in our ecosystem, Jeremy Allaire of Circle (leading the charge in USDC adoption) and Jesse Powell of Kraken (one of the largest US-based exchanges). This will happen on this Tuesday at 9am PDT.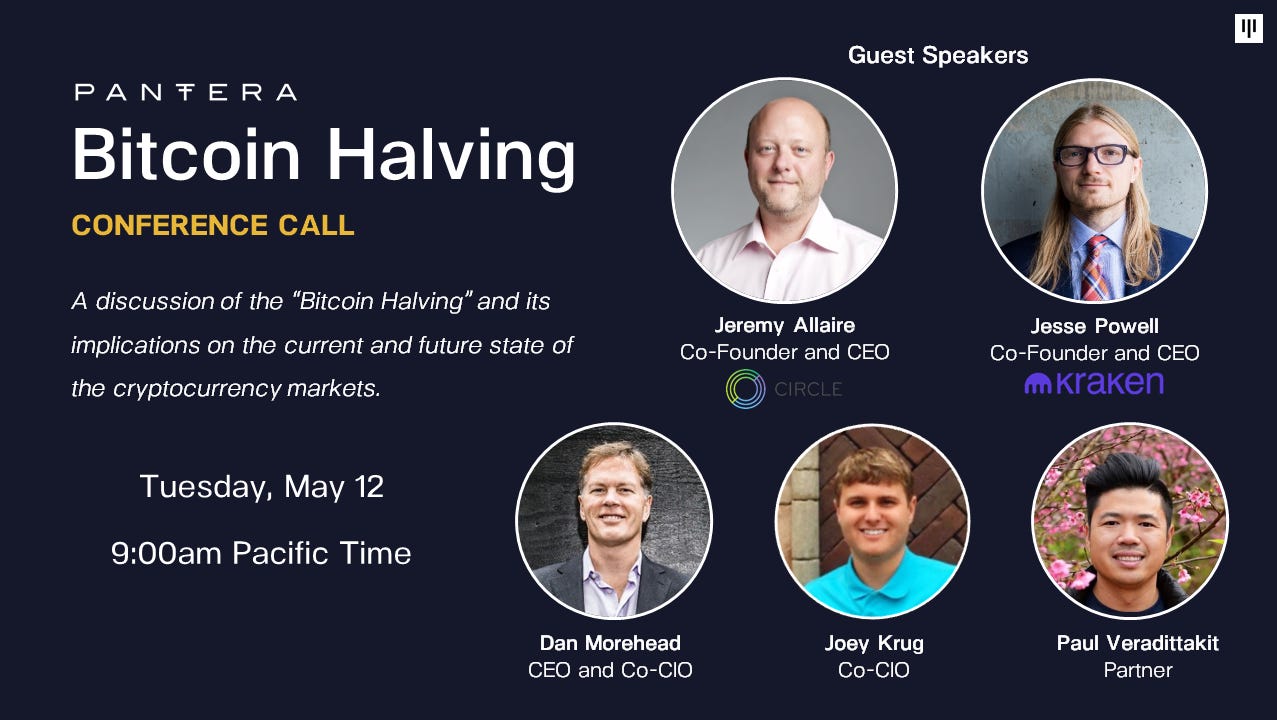 What is BTC Halving?
The first ever Bitcoin Halving took place at the end of November 2012. Every four years (or after about 210,000 new blocks are mined), the reward given to Bitcoin miners for processing transactions decays in half, and the event is dubbed as the halving. The Bitcoin reward in the 2009 was 50 coins, after the first halving it was 25, then 12.5. Starting today, the reward of 12.5 Bitcoin will be cut in half to 6.25 Bitcoin.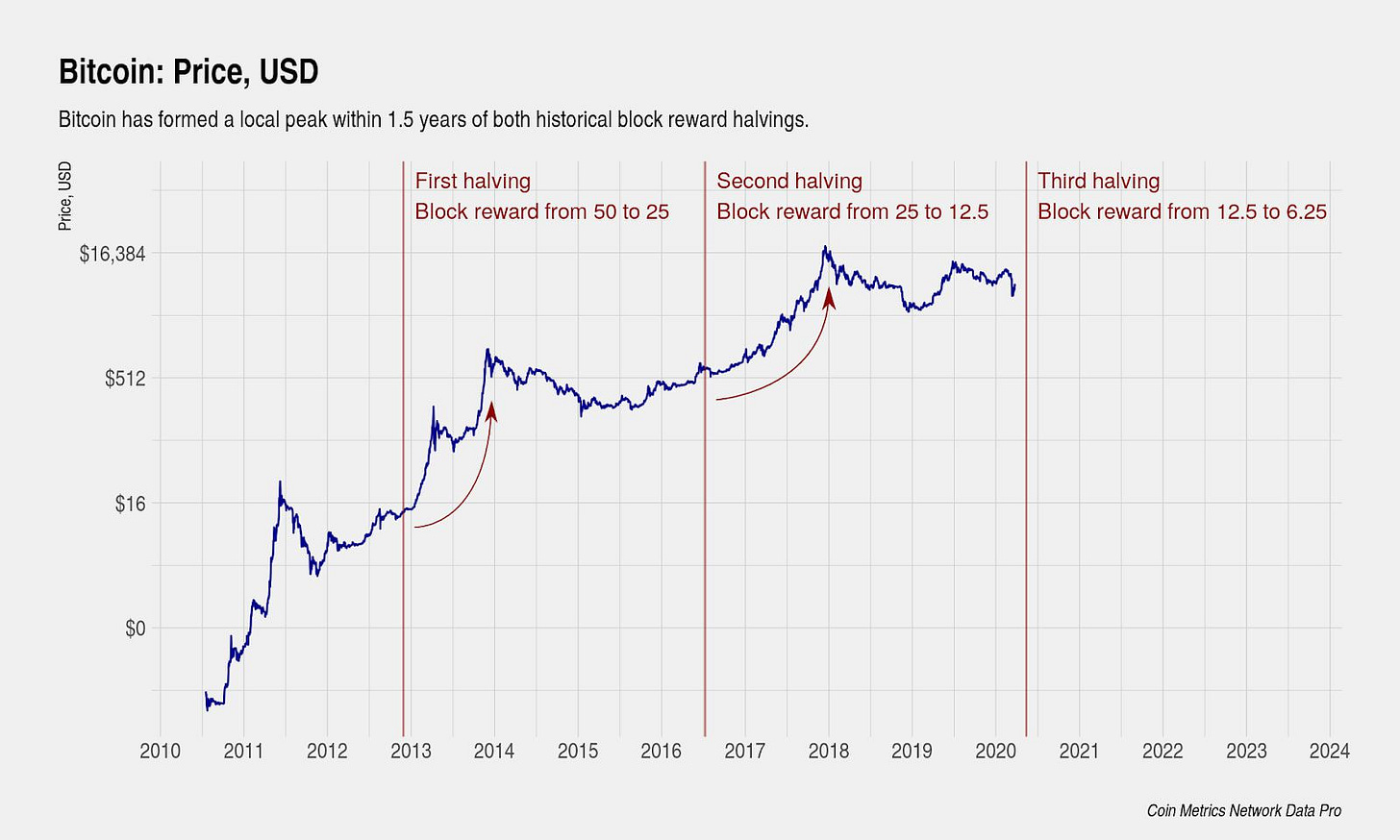 Imagine an asset's supply is cut in half every 4 years, and its value is based on scarcity. Then halving of its output will theoretically drive its price higher. The finite supply of 21 million unreleased Bitcoin is decreasing with advancing mining technology and increased number of miners. Today about 86% of the final supply has been mined, and halving will control the rate at which new Bitcoin is released into circulation.
Why is it so significant?
Historically, the Bitcoin Halvings have propelled Bitcoin into new bull markets, and the first and second halving followed 5x and 10.5x growth respectively. After both halving events, Bitcoin's price never went below its value before the halving events took place.
In inflationary terms, this will decrease the inflation rate of Bitcoin from roughly 3.6% to 1.79%, a rate lower than USD and similar to gold. It will contribute to its narrative as a new store of value and control the Bitcoin supply.
We can identify similarities between the second halving and the one we are currently in. Bitcoin has taken over 260 days to rally over 340% since its $3,152 bottom in December 2018, and its price bottomed approximately 519 days before the third halving. Back in 2012, Bitcoin bottomed for 544 days before its second halving, and rallied over 388% to reach its pre-halving top.
But a difference to be considered is the maturity of trading system today. It is very easy to trade Bitcoins and crypto margins now than in 2016, and this type of exposure did not exist back in 2012.
Source: https://medium.com/swlh/bitcoin-halving-everything-you-need-to-know-4573dc5b528e
---
DIGESTS
On-chain data suggests that a strong selloff may not necessarily follow the upcoming Bitcoin halving.
---
NEWS
Coinstar, the coin counting kiosk maker hosting 3,500 Coinme bitcoin ATMs, is looking to double its cash-for-bitcoin capable supermarket machines.
Macro investor and hedge fund manager Paul Tudor Jones issued a strong case for buying bitcoin and indicated that his Tudor BVI fund will trade bitcoin futures.
---
REGULATIONS
Lawmakers have used the coronavirus crisis to revive the digital dollar debate. U.S. House and Senate bills proposed in March, which would allow individuals to hold checking accounts directly with the Federal Reserve, have renewed demand for a tech upgrade of the central bank's issuance system.
A key lawmaker in the California Assembly has proposed exempting a narrow set of digital assets from the state's definition of corporate securities. 
---
IN THE TWEETS
---
NEW PRODUCTS AND HOT DEALS
Zoom announced this morning that it has acquired Keybase, a startup with encryption expertise. It did not reveal the purchase price.
---
MEET WITH ME
Walks and jogs at the park, 6 feet apart, wearing masks
Zoom coffee meetings
---
ADDITIONAL INFO
Hi, I'm Paul Veradittakit, a Partner at Pantera Capital, one of the oldest and largest institutional investors focused on investing in blockchain companies and cryptocurrencies. The firm invests in equity, pre-sales/IEO rounds, and cryptocurrencies on the secondary markets. I focus on early-stage investments and share my thoughts on what's going on in the industry in this weekly newsletter.
👋 Working on building new technologies? I'd love to hear about it, shoot me an email
🙏 I'd appreciate it if you forwarded this email to someone who would benefit from it
💡If you have any content you want to share on this newsletter, please send it to me and we can make it happen
Please click here to help me improve this newsletter and your experience by filling out this NEW survey!