Discover more from VeradiVerdict
A weekly newsletter by Paul Veradittakit, crypto investor at Pantera Capital
Over 26,000 subscribers
Decentralized Airbnb?
VeradiVerdict - Issue #67
Last week, Origin protocol launched OGN on Binance, the top cryptocurrency exchange in the world. Below you can read about why a protocol enabling decentralized marketplaces and peer-to-peer commerce is compelling:
The Internet has made major steps forward in bringing more power to individual people and users. Still, many Internet-enabled services, particularly "marketplaces" (like Uber and AirBnB) have profit-driven third-party corporations that charge egregious fees and impose regulations at the expense of end-users like buyers and sellers of goods and services. For every Uber ride, Uber takes a significant portion of the cost –– reducing driver profits and raising costs for riders.

The fundamental problem with these businesses is the idea that centralized middleman are required to regulate the marketplaces. Uber and AirBnB are both corporations with profit incentives to act as middlemen –– they boast market capitalizations in the tens of billions (USD) by simply connecting  buyers and sellers. The only solution to give complete power to users is to remove the middleman, while still making it easy for buyers and sellers to connect and transact freely.

The Origin Protocol is a blockchain platform that enables exactly that. The flagship marketplace Dapp developed on top of of the protocol (shoporigin.com) is essentially a marketplace where sellers can list various goods and services and buyers can pay for these services with ETH, DAI, or Origin Tokens (OGN). The idea is that there is no central corporation governing the protocol – it is completely managed by buyers and sellers.

The Origin Token (OGN) also rewards early adopters of the protocol for engaging with the platform, allowing the Origin Platform to bootstrap growth and retention. Today, tens of thousands of users are participating in Origin's token incentive program, Origin Rewards (originrewards.com). The token can also be used for technical purposes (like staking to run a node for the protocol) or governance purposes, creating a model where users can regulate the operations of the protocol.

Over 100,000 Ethereum wallets have been registered on Origin, and around 2,000 transactions have been completed via the platform. Early results show incredible promise that people are excited about the power and agency that the Origin Platform affords users.

Ultimately, Origin represents a critical step forward in enabling peer-to-peer commerce – removing the unnecessary middleman that create unpleasant, economically inefficient transactions and replacing them with direct and free peer-to-peer exchange.
The Ever-Present Middlemen
One of the most commonly touted benefits of the Internet is that it gives individual people more power. Individuals can now express their opinions freely on the Internet and grow and manage their audiences. They can self-organize into communities with members that discuss shared interests or transact with one another. Ride-sharing, for example, has allowed drivers to serve consumers without relying on third parties like taxicab or black car services. They can rent out their own homes and stay temporarily in others' homes rather than using classic hotels and motels.
However, though individuals have more autonomy, there's still a strong element of centralization present. The idea of the "middleman" is no stranger to Internet marketplaces. When you order an Uber, you still rely on the Uber corporation to orchestrate the transaction between you and a driver––in that process, the corporation is able to take a significant cut of the profits. Similarly, with AirBnB, you rely on AirBnB to match up hosts and guests––for a fairly hefty price that AirBnB charges for facilitating the transaction. Ultimately, user agency is still heavily constricted; the power has just moved from the hands of older institutions like hotel groups and taxicab agencies to tech companies. This also results in major economic loss, because the "middleman" fee causes a total decrease in the amount of transactions, which hurts both buyers and sellers at the marginal benefit of the corporation.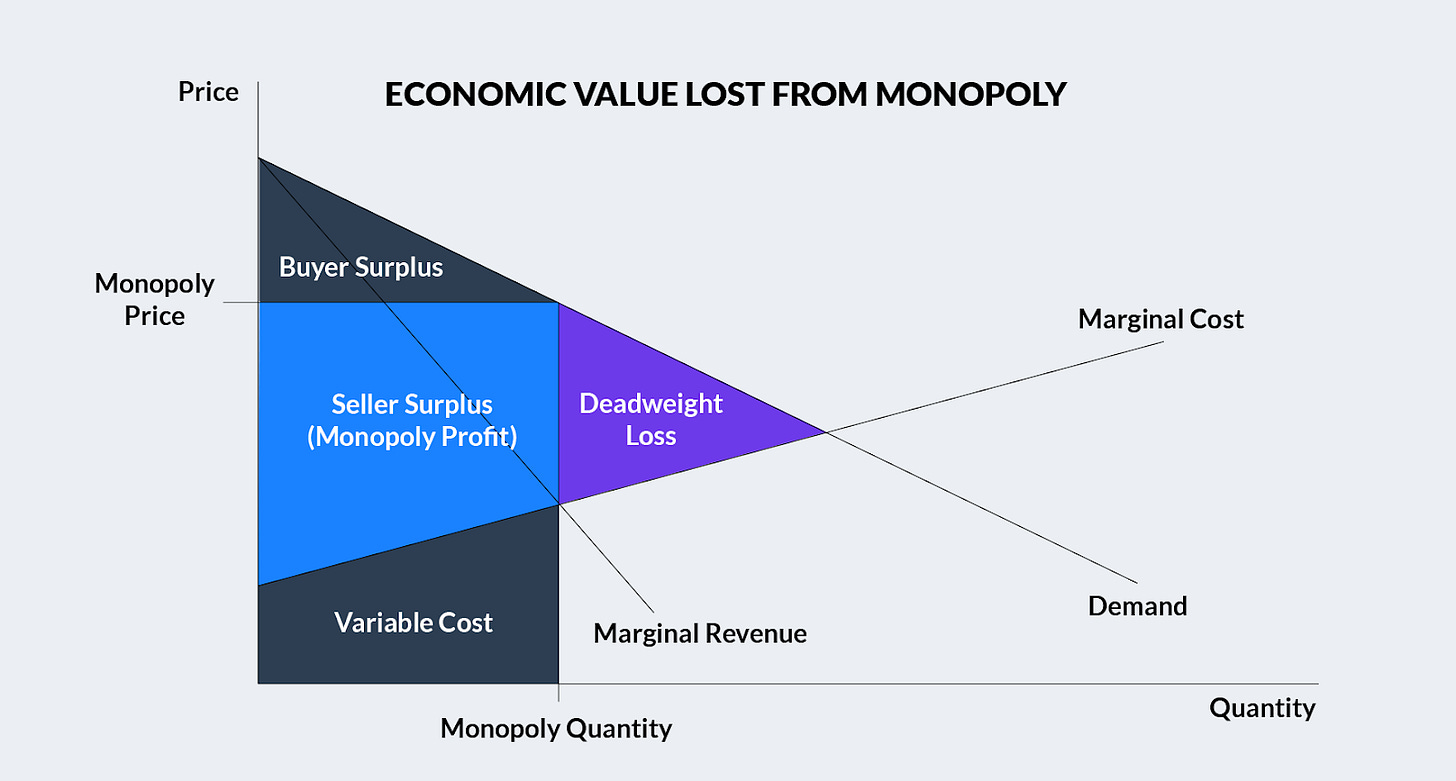 The Economic Loss of Monopoly (effectively the third-party in modern e-marketplaces) [source]
So, what's the solution?
Simply put, the fundamental problem with these "new-age" two-sided Internet marketplaces is that they still rely on  these centralized players to broker sales. Though users have the independent ability to list their services and purchase others' services on these marketplaces, they still have to work within the confines of these marketplaces to make sure everything runs smoothly. This gives the marketplaces power over users, allowing them to extract fees and impose arbitrary regulations, etc.
However, this "marketplace" is a critical component of the equation. Without the marketplace element, it would be incredibly difficult for users to find and list their services––before Uber and AirBnB, it was far from mainstream to drive strangers around or to have strangers stay at your place. The marketplace offers a common platform for users to transact goods and services. It's like any platform––Amazon, Craigslist, eBay, Zillow, etc.
Decentralizing these marketplaces and taking the "corporation" away from the head of the table is critical to bringing more power back to users. If Uber was simply a free platform that was not driven by corporate incentives, the experience of ordering a car or listing a car would be much more pleasant, cheaper, etc. Removing the centralized authority from these marketplaces ensures that it's 100% governed by the users that transact on it. The question now becomes how technology can effectively decentralize these marketplaces.
This is where the Origin Protocol comes in.
The Origin Protocol is a generalized decentralized marketplace to enable effective peer-to-peer transactions over the Internet. It is essentially a framework that allows groups to establish peer-to-peer marketplaces in a decentralized fashion, ensuring that the users who transact on the protocol have 100% control over the protocol and its rules. Any kind of product or service can be listed on Origin (housing, guitars, gig work, cars, to name a few) –– as long as there's a seller and a buyer.
How does Origin work?
The technical underpinnings of the protocol are fairly complex, but at a high level, the workflow looks like the below:
First, anyone can build a decentralized app (Dapp) on the Origin Protocol. The mainstream Dapp for engaging with Origin is the primary Origin marketplace Dapp, which you can access at shoporigin.com. There are other Dapps for various "categories" of shopping (e.g. housing), but those have a smaller user base and are generally still being developed. These Dapps are basically end-user infrastructure to interface with the blockchain in a "non-technical" manner.
Second, a seller with a product or service can list that product or service on the Origin Protocol using the Origin Mobile Wallet or an Ethereum wallet and a web3-browser like Metamask. They can provide further information about their goods, list suites of products, and accept payments, all through the Protocol.
Third, a buyer can search the Origin Protocol (through shoporigin.com) for various goods or services that they might be interested in. Once they decide to purchase a good, they submit payment to an escrow service implemented through a smart contract on the blockchain. Sellers can accept or reject the offer in escrow from the buyer and then fulfill the offer by providing the buyer the good or service in exchange for the payment. The smart contract is designed to ensure that all transactions run fairly and smoothly, and that sellers actually provide the good or service in question to buyers.
Buyers and sellers can currently transact using Ethereum (ETH), MakerDai (DAI), or the proprietary Origin Token (OGN). All data is 100% owned and controlled by users on the protocol and all communications are heavily encrypted and secure. The protocol allows for reputation systems (reviews) to maintain the integrity of services and also allows for integration with Origin's own or third-party arbitration services to ensure transactions run as intended by both the buyer and seller. The protocol is also building out robust developer tools to enable the broader community to effectively contribute to and utilize the blockchain.
What's the deal with the Origin Token?
The Origin Token (OGN) is a critical part of interacting with the protocol. The purpose of OGN is to ensure the health and the growth of the network. It's used as an incentive mechanism to encourage positive behaviors and discourage bad actors. Users can earn OGN by verifying their profiles, buying and selling goods and services, referring friends & family, building apps on the service, etc. In some sense, the Origin Token  acts like a reward mechanism that rewards users who actively engage with the protocol and are "early customers" that are critical to the protocol's future success. Tokens can also be used to advertise products and pay for services.
OGN can also be used for a myriad of other things. , OGN will act as a governance token that allows the community to contribute to and regulate the protocol. This ensures that the marketplace is still governed effectively –– but by its users instead of a centralized, profit-motivated entity.
How much has it been used so far?
More than 100,000 Ethereum wallets have been registered on the main marketplace Dapp. Around 2,000 transactions of goods and services have been completed across the main Dapp, with more coming as the protocol gains more attention and more individuals have vested interests in the network by holding OGN tokens. Early usage is promising, with recent record highs being recorded for DAUs (daily active users), MAUs (monthly active users), and Origin Rewards signups.; people are getting excited about Origin and the data clearly shows growth potential.
Final Thoughts
Ultimately, the Origin Protocol is a critical step forward in decentralizing not only the Internet, but the entire global commerce experience. The protocol offers the first robust, accessible way for buy and sell goods and services in a peer-to-peer manner without using a centralized entity to orchestrate everything. The protocol collates all the information necessary for a peer-to-peer marketplace but requires no arbitrary fees and regulations of users that the users themselves do not want since users themselves govern the protocol. The protocol's growth in the next few years will be instrumental in showing the power of decentralized technology and the tangible benefits it can bring to real people by eliminating unnecessary third parties.
---
DIGESTS
A look at how cryptocurrency is helping a growing number of Mexicans preserve more of their wealth while sending money home.
---
NEWS
Binance Futures, the cryptocurrency exchange's futures trading platform, has rolled out a perpetual contract for the XRP cryptocurrency.
A board member of LedgerX sent a letter on Friday to shareholders and the CFTC, pointing to an allegedly precarious state of the firm after its two founders were placed on leave last month
FTX's bitcoin options are cash-settled to U.S. dollars (USD), and like its futures, these can be traded on margin.
---
IN THE TWEETS
---
REGULATIONS
Qatar, the Middle East country with a population of over 2.5 million, has banned cryptocurrency trading.
---
NEW PRODUCTS AND HOT DEALS
The People's Bank of China (PBoC), the country's central bank, has said that the "top-level" design of its digital currency has been completed.
Winklevoss Capital, the venture firm led by crypto exchange Gemini co-founders Cameron and Tyler Winklevoss, has joined a $5 million seed funding round for tax reporting platform TaxBit.
The scheme would allow him to instantly collect up to $13.5 million off of his $34 million guaranteed three-year contract. Token holders would then receive monthly payments in the next three years with a 4.95% base interest rate. 
The funding was led by major financial and business groups including UOB Venture Management, Seven Bank, Uni-President Asset Holdings, HashKey Capital, Hopeshine Ventures, Signum Capital, Du Capital and Hanwha Investment and Securities.
---
MEET WITH ME
Toronto, February 26-28, 2020
Los Angeles, March 6-9
TOKEN2049, Hong Kong, March 17-20, 2020
---
ADDITIONAL INFO
Hi, I'm Paul Veradittakit, a Partner at Pantera Capital, one of the oldest and largest institutional investors focused on investing in blockchain companies and cryptocurrencies. The firm invests in equity, pre-sales/IEO rounds, and cryptocurrencies on the secondary markets. I focus on early-stage investments and share my thoughts on what's going on in the industry in this weekly newsletter.
👋 Working on building new technologies? I'd love to hear about it, shoot me an email
🙏 I'd appreciate it if you forwarded this email to someone who would benefit from it
💡If you have any content you want to share on this newsletter, please send it to me and we can make it happen
Please click here to help me improve this newsletter and your experience by filling out this NEW survey!