DevCon & Japan Recap
VeradiVerdict - Issue #56
For the last 2 weeks, I was in Japan for DevCon 5, the largest annual Ethereum developer conference, and other meetings to learn and build relationships in the Japanese blockchain ecosystem.
DevCon
The conference seemed to be about the same size as the one last year yet felt smaller because of the location being inside of a shopping mall, the location being a bit far from the night events, and the speaker rooms being a bit segregated from each other. In general, it was great to see and catching up with a lot of familiar faces while meeting some new ones. The happy hour talks were very developer-focused and educational. The night events centered around good cocktails/scenery and definitely karaoke!
After chatting with folks around the conference, 2 pieces of feedback:
Some attendees did not feel satisfied with the progress made on Ethereum development and 2.0. They felt Ethereum should be further along and especially further ahead of its competitors. Nevertheless, the theme of interoperability and progress made from other scalability platforms brought some doubts on the Ethereum-focused event. The biggest product news of the week was the announcement of multi-collateral DAI launching on Nov 18.

The attendance did not include the Japanese developer community. After walking around the conference, it felt like I could've been in any other city. Since most of the Japanese developer community is in Tokyo, the conference might have been able to draw more of the local community if it was held there.
Japanese Regulations
One thing about Japan is that it has been an early mover with regulations. Japan was one of the first countries to give tax guidance on cryptocurrencies, taxing it like income. Since then, the FSA, similar to the SEC in the US, has given cryptocurrency licenses to 13 exchanges, and the exchanges can help regulate which tokens get listed. Token listings have been very slow though as it is regulated by the JVCEA (Japanese Virtual Currency Exchange Assocation) and only 10-20 currencies have been able to be listed. Those tokens are mostly the largest market-cap, highly branded ones, even Stellar isn't listed. Tokens have to have at least a market cap of $150m, as the bar was set by Mona, one of the most popular Japanese token projects. For the last year, there have been no new tokens listed but there is optimism that the token listing process will open up soon. There should be some new regulations on crypto derivatives early-mid next year, so that could open up some possibilities.
The reason why there might be more clarity around regulations in Japan vs other countries is that the Japanese are a bit more conservative and desire regulatory clarity before proceeding. The alternative is the United States where people will innovate and push forward before there is regulatory clarity and then adjust when they need to.
Japanese Startups
The majority of Japanese crypto startups are exchanges as early retail exchanges like BitFlyer, Quoine, and Coincheck are now joined by conglomerate-led ones from DMM, GMO, and SBI. The most intriguing token project is from Line, as they are launching their own digital coin for their user base called LINK. Other areas of focus for Japan include:
Security tokens - 6 top Japanese brokerage firms formed an association around security tokens, so there seems to be interest and a path forward in terms of regulations that's different from utility tokens. Some Japanese investors have invested into platforms like Securitize or working with platforms like Harbor to managed their investor base.

Stablecoins - Regulations seem to be imminent for stablecoins and preference for the more decentralized ones like DAI vs fiat-backed.

Staking - Since there are negative interest rates in Japan, staking/earning yield is very attractive for both institutional and retail investors
Japanese Investors
Japanese institutional LPs are very conservative and it's going to be a while before they enter. Corporations have been forward-thinking on figuring out how the blockchain could be useful for their businesses. Firms like Line, SBI, Rakuten, Monex, DMM, and Nomura have been experimenting and making some direct investments.
In terms of crypto-focused funds, most of the investments have been done by individuals (traders) and now some general VCs (Global Brain) or corporate VCs (Gumi). We are starting to see some crypto-native funds like my friend Yusuke Obinata's fund East Node Capital, but AUM and number of firms are still nascent.
Overall, Japan was a great trip and the Pantera investment team got to bond over a delicious meal, picture of us below with the chef on the right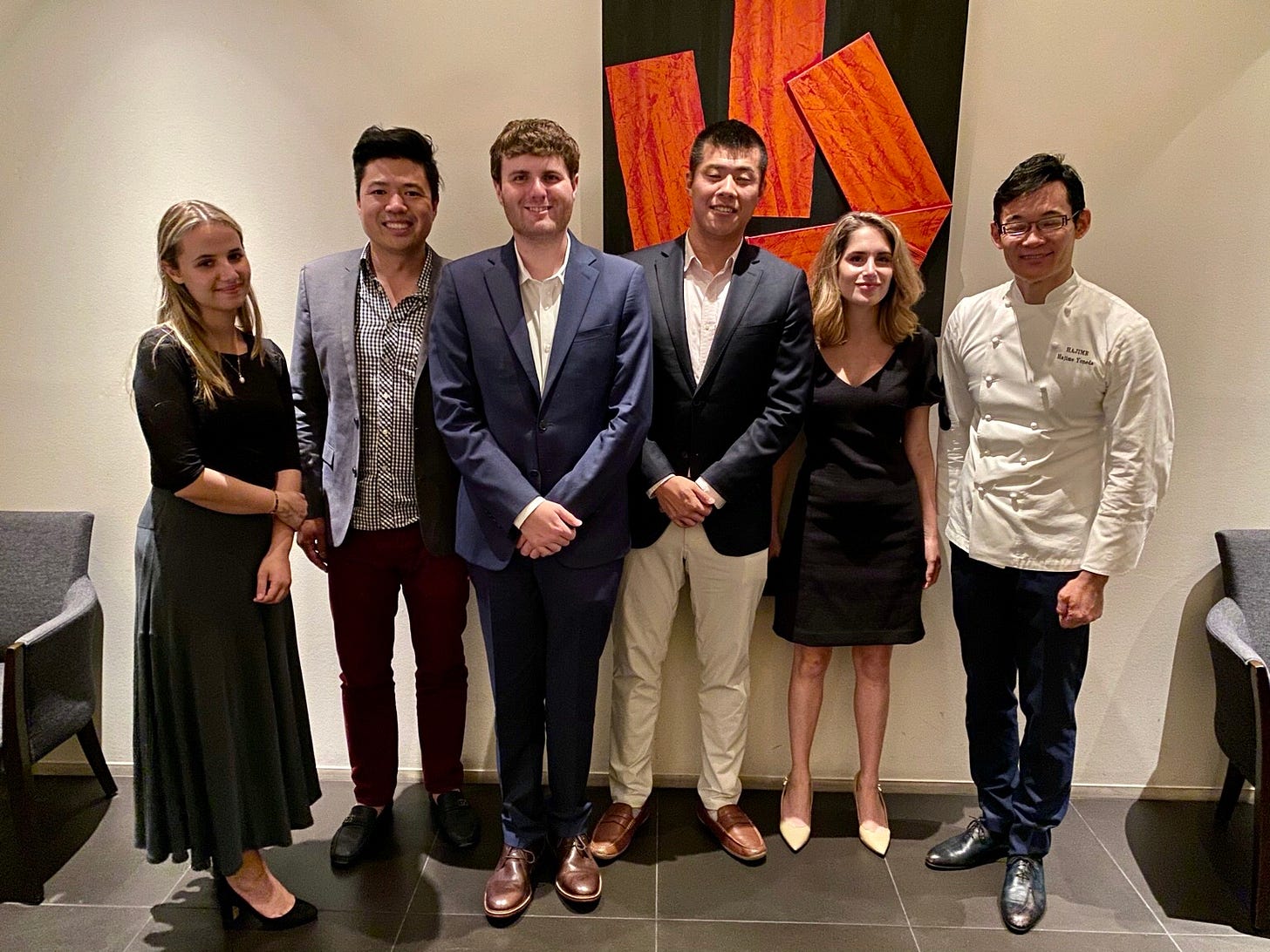 ---
DIGESTS
Telegram filed a response to the SEC that was uploaded by Coindesk
---
NEWS
TRON founder Justin Sun is behind Poloniex's spin-off from Circle, several sources confirmed to The Block.
The Facebook-led Libra project may consider a fundamental change to the way its planned global payments system will operate, according to its chief.
---
IN THE TWEETS
---
REGULATIONS
Commodity Futures Trading Commission (CFTC) Chairman Heath Tarbert believes the crypto world will see ethereum futures contracts sometime in 2020.
Telegram will have to wait to make its case to the U.S. Securities and Exchange Comission (SEC) that its "gram" token is not a security.
---
NEW PRODUCTS AND HOT DEALS
Brave is growing on the user front, with daily active users passing the 2.8 million mark recently, and monthly active users now at 8 million.
Cryptocurrency exchange Binance is soon to launch its first fiat-to-cryptocurrency trading pairs.
---
MEET WITH ME
San Francisco, SF Blockchain Week 2019, October 28 - November 1
Singapore, Singapore Fintech Festival, November 11-13
Kuala Lumpur, November 14
Bangkok, November 15-19
Los Angeles, November 25-29
---
ADDITIONAL INFO
Hi, I'm Paul Veradittakit, a Partner at Pantera Capital, one of the oldest and largest institutional investors focused on investing in blockchain companies and cryptocurrencies. The firm invests in equity, pre-sales/IEO rounds, and cryptocurrencies on the secondary markets. I focus on early-stage investments and share my thoughts on what's going on in the industry in this weekly newsletter.
👋 Working on building new technologies? I'd love to hear about it, shoot me an email
🙏 I'd appreciate it if you forwarded this email to someone who would benefit from it
💡If you have any content you want to share on this newsletter, please send it to me and we can make it happen
Please click here to help me improve this newsletter and your experience by filling out this NEW survey!