Discover more from VeradiVerdict
A weekly newsletter by Paul Veradittakit, crypto investor at Pantera Capital
Over 26,000 subscribers
Future of Work (Corona Edition)
VeradiVerdict - Issue #75
With Coronavirus continuing to spread across the country, I wanted to aggregate and share some thoughts on what's going on and resources to tap into.
All said and done, please prioritize the health of your employees, families, and yourselves.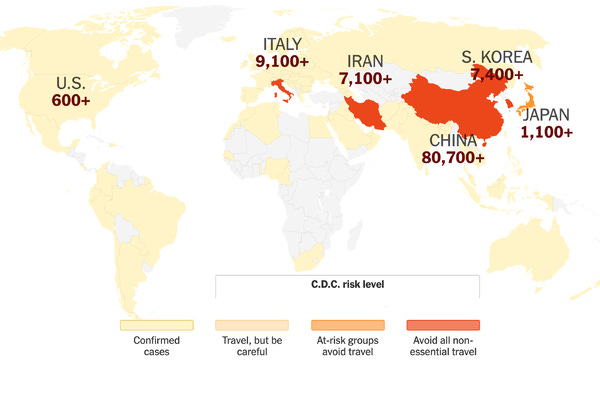 Last week, there were two high-profile near-term crypto-related conferences that decided to either postpone or cancel their events, Bitcoin2020 and SXSW.
During the week, I had to field questions from both startups and limited partners on how the coronavirus affects startups and eventually our investing. Sequoia Capital, one of the top venture capital firms in the world, and Mark Suster, a well-known venture capitalist who is the Founder of Upfront Ventures, both published thoughts (Sequoia Blog and Mark Suster Blog) on startup fundraising and strategy during this time.
Recently, Pantera also published our thoughts on what our portfolio companies should have in mind at this time. It really boils down to:
Finances: Stay lean and model out finances with the most conservative of assumptions

Fundraising: Move up your fundraising timeline and raise more than you need (a buffer) so that you can outlast what may happen in the markets, for example the crypto market cratering this past weekend. Fred Wilson shared his thoughts on that

Innovation: Figure out new ways of internal communication/culture and closing deals/fundraises in this environment
It's not time to panic but just to be proactive and smart.
Larger tech companies are starting to implement work at home policies. Coinbase came out with a blog post on some of their proactive measures during this time while Xapo has been gracious to let me post their Remote Work Guide since the company has been running a remote work culture for some time now. To stay connected in distributed environments requires the following from every participant:
Communication tools including email, Slack, Zoom
Responsive and effective communication that includes expectations (e.g. I expect a response from a specific person within a certain time period)
A dedicated workspace and a schedule/routine to follow
GOOD Internet connection and tested hardware
Physical wellness and time management
I hope this information helps and stay safe out there!
---
DIGESTS
Bitcoin's recent price drop has caught many investors off guard. However, a key metric showing worry among the network's miners gave a warning several weeks ago. 
Here is a note that we sent to Sequoia founders and CEOs today to provide guidance on how to ensure the health of their business while dealing with potential business consequences of the spreading effects of the coronavirus.
---
NEWS
Crypto software firm Zabo, which claims it can connect bank accounts directly to cryptocurrency wallets, raised $2.5 million to build out its engineering team and add new customers.
---
IN THE TWEETS
---
REGULATIONS
South Korean lawmakers have passed new legislation that gives the domestic cryptocurrency market clear legal oversight.
The Chinese government has earmarked additional funding for a blockchain-based trade finance platform developed and led by the country's central bank.
---
NEW PRODUCTS AND HOT DEALS
It's about to be easier than ever to take risky bets using ethereum-based financial products, thanks to the crypto wallet startup Argent.
Crypto infrastructure provider AlphaPoint has raised $5.6 million in funding
---
MEET WITH ME
Toronto, April 29-30
Consensus 2020, NYC, May 11-15
---
ADDITIONAL INFO
Hi, I'm Paul Veradittakit, a Partner at Pantera Capital, one of the oldest and largest institutional investors focused on investing in blockchain companies and cryptocurrencies. The firm invests in equity, pre-sales/IEO rounds, and cryptocurrencies on the secondary markets. I focus on early-stage investments and share my thoughts on what's going on in the industry in this weekly newsletter.
👋 Working on building new technologies? I'd love to hear about it, shoot me an email
🙏 I'd appreciate it if you forwarded this email to someone who would benefit from it
💡If you have any content you want to share on this newsletter, please send it to me and we can make it happen
Please click here to help me improve this newsletter and your experience by filling out this NEW survey!