Discover more from VeradiVerdict
A weekly newsletter by Paul Veradittakit, crypto investor at Pantera Capital
Over 26,000 subscribers
How Blockchain Will Disrupt The Music Industry
VeradiVerdict - Issue #96
Audius, a decentralized streaming platform starting with music, announced its $3.1 million strategic funding round from Pantera Capital which invested alongside Multicoin Capital, Blockchange Ventures, and Coinbase Ventures. Pantera also participated in the earlier seed round which included General Catalyst, Lightspeed Venture Partners, and Kleiner Perkins.
Audius is compelling because it is community owned, hosted, and operated. Check out how it works below:
The incumbent business model in the music industry significantly undersells creators and fails to support new artists. Distribution channels like Spotify and Apple Music and record labels take most of revenues generated from streaming and track purchases, leaving a measly 12% for the artists that create them. 

Audius is a decentralized protocol that facilitates a direct transaction between listeners and creators, removing the influence of streaming platforms and record labels that often present huge barriers to entry. Creators can host their content on the Audius blockchain at no cost. 

The underlying infrastructure is designed around an Audius token and a Loud token. Service providers stake the Audius token in order to operate on the protocol and facilitate music discovery by indexing the Audius blockchain and suggesting content to listeners. The Audius token can also be used to arbitrate on content claims, file content claims, vote on governance, and more. Service providers earn a cut of the revenues from the listens they help facilitate as well as a share of the token supply inflation of the Audius token. The idea is to scope the role of service providers to exclusively act as a discovery channel (reducing their influence) and align their incentives with that of creators.

Listeners pay for content using the Loud token, which is 1:1 backed by stablecoins. Creators earn 90% of all revenues generated from their streams and will be able to customize their pricing model to allow for streaming, artist membership, individual track purchases, album collectibles, and more. This creates a direct payment channel between listeners and creators, better supporting early-stage artists. Moreover, Audius' listener interface ignores the blockchain aspect altogether. No technical background is required to listen to music on the platform; it presents just like any other web-based streaming service.

Today, the platform has over 250k listeners, 40k artists, and 80k tracks on the blockchain –– these include several big names like deadmau5, 3LAU, and Zed's Dead. All streams on the platform are currently free, but as Audius rolls out its payments infrastructure, artists can begin to monetize their content, which will help drive adoption. 

Audius presents one of the most promising applications of decentralization to a highly bureaucratic industry. The staking model prioritizes artist interests above all else and removes many barriers to entry in the industry. As the protocol grows in popularity, we hope to see a paradigm shift of creators being rewarded fairly and amplified in digital content ecosystems.
Underselling Artists in the Music Industry
For most of recent history, the dominant business model in the music industry has been driven by record labels and music platforms/apps. Throughout the early smartphone era, companies like Apple built a music marketplace (iTunes) where users could purchase individual tracks and albums. Most of the royalties went to Apple and record labels, while the artists that actually produced the content earned only a small chunk of it. The trope of the industry underselling artists continued into the streaming age, where companies like Spotify underpaid artists for streaming their work to millions of users each month. On average, artists get compensated with only 12% of all revenue earned by the industry. Taylor Swift even famously left Spotify for a not-so-brief period due to frustrations about underpaying creators and a poor working relationship. The problem is so painful that even million-dollar artists are calling out the industry for unfair treatment.
The dominance of these centralized streaming platforms has particularly hurt small artists, especially those who haven't signed with a label. When you have a small audience, very limited channels for marketing, and only 12% of all revenue earned from your music, it's hard to be successful and continue producing music. Over-reliance on record labels and centralized services implicitly censors artists too, because they have to adjust their work to be "popular" and constantly face the risk of being de-platformed. Services like SoundCloud have attempted to support independent artists, but their popularity is dying and less independent/early-stage artists are launching on these platforms. They also charge artists for things like high-quality hosting and monetization, which create even more barriers to entry. There's an urgent need for a better platform to support up-and-coming artists with a revenue model that works for them.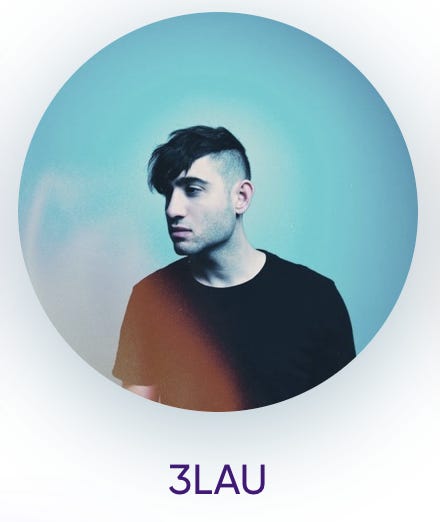 What is Audius?
Audius is a decentralized music-sharing and streaming protocol that places artists at the center of the equation. The platform is designed around uplifting free expression for artists, directly connecting artists with fans, and ensuring that artists earn the bulk of the revenue from their streams. There's no middleman (streaming services like Spotify/Apple Music or record labels) at all; the entire experience is designed around delivering music directly from the artist to the consumer.
How does this work? Why would anyone use a blockchain for music streaming?
The crux of Audius's infrastructure are its two tokens –– the governance token "Audius" and the platform token "Loud."
Creators can publish their content on the Audius blockchain at no cost; this is essentially the platform's "database" of music, which can be accessed and indexed by other services. 
Node operators then help connect listeners with content from the Audius blockchain. Node operators can operate "discovery services" (an API) on the protocol, which essentially index the Audius blockchain and surface content for listeners to discover new work put out by artists on Audius. Node operators must stake the Audius token in order to operate their discovery services on the protocol; staking more Audius increases the likelihood that a listener gets connected to their discovery service. Staking Audius also gives node operators the ability to arbitrate on claims, to file claims, and vote on the governance of the platform. To incentivize node operators to run services and stake Audius, the protocol compensates them with a share of the revenue from the streaming they facilitate as well as a cut of the token supply inflation. Audius will launch with an initial supply of the token, which will inflate annually on a set schedule.  
This token model places creators at the center of the business model by:
Scoping the role of those who operate the platform. Node operators are no longer the marketing engine and the streaming platform, but now solely provide the APIs and channels for music discovery. This allows for a more direct relationship between creators and listeners in terms of streaming and purchasing music.

Requiring platform operators to invest in the protocol. The brilliance of the staking model is that node operators must actively invest a digital asset (with fiat and resale value) in order to operate. This helps align node operator and artist incentives; for example, node operators only get compensated if their discovery service works well and the targeted listeners actually consume creators' content.
Listeners pay for content (streamed in high-quality 320kbps) using the Loud tokens, which are price-stable and backed by 3rd party stablecoins. Currently, Audius delivers 90% of the revenue generated from listening to original artists, a massive improvement over the current industry norm of 12%. Creators who are compensated with Loud can also spend the token on marketing channels and more. All payments operate on a network of smart contracts with the Audius blockchain, removing the middle-man in the process of compensating creators. Loud will be minted via a trustless system where any user can deposit stablecoins for 1:1 backed Loud; users can also deposit and burn Loud in exchange for the equivalent value of stablecoins.
Directly connecting artists with listeners also enables artists to choose their own distribution model, rather than sticking to the traditional streaming model. The protocol plans to design different channels to help creators monetize their content via streaming, individual track purchases, artist memberships, album collectibles, and more. Artists can optimize their distribution for their audience instead of force-fitting to an industry standard. 
Despite the underlying technical infrastructure, Audius presents itself to users without getting mired in the weeds of explaining blockchain and DApps. The listener-facing site barely addresses the underlying protocol and frames the service as a simple, brand-new streaming platform that puts artists and listeners first. To the average user, it looks and feels the same way that a service like Spotify or SoundCloud would; the special sauce is in the way they support artists and connect them with listeners in the background.
At a high-level, these systems make the Audius protocol the backbone for content sharing, music discovery, and payments, while ensuring that artist interests are protected. This scopes the role of each stakeholder (like platform operators), removes middle-men (like payment layers or record labels), and facilitates a more direct connection between artists and listeners.
How has the platform grown since launch?
As of today, the protocol has over 250k monthly active users, 40k artists, and 80k tracks available. They've platformed some pretty big-name artists, including deadmau5, Zed's Dead, and 3LAU. Several of these artists have accrued over 20 million listeners and followers on other streaming platforms.
Currently, all streaming on the platform is completely free. As Audius rolls out their payment infrastructure, they're likely to hit an inflection point in onboarding artists; creators can host their content on Audius for free (with no non-competes with incumbents like Spotify) and can earn a profit from their streams. With industry-wide frustrations with highly-corporatized platforms, Audius is likely to see a significant spike in content, and transitively listening.
Final Thoughts
It's clear that the music industry is in need of an overhaul. Current business models fail to support new artists and even internationally famous creators are getting frustrated with the antics of highly corporatized and centralized content channels like Spotify. Audius amplifies the role and voice of creators while removing middlemen that unfairly profit off of their work. Requiring platform operators to stake scopes their role to purely music discovery / hosting and aligns their incentives with creators and listeners. This creates a largely frictionless experience, where content creators have the ability to openly and directly share their productions with listeners while being fairly compensated for it on their own terms. 
The cardinal promise of decentralization is that it returns ownership and value to the end-user. Audius provides a compelling model for how this works in the music industry, while delivering a consumer experience that's just as great or better than other streaming platforms. Building a music ecosystem that supports new artists and rewards creators fairly is a first step in restructuring similar spaces (especially digital content marketplaces) to prioritize creators and consumers over centralized platforms.
- Paul V
---
DIGESTS
Bitcoin as an aspirational store of value system
Visa, Mastercard and PayPal are gearing up to drive the next wave of bitcoin and crypto development and adoption.
---
NEWS
These new assets include, in alphabetical order: Ampleforth, Band Protocol, Balancer, Blockstack, Curve, Fetch.ai, Flexacoin, Helium, Hedera Hashgraph, Kava, Melon, Ocean Protocol, Paxos Gold, Reserve Rights, tBTC, The Graph, THETA, UMA, and WBTC
Set Protocol plans to introduce yield farming as part of the automated trading strategies offered in its TokenSets platform.
Huobi's DeFi-centric arm will focus on research, investments and the incubation of DeFi initiatives. Huobi Group itself will "allocate tens of millions of dollars to an initial investment fund, which will be managed by Huobi DeFi Labs," according to the press statement.
---
REGULATIONS
A dark-web vendor and his supplier, who allegedly used the murky recesses of the internet to sell drugs and launder money, have been formally charged in the U.S.
---
IN THE TWEETS
---
NEW PRODUCTS AND HOT DEALS
USDC backer Circle is teaming with Genesis Trading in a $25 million deal aimed at pushing the stablecoin to the fintech masses.
KeeperDAO is on-chain liquidity underwriter for DeFi protocols, meaning it enables users to pool capital into Ethereum smart contracts to collectively profit from on-chain arbitrage and liquidation opportunities.
Dapper Labs, the creator of CryptoKitties, launched a beta version of its NBA Top Shot app in May of this year. That app has already sold NBA (the National Basketball Association) cards totalling $1.2 million
---
LETS MEET UP
Walks at the park or Zoom coffee meetings
---
ABOUT ME
Hi, I'm Paul Veradittakit, a Partner at Pantera Capital, one of the oldest and largest institutional investors focused on investing in blockchain companies and cryptocurrencies. The firm invests in equity, pre-auction ICOs, and cryptocurrencies on the secondary markets. I focus on early-stage investments and share my thoughts on what's going on in the industry in this weekly newsletter.