Discover more from VeradiVerdict
A weekly newsletter by Paul Veradittakit, crypto investor at Pantera Capital
Over 26,000 subscribers
How one crypto company is doing well during these chaotic times
VeradiVerdict - Issue #80
A couple of weeks ago, it was confirmed that CoinMarketCap, the leading aggregator for cryptocurrency price and volume data, was being acquired by Binance, the largest cryptocurrency exchange in the world. The acquisition is rumored to be ~$300-400m and would be one of the largest acquisitions in the history of the space.
CoinMarketCap was been able to generate a tremendous number of pageviews and was monetizing off those users. Those users and pageviews were quite valuable for Binance.
CoinMarketCap is one of the few companies in our space that is a significant top of funnel magnetic for users. Another company that rivals CoinMarketCap in terms of monthly pageviews is our portfolio company Blockfolio, the leading mobile app for portfolio management and education, in the industry. CoinMarketCap dominates web while Blockfolio dominates mobile.
What I learned recently was that Blockfolio and their product has thrived during these tough times in terms of engagement, recording a near 70% increase in quarterly page views of their app from 246M in Q4 of last year to a staggering 416M this past quarter. The volatility of the market certainly helps! With over 6M downloads to date, hundreds of thousands of people across over 90 countries use the app on a near daily basis to stay informed on their crypto portfolio and on the space as a whole.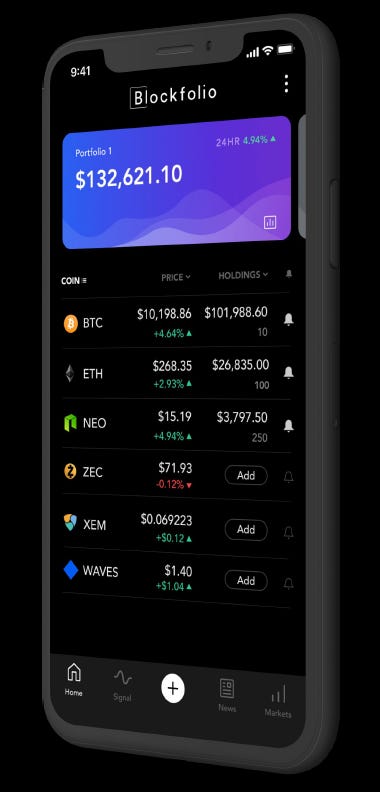 The company has focused heavily on hiring strong product and design talent and as a result has one of the simplest, slickest experiences in our industry. Blockfolio differs from other coin tracking apps because of a built-in communication platform called Blockfolio Signal which launched in 2018 and now has over 500+ crypto projects using it to update their investors on a regular basis.
If you're looking for a place to track your cryptocurrencies and learn more about what's going on with each project, check out Blockfolio.
---
DIGESTS
crypto networks do adhere to a sustainable business model, and it's one that will be quickly familiar to those who understand the dynamics behind valuable Web 2.0 marketplaces.
With a future that's more cloudy than clear, the dynamics founders face are magnified many times over and playing out simultaneously — at warp speed
As the coronavirus continues to ravage the world in what the United Nations' chief calls a "global health crisis unlike any" since the second world war, the healthcare industry is increasingly finding new uses for blockchain in the pandemic war.
---
NEWS
Fidelity Digital Asset (FDA) is signing on as a member of ErisX's clearinghouse, taking advantage of its central limit order book to provide better liquidity for buy and sell orders.
As the coronavirus pandemic continues to roil elections and voting officials look for solutions, scientific experts are warning against the dangers of voting online.
---
REGULATIONS
Signal is calling on its users to oppose the EARN IT Act, which it fears will be used to undermine end-to-end encryption, forcing it to leave the US market.
---
IN THE TWEETS
---
NEW PRODUCTS AND HOT DEALS
Banking services provider Sila has raised $7.7 million to build out features for a platform that allows entrepreneurs to easily launch programmable, USD-pegged stablecoins.
---
MEET WITH ME
Walks and jogs at the park, 6 feet apart
Zoom coffee meetings
---
ADDITIONAL INFO
Hi, I'm Paul Veradittakit, a Partner at Pantera Capital, one of the oldest and largest institutional investors focused on investing in blockchain companies and cryptocurrencies. The firm invests in equity, pre-sales/IEO rounds, and cryptocurrencies on the secondary markets. I focus on early-stage investments and share my thoughts on what's going on in the industry in this weekly newsletter.
👋 Working on building new technologies? I'd love to hear about it, shoot me an email
🙏 I'd appreciate it if you forwarded this email to someone who would benefit from it
💡If you have any content you want to share on this newsletter, please send it to me and we can make it happen
Please click here to help me improve this newsletter and your experience by filling out this NEW survey!
---