Discover more from VeradiVerdict
A weekly newsletter by Paul Veradittakit, crypto investor at Pantera Capital
Over 26,000 subscribers
Insights From China
VeradiVerdict - Issue #53
Last week, I was able to speak at the Global Blockchain Summit during Shanghai Blockchain Week, my first trip to Asia this year.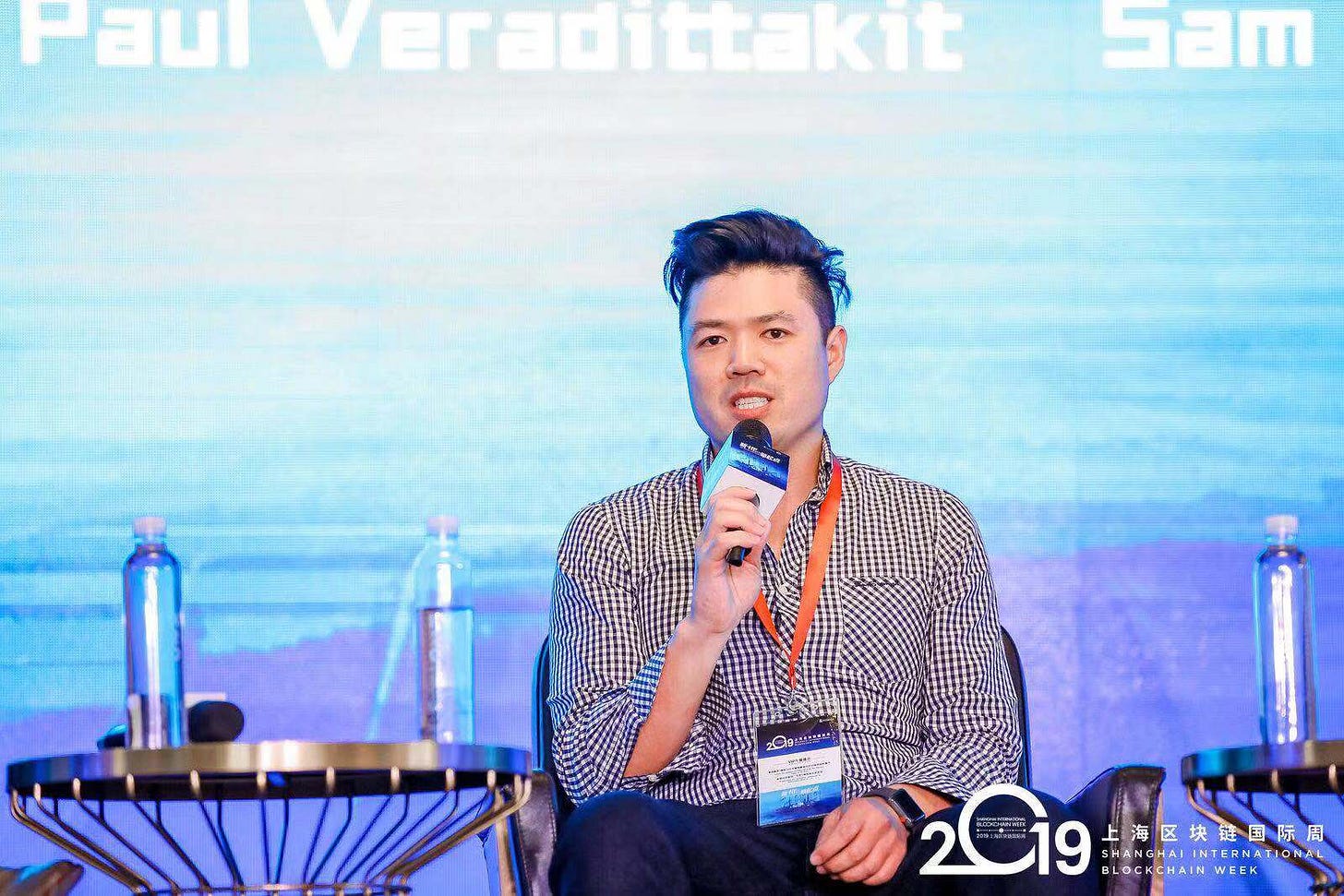 Each time I travel to a new geography, I'm looking to meet potential investors for our funds, learn from co-investors, meet potential investment opportunities, and connect with strategic companies for the benefit of Pantera and our portfolio companies. That's the playbook and here is what I learned this time around:
Investment into funds - Chinese individual investors really prefer strong relationships, trust, and liquidity. So far, quantitative crypto hedge funds and funds that buy tokens on the secondary markets have been targeted. I believe that institutional money into the space isn't there yet but when it does happen, investment into funds that invest into equity will start.

Co-investors - At one point during the 2017 boom, there were likely 400 "funds" in Asia investing into the space. Now we're down to like 15-20 funds. Investors are seeing an opportunity to just buy undervalued tokens off the secondary market or incubate projects really early. What they aren't doing as much is investing into illiquid instruments like equity or SAFTs. There are some funds that see infrastructure companies as part of their thesis and want to invest in equity. Those investors are working on raising funds that will invest in equity and targeting investors in the US that might be interested in gaining geographic exposure to blockchain.

Startup companies - I saw similar companies around infrastructure emerging in Asia as they have in the US. Spaces such as prime brokerage, wallets, big data, custody, and security. Since China is not a big fan of cryptocurrencies, projects that focus on enterprises have emerged targeting supply chain, energy, and smart cities, getting support from the government. The next phase for those is interoperability with public chains.

Strategic companies

The top class of strategic companies would be the exchanges as liquidity in the space goes through Asia and these companies have the largest balance sheet. The exchanges are still focused on listing great projects but have been creating a more structured and detailed process. Therefore projects should start early and be prepared to put in the time. Investments and acquisitions have been a bit more rare for exchanges, as they see it being cheaper to build vs buy. Joint ventures remain a strong possibility if they can see the synergy.

The other class of strategic companies would be those that are helping foreign projects enter the Asian market through help with connecting with exchanges, marketing/community, content, offline events, and influencers. Most folks would just target Tier 1 cities like Beijing, Shanghai, and Hong Kong, but Tier 2 cities and localization of content are also extremely important. Projects like Polkadot (which Pantera is one of its largest seed investors) and Algorand have spent much time building up education/awareness.
---
DIGESTS
This past month we ran a test on the Ethereum mainnet, working with large mining pools like SparkPool, BTC.com, F2Pool and others, including projects and companies working on top of ETH and running their own nodes. This is our first public testing on a mainnet and the results thus far have been extremely positive.
InstaDApp is an autonomous banking portal that runs on top of emerging blockchain-based financial protocols such as MakerDAO, Uniswap, or Compound. Its mission is to simplify everyday banking needs, such as taking loans, lending money, swapping tokens, and taking leveraged positions.
Part1: Staking Rewards in Proof of Stake are Economically Flawed
Bakkt, the highly-anticipated subsidiary of the parent company of the New York Stock Exchange, Intercontinental Exchange (NYSE: ICE), is launching daily physical settle bitcoin futures contracts today.
---
IN THE TWEETS
---
NEWS
As part of the UBI initiative to weather the onslaught of automation, Tron's Justin Sun give $1000 to 100 people every month from next year totaling $1.2 million in one year.
If the exchange works as planned, it will give institutional investors a secure, well-monitored place to trade Bitcoin, the world's most widely used cryptocurrency. 
Paul Verdattakit, a partner at blockchain investment fund Pantera Capital, said there is still reason to invest in exchanges. On last week's episode of The Scoop, Verdattakit explained part of Pantera's strategy is to invest in a variety of geographies.
---
REGULATIONS
VanEck and SolidX have withdrawn their bitcoin Exchange-Traded Fund (ETF) proposal, according to a September 17 filing to the Securities and Exchange Commission (SEC). This news comes weeks after reports that VanEck and SolidX have begun to offer the sale of privately placed securities to "qualified institutional buyers."
Following reports its crypto-focused subsidiary Kin had laid off 70 employees, Kik Interactive CEO Ted Livingston announced Monday that Kik will also be shutting down its core messaging services.
---
NEW PRODUCTS AND HOT DEALS
The world's largest cryptocurrency exchange Binance has made its first investment in China, in crypto media startup Mars Finance.
U.S.-based financial giant Wells Fargo is developing a U.S. dollar-linked stable coin that will run on the firm's first blockchain platform.
Blockchain analytics firm Elementus has raised funding from several funds, including one linked to Fidelity Investments and Morgan Creek Digital.
Facebook has acquired Servicefriend, a startup developing chatbots for messaging apps, according to a TechCrunch report.
---
MEET WITH ME
Montreal, September 27-29
London, September 30
Osaka, Devcon 5, October 8-11
Tokyo, October 15-17
San Francisco, Pantera Blockchain Summit, October 21-22
---
ADDITIONAL INFO
Hi, I'm Paul Veradittakit, a Partner at Pantera Capital, one of the oldest and largest institutional investors focused on investing in blockchain companies and cryptocurrencies. The firm invests in equity, pre-sales/IEO rounds, and cryptocurrencies on the secondary markets. I focus on early-stage investments and share my thoughts on what's going on in the industry in this weekly newsletter.
👋 Working on building new technologies? I'd love to hear about it, shoot me an email
🙏 I'd appreciate it if you forwarded this email to someone who would benefit from it
💡If you have any content you want to share on this newsletter, please send it to me and we can make it happen
Please click here to help me improve this newsletter and your experience by filling out this NEW survey!