Discover more from VeradiVerdict
A weekly newsletter by Paul Veradittakit, crypto investor at Pantera Capital
Over 26,000 subscribers
London Recap
VeradiVerdict - Issue #49
Last week, I was in London meeting with companies and investors. I was able to meet a few friends for drinks on the rooftop of The Ned on a clear day!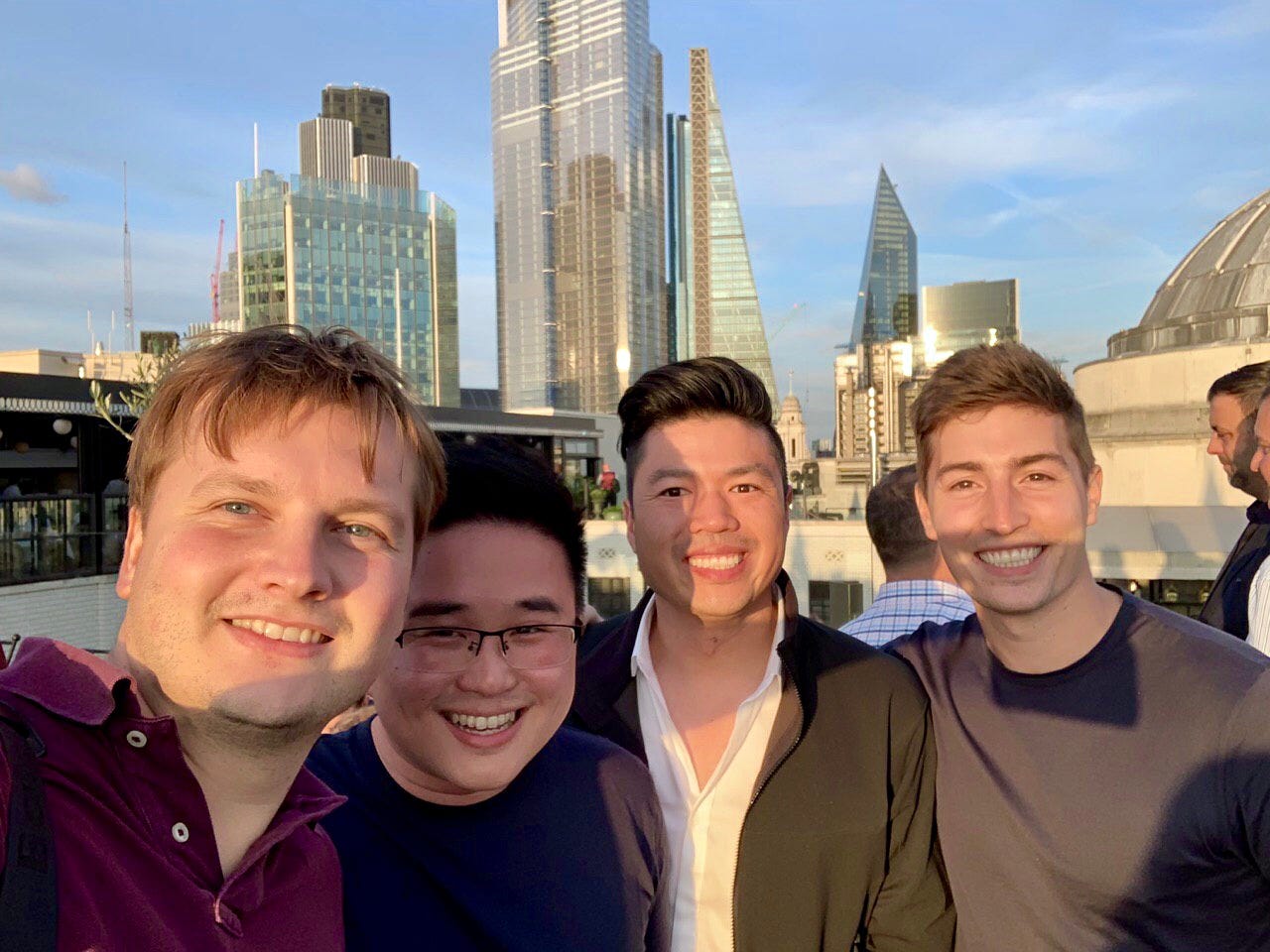 International trips are very insightful, as you really get to learn/get updated on a different ecosystem.
Did you know that London ranks just behind San Francisco in terms of FinTech unicorns? Check out this article which says that San Francisco has 9 unicorns while London has 7. London is the FinTech hub of Europe and theoretically should have the characteristics for a lively blockchain startup ecosystem.
Yet while London is closing in on San Francisco on the traditional FinTech side, it seems farther away on the blockchain side. Pitchbook has San Francisco with more than 3x as many VC-backed blockchain startups as London. The two London startups that have most of their team members in the city and are achieving scale are Blockchain (which just launched their exchange) and Elliptic (which has been doing fraud analytics on the blockchain for a while and is expanding its team).
There are a few different challenges that London crypto faces:
Banking - Getting a UK bank account is extremely tough for companies, as funds and companies have to resort to getting banks that are outside of the country. For example, Coinbase just had their Barclays bank account shut down.

Regulations - The equivalent of the SEC in the UK is the FCA, and while they have been progressing on their framework regarding licensing of crypto companies, the process currently still takes quite a while.

Funding - Institutional limited partners in Europe are pretty conservative and have not started investing into crypto funds yet. The crypto funds that exist are smaller in AUM size. The legacy traditional VC funds might have one person on their team dedicated to crypto and have barely scratched the surface in terms of deals. Some of these dedicated crypto folks end up leaving due to the inactivity in the space.
What can be done to change this?
More education on the conference level, either separate tracks or even a large-scale industry conference. Early this year, Fabric Ventures organized the Web3 Track at CogX.

Accelerators or blockchain verticals within accelerators or co-working spaces dedicated to the space should exist. I think these will happen sooner rather than later

University participation in conferences and hackathons would help. The ChainSpace team was from UCL while the upcoming DeFi Summit London is going to be at Imperial College. What about Cambridge and Oxford?
Once there are more quality blockchain startups in London, it will drive traditional VC and crypto fund activity into the ecosystem, create use-cases that will educate the local LP base, and then drive more LP capital into local funds, completing the flywheel.
Thanks to all the folks in London for the inspiration.
DIGESTS
Bakkt's bitcoin futures and warehouse to debut in September
The Bay Area has been the best place to build a startup for the last two decades. Some experts are questioning if that's still true, but it's clearly not the only place an entrepreneur can create a transformative company.
---
IN THE TWEETS
---
NEWS
Ethereum core developers finalized late Thursday a list of six different code changes to be activated for ethereum's next system-wide upgrade, Istanbul.
Data gathered by Bloomberg reveals that, despite a recent global drop-off in cryptocurrency price, bitcoin is attracting investment from Argentina and Hong Kong.
---
REGULATIONS
Bakkt says it will launch its physically-delivered bitcoin futures product in September – months after its initial planned deadline.
The U.S. Internal Revenue Service (IRS) is stepping up a campaign to send warning letters to cryptocurrency investors, urging them to make sure that they have accurately reported all transactions for tax purposes.
---
NEW PRODUCTS AND HOT DEALS
Crossing $7 billion in assets under custody, Coinbase Custody is now the most popular and trusted choice for institutions to store cryptocurrency.
---
MEET WITH ME
Berlin, Web3 Summit, August 19-21
Los Angeles, August 23
New York City, September 3-6
Shanghai, Shanghai Blockchain Week, September 16-18
Montreal, September 27-29
---
ADDITIONAL INFO
Hi, I'm Paul Veradittakit, a Partner at Pantera Capital, one of the oldest and largest institutional investors focused on investing into blockchain companies and cryptocurrencies. The firm invests in equity, pre-sales/IEO rounds, and cryptocurrencies on the secondary markets. I focus on early-stage investments and share my thoughts on what's going on in the industry in this weekly newsletter.
👋 Working on building new technologies? I'd love to hear about it, shoot me an email
🙏 I'd appreciate it if you forwarded this email to someone who would might benefit from it
💡If you have any content you want to share on this newsletter, please send it to me and we can make it happen
Please click here to help me improve this newsletter and your experience by filling out this NEW survey!