Discover more from VeradiVerdict
A weekly newsletter by Paul Veradittakit, crypto investor at Pantera Capital
Over 26,000 subscribers
Pantera Blockchain Summit
VeradiVerdict - Issue #48
Pantera started hosting influential summits around blockchain starting in 2013. Since then, the firm has launch multiple funds around investing into venture capital and tokens (ICO/IEOs and off the secondary markets). During our journey, we've invested into over 100 companies and accumulated almost 1000 limited partners. The firm decided to keep the minimum investment amount for investors at $100,000 knowing that many folks are still getting educated and comfortable with the space. Limited partners include individuals, family offices, corporations, and institutions. We've seen limited partners over the years invest more into the same funds, across other funds, and eventually into subsequent vintages of funds.
One of the benefits of the Pantera family is the network of entrepreneurs and investors that we can bring together, so this year's Pantera Blockchain Summit will be in San Francisco on October 22nd. The speaker list and breakout sessions revolve around our portfolio companies and we are excited about having Nick Szabo returning to speak, as he is attributed with coining the term "smart contract". It will be a wonderful opportunity for networking, learning, and business.
The summit is only for limited partners of our funds, so if anyone has questions, feel free to contact ir@panteracapital.com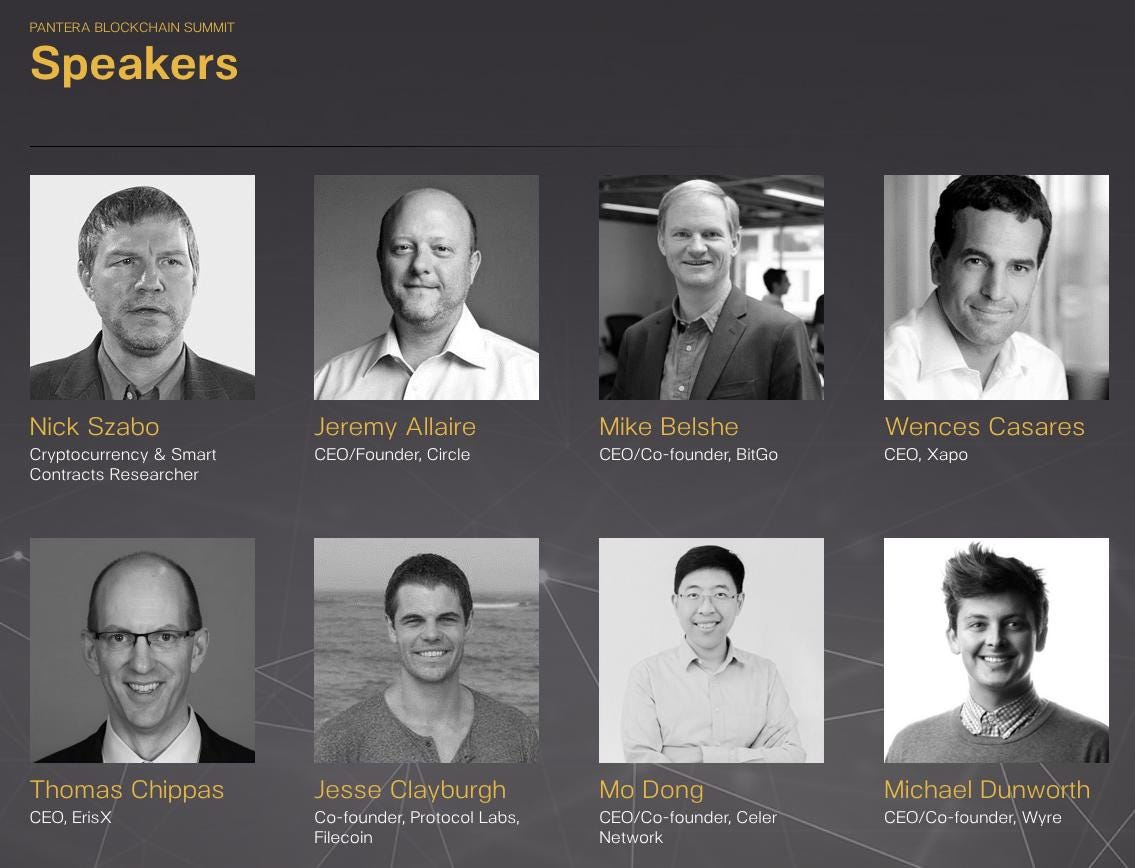 ---
DIGESTS
Blockchain technology has proven to be a great invention since it was introduced about a decade ago. Since then, it has powered several inventions that will have a lasting impact on humanity. Some notable examples are the Internet of Things (IoT) and smart
"Blockchain" and "distributed ledger technology." Many of us have been guilty of confusing these two terms and using them interchangeably. 
---
IN THE TWEETS
---
NEWS
Cryptocurrency exchange Kraken has just acquired a firm offering a way for institutional investors such as hedge funds and asset managers to better manage their portfolios.
BitMEX Ventures, the investment arm of cryptocurrency derivatives trading platform BitMEX, has invested in Bahrain-based licensed cryptocurrency exchange Rain, which went live today.
The total computing power now dedicated to securing the bitcoin blockchain has set yet another record.
---
REGULATIONS
Blockchain analytics firm Elliptic collaborated with researchers from the Massachusetts Institute of Technology (MIT) to publish a public dataset of bitcoin transactions associated with illicit activity.
The United States Federal Reserve Board is planning to release a real-time payments and settlements service in order to boost the payments infrastructure in the country.
---
NEW PRODUCTS AND HOT DEALS
Retail giant Walmart has applied for a cryptocurrency patent that bears some similarities to the Libra token proposed by Facebook in mid-June.
Germany-based blockchain finance firm Bitwala has raised €13 million (almost $14.5 million) in a Series A funding round.
---
MEET WITH ME
London, August 15-16
Berlin, Web3 Summit, August 19-21
Los Angeles, August 23
New York City, September 3-6
Shanghai, Shanghai Blockchain Week, September 16-18
Seoul, September 19-20
Montreal, September 27-29
---
ADDITIONAL INFO
Hi, I'm Paul Veradittakit, a Partner at Pantera Capital, one of the oldest and largest institutional investors focused on investing into blockchain companies and cryptocurrencies. The firm invests in equity, pre-sales/IEO rounds, and cryptocurrencies on the secondary markets. I focus on early investments and want to share my thoughts and what's going on in the industry in this weekly newsletter.
👋 Working on building new technologies? I'd love to hear about it, shoot me an email
🙏 I'd appreciate it if you forwarded this email to someone who would might benefit from it
💡If you have any content you want to share on this newsletter, please send it to me and we can make it happen
Please click here to help me improve this newsletter and your experience by filling out this NEW survey!