Discover more from VeradiVerdict
A weekly newsletter by Paul Veradittakit, crypto investor at Pantera Capital
Over 26,000 subscribers
Privacy-Focused Brave Browser Exceeds 10 Million Monthly Active Users
VeradiVerdict - Issue #63
Brave browser recently announced that the browser has exceeded 10 million monthly active users (MAUs). That is quite an accomplishment!
Pantera was one of the largest investors in Brave's seed round in early 2016 with Founders Fund and Propel Ventures. The investment was a bet on the team (Brendan Eich was the former CEO/CTO of Mozilla and the rest were amazing engineers/individuals), the vision, and the budding (only six-figure MAUs at the time) but engaged user base. The investment thesis was that a faster, privacy-controlled, and better user experience browser with a more equitable business model would be a winning formula. What Brave accomplished right from the beginning was a browser that was orders of magnitude faster than google chrome and other similar browsers by removing ad-trackers/cookies and enabling users to maintain data privacy and control.
Since then, Brave has reached 10.4 million MAUs and and 3.3 million DAUs (daily active users).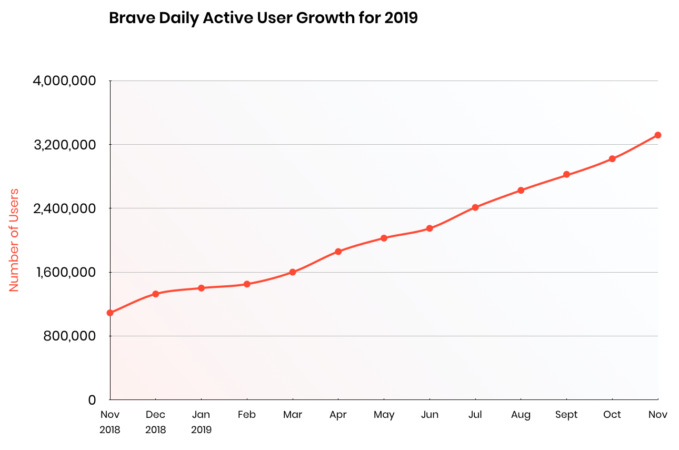 Hitting 1 million DAUs was a big milestone for the company. Achieving 30% DAUs/MAUs is a strong key performance indicator for any consumer company, and they continue to do that. Users have a built-in cryptocurrency wallet that can receive BAT (Brave Attention Tokens, the native cryptocurrency of the Brave Browser) in exchange for viewing high-quality ads, opt-in only. Users are getting a piece of the business model which is different than other browsers. This ad model does not sacrifice the speed of the browser nor the user experience.
I've been a DAU of Brave Browser since the beginning, mostly on my mobile device because that's where I do my browsing, and look forward to the evolution of its product and monetization model.
If you want to give it a try, download Brave here.
---
DIGESTS
Bitcoin Options and Cash Settled Futures Now Available.
Bitfinex has the most liquid Bitcoin, Ethereum and XRP pairs.
---
NEWS
Privacy-focused internet browser Brave says that it has passed 10 million-mark in terms of monthly active users (MAU).
HBUS, the U.S. affiliate of the Huobi Group exchange, announced Monday it would cease operations in the coming weeks.
---
IN THE TWEETS
---
REGULATIONS
U.S. Congressman Brad Sherman (Democrat-California), who once called for a blanket ban on cryptocurrency buying, has been elected as chairman of the Subcommittee on Investor Protection, Entrepreneurship and Capital Markets.
The country's Ministry of Economy and Finance is pushing for the measure to be implemented next year, local news outlet The Korea Times reported Sunday, citing "government sources."
---
NEW PRODUCTS AND HOT DEALS
Figure Technologies, a blockchain-powered financial services startup founded by former SoFi CEO Mike Cagney, has closed a $103 million Series C round.
---
MEET WITH ME
Las Vegas, December 20
New York City, January 7-10
---
ADDITIONAL INFO
Hi, I'm Paul Veradittakit, a Partner at Pantera Capital, one of the oldest and largest institutional investors focused on investing in blockchain companies and cryptocurrencies. The firm invests in equity, pre-sales/IEO rounds, and cryptocurrencies on the secondary markets. I focus on early-stage investments and share my thoughts on what's going on in the industry in this weekly newsletter.
👋 Working on building new technologies? I'd love to hear about it, shoot me an email
🙏 I'd appreciate it if you forwarded this email to someone who would benefit from it
💡If you have any content you want to share on this newsletter, please send it to me and we can make it happen
Please click here to help me improve this newsletter and your experience by filling out this NEW survey!