Discover more from VeradiVerdict
A weekly newsletter by Paul Veradittakit, crypto investor at Pantera Capital
Over 26,000 subscribers
Profit-Sharing Tokens
VeradiVerdict - Issue #93
The Republic Note, a first-of-its-kind profit sharing token, launches on Thursday, July 16. A tokenized security that lets both retail and accredited investors claim a piece of the pie when early-stage companies are bought or IPO, the Note is a game changer for both the crypto and venture capital worlds. Republic allows companies to raise capital through their private platform (accredited investors with $25k min) and public platform (open to everyone, $20 minimum, Reg CF offering). Over $125m has been invested on the platform. Here are five things companies contemplating getting involved in tokens should take away from the launch.
Code is not law
The mantra "code is law" has been repeated many times in the crypto space. In a technical sense, it's true, since tokens can embed the rights and responsibilities of ownership into their design. But that's not enough. Without careful consideration of legal and regulatory requirements, any token risks being shut down -- as so many 2017-vintage projects learned the hard way.
Instead, developers and entrepreneurs looking at tokenization need to recognize what the relevant securities laws are, and why they're there. The fact is, there's a good reason such rules exist, even if the way they're applied to a new technology like crypto can seem arbitrary and ham-fisted. Only in understanding the legitimate rationale for regulations, and how a token project addresses concepts like ownership, equity, and asset transfers -- which these rules were designed to facilitate -- is the project likely to thrive.
Honey works better than vinegar
Once we understand the reasoning for regulation, and the real risks they attempt to mitigate, we can work within existing systems. Working with regulators and lawmakers to improve existing regulatory systems is the approach most likely to produce a token that is fully legal and that still offers unprecedented benefits to users. The Republic Note is a perfect example: working with regulators, the team has developed a security token, issued under Reg A Plus, that allows both accredited and non-accredited investors to share in profits from the companies Republic invests in.
This would not have been possible without an understanding of, and commitment to working within, the existing regulatory environment. And the result is a new security that goes a huge distance toward realizing the potential of crypto to shape the future of finance.
Tokens really are (part of) the future
Republic's success, even prior to the Note's launch, shows that tokens have a real role to play in the future of investing. Moreover, the Note's availability to both retail and accredited investors proves that tokens can be regulated and still achieve their democratizing potential. When it became clear that many tokens would be classified as securities by the SEC, there were fears that institutional capital would dominate token markets as they had other private investments. Republic shows these fears have not come to pass.
If you build it, they will come?
It's never a good bet to assume that simply building something ensures people will use it. But the Republic Note's success -- it's backed by Binance, Passport Capital, the Algorand Foundation, Blockchain Ventures, ZhenFund and FBG Capital, in addition to Republic's traditional blue-chip co-investment partners Andreessen Horowitz, Union Square Ventures, Sequoia Capital and others -- shows that established financial heavyweights have no reservations about crypto platforms. Republic's success in attracting the biggest and best should be a major encouragement for other crypto development teams, showing that the stage is now set for major mainstream adoption.
Crypto is here to stay
All of this taken together points to one conclusion: crypto is part of the future, and it isn't going anywhere. The launch of the Republic Note demonstrates that a security token can be fully SEC-compliant, and that it can gain the backing of top names in venture capital and private equity. This first-of-its-kind security proves that a token really can deliver material benefits --access to a major engine of wealth creation in the form of private equities -- to retail investors, in a way that traditional securities could not. Crypto is part of the mainstream economy, and Republic is leading the way.
- Paul V
---
IEO ALERT: METER IN 12 HOURS
Meter.io launched its mainnet on July 4th.  It is a DeFi infrastructure with the first crypto native low volatility coin and the first HotStuff consensus mainnet in the world. 
Meter employs a unique economic and consensus design that separates currency creation from record keeping. It leverages PoW to create a fully-decentralized, low-volatility cryptocurrency that eliminates counterparty, regulatory, and oracle risks typically found with fiat- and crypto-collateralized stablecoins.  PoS is used to manage the ledger.  Validators who hold Meter's governance token, MTRG, approve transactions.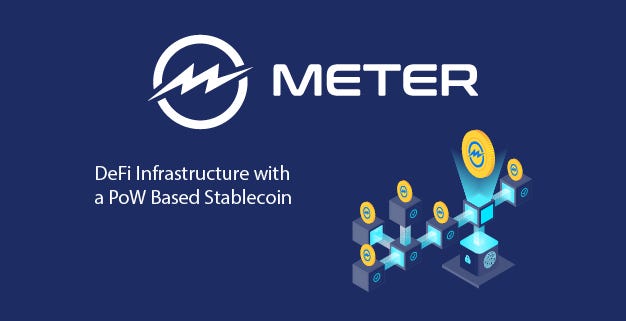 Meter also functions as a Layer 2 sidechain for other public blockchains like Ethereum to allow value interaction among different crypto assets.
Before the mainnet launch, Meter had been running testnet for 6 months with more than 110 validators.  Within days after the launch, its network hash rate has already reached 50Ph/s, making it the 4th highest hashrate network after BTC, BCH and BSV.
The team only raised $1.3M in 2018 from Pantera Capital, DHVC, and GBIC and delivered a solid, highly innovative infrastructure ahead of many high profile projects that raised tens of millions. 
The team is hosting an IEO on https://gate.io on July 15th (with listing on the next day)  The network valuation in the IEO is priced at $20M valuation. 
---
DIGESTS
Two months after the network's halving event, it's harder than ever to mine bitcoin.
A vote has been started that will alter the course of Polkadot and define the final denomination of its native DOT token. It affects all Polkadot stakeholders.
---
NEWS
Crypto exchange Coinbase has reportedly begun preparing to go public.
Ripple and Coinbase-backed cryptocurrency exchange Bitso has topped Argentina's crypto market in the six months after launch.
Alchemy, the company that makes some of the biggest blockchain applications possible released [Alchemy Build], a suite of tools to improve the blockchain development process.
---
REGULATIONS
Crypto financial app Abra has settled charges from the Securities and Exchange Commission (SEC) and Commodity Futures Trading Commission (CFTC) relating to its offering of swaps deemed unlawful by the regulators.
---
IN THE TWEETS
---
NEW PRODUCTS AND HOT DEALS
Binance Labs, the incubation and seed funding arm of the world's largest crypto exchange, has made its first investment this year, backing decentralized privacy startup HOPR.
Fidelity Digital Assets has seen its book of business for its custody and execution offerings grow since the beginning of the year.
---
LETS MEET UP
Walks at the park or Zoom coffee meetings
---
ABOUT ME
Hi, I'm Paul Veradittakit, a Partner at Pantera Capital, one of the oldest and largest institutional investors focused on investing in blockchain companies and cryptocurrencies. The firm invests in equity, pre-auction ICOs, and cryptocurrencies on the secondary markets. I focus on early-stage investments and share my thoughts on what's going on in the industry in this weekly newsletter.