Discover more from VeradiVerdict
A weekly newsletter by Paul Veradittakit, crypto investor at Pantera Capital
Over 26,000 subscribers
Protocols vs Applications
VeradiVerdict - Issue #70
Last week, my friend Joel Monegro of Placeholder VC wrote on the refinement of his crypto thesis and published Thin Applications. The debate and question of protocols vs applications has been brought up quite a bit as Pantera has a separate fund for early-stage protocols and a separate fund for equity.
Until 2015, the only significant protocol was Bitcoin and the initial investment into the space was just buying Bitcoin and holding. Early applications include providing retail access, custody, and speculation.
Enter 2015 with the emergence of Ethereum and the ability to program smart contracts. Eventually, a plethora of token projects came to market enabling disintermediation of existing legacy incumbents around sectors like marketplaces, lending, and exchanges and enabling use-cases that would be harder to scale like prediction markets. Yet we soon realized that we need scalability to enable widespread adoption of these protocols and thus an influx of Layer 0, Layer 1, and Layer 2 protocols. Fat Protocols was accurate in that most of the value was accruing to protocols vs applications through their accumulation of work and data. The moat for protocols has been providing a platform for developers to build applications on top with a token that provides access, potentially fees, governance/participation rights, and liquidity.
Folks started to ask if venture capital was getting disrupted and whether every financing round was going to involve a token. We knew that eventually there would need to be tools/services that would help developers more easily develop on top of protocols, such as running nodes, kyc/aml of users, and staking, fiat-onramps, etc. These companies could be worked on by the protocols themselves or by independent companies, not needing a token. There would also be a set of companies that would focus on providing the wallet/interface that would provide the end user experience for interacting with protocols. The end user could be a retail user, an enterprise, or an institution. Sample interfaces for retail include a wallet to enable a global venmo, an automated robo-advisor, an interface for prediction market protocols, etc. For enterprises, it likely will start with pilots involving their innovation and R&D teams. For institutions, companies will be providing services/products around speculation, custody, risk management, data, etc. Moats include regulations/compliance, creating a network effect/liquidity (could include a token that provides discounts/perks), strong user experience, and timely customer service. You can see how the stack evolves below.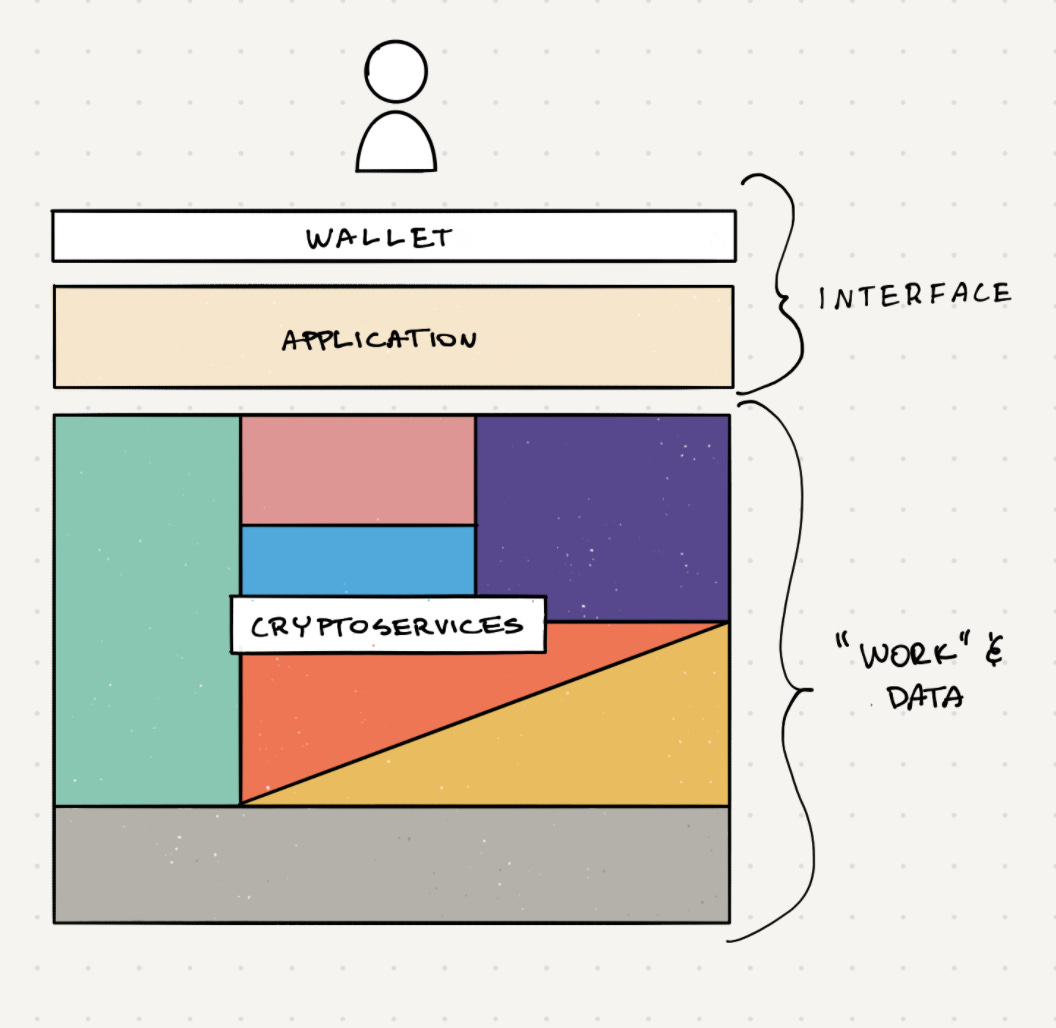 A Cryptoservices Architecture by Placeholder VC

In terms of investment returns, both protocols and applications can provide great returns. Protocols do raise at higher valuations (network valuation) and are more capital intensive (community-building and regulations) while applications can have lower entry valuations and be less capital intensive to build/run. Protocols seems likely to produce the highest absolute returns yet there will be fewer winners while applications can still produce venture returns and have more downside protection because of structure and closed source software.
The trend currently is for early stage projects to raise equity rounds in the beginning, regardless of whether they are going to do a token or not. For those that do plan on doing a token later, an equity round gives them time to figure out the token model and regulations yet there is some sort of alignment with investors in the initial documentation of financing. Projects that raise using token agreements tend to be "later-stage" token projects that are about to launch their token networks.
---
DIGESTS
This is an update to The Blockchain Application Stack (2014) and Fat Protocols (2016).
Blockchains are computers that can make commitments. Traditional computers are ultimately controlled by people, either directly in the case of personal computers or indirectly through organizations.
---
NEWS
Ethereum-based open protocol, 0x, released a new liquidity aggregation tool, 0x API, to offer developers the best price on every trading pair
The zcash community has agreed to continue funding the development of its privacy coin, ZEC, as spearheaded by the Electric Coin Company (ECC) and the Zcash Foundation, according to voting results published by the foundation Thursday.
---
IN THE TWEETS
---
REGULATIONS
Democratic presidential hopeful Andrew Yang said the U.S. needs a consistent legal framework for cryptocurrencies if it is to be a market leader.
---
NEW PRODUCTS AND HOT DEALS
The venture arm of the world's most profitable company Saudi Aramco has invested $5 million in blockchain-based oil trading platform Vakt.
Belgium-based enterprise blockchain startup SettleMint has raised 1.9 million euros (~$2.04 million) in a new funding round. )
One lucky DAI holder won over $1,400 on PoolTogether Friday, reaching a new order of magnitude in prize payouts for risk-averse gamblers.
---
MEET WITH ME
Toronto, February 26-28, 2020
Los Angeles, March 6-9
TOKEN2049, Hong Kong, March 16-18, 2020
Seoul, March 19-20, 2020
---
ADDITIONAL INFO
Hi, I'm Paul Veradittakit, a Partner at Pantera Capital, one of the oldest and largest institutional investors focused on investing in blockchain companies and cryptocurrencies. The firm invests in equity, pre-sales/IEO rounds, and cryptocurrencies on the secondary markets. I focus on early-stage investments and share my thoughts on what's going on in the industry in this weekly newsletter.
👋 Working on building new technologies? I'd love to hear about it, shoot me an email
🙏 I'd appreciate it if you forwarded this email to someone who would benefit from it
💡If you have any content you want to share on this newsletter, please send it to me and we can make it happen
Please click here to help me improve this newsletter and your experience by filling out this NEW survey!