Discover more from VeradiVerdict
A weekly newsletter by Paul Veradittakit, crypto investor at Pantera Capital
Over 26,000 subscribers
Recap From SEA Travels
VeradiVerdict - Issue #61
For the last 10 days, I traveled through Singapore and Thailand for conferences and tried to better understand what is going on in each geography for blockchain.
I was able to spend a dinner and some time with the Binance team and their partners.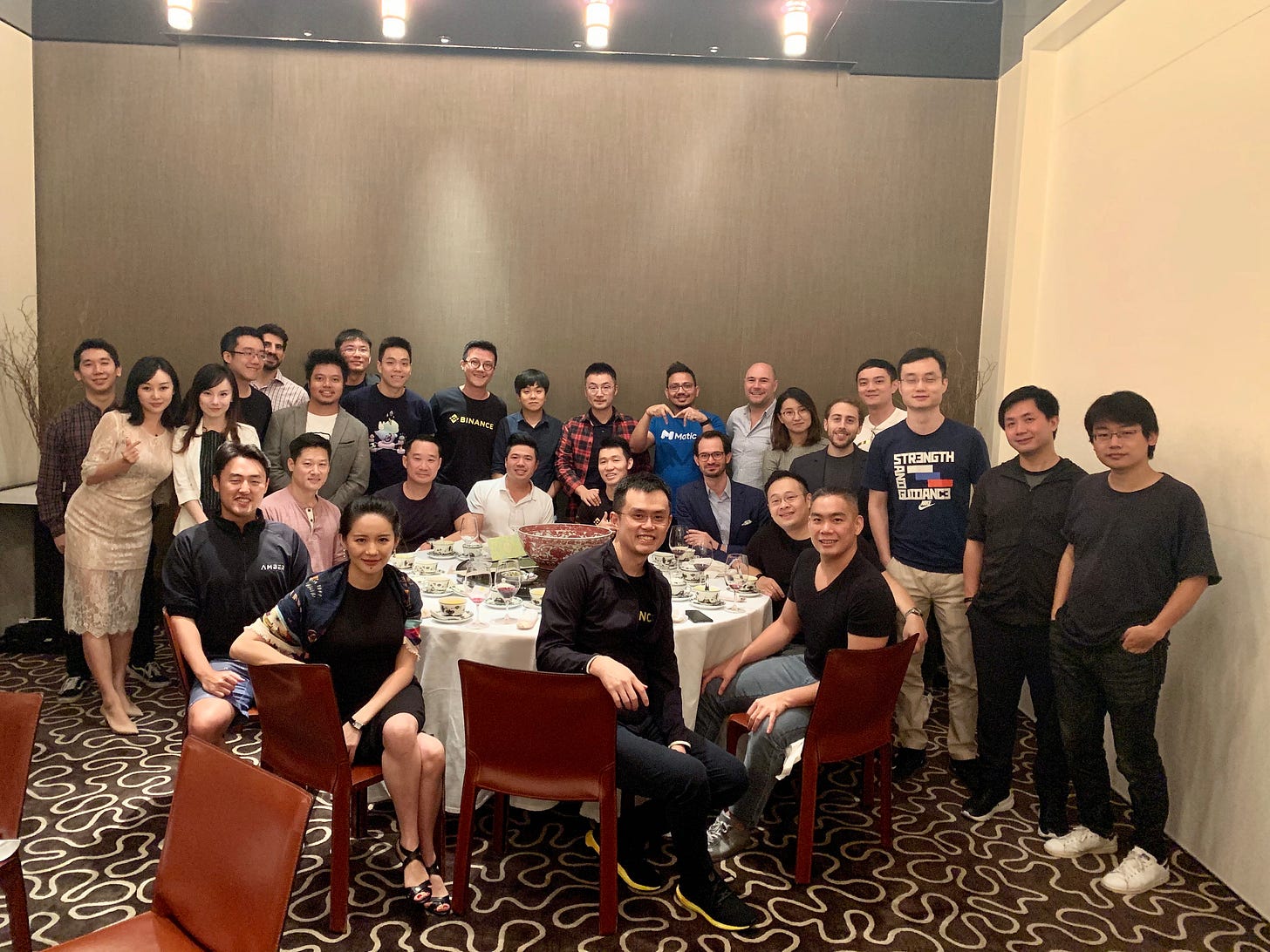 In Singapore, I noticed that there was quite a bit of chatter around enterprise blockchain and security tokens. One of the more high-profile announcements during the week was the announcement of Project Ubin, using blockchain and distributed ledger technology for clearing and settlement of payments and securities. The project is being collaborated on by JP Morgan, Temasek, and the Monetary Authority of Singapore. For security tokens, folks mentioned that tokenization of real estate is not likely to be the first killer use-case, as REITs already exist. I personally think that a company like Otis is on the right path where you can reduce the financial friction of owning/transferring a piece of a collectible, creating a new target demographic for alternative assets.
In Thailand, there has been some regulatory progress as four crypto exchanges have received licenses. Since then, only five crypto exchanges have received approval and only one ICO. There seems to be a push for more flexibility from the Thai SEC to promote innovation going forward. On enterprise blockchain, two projects have stood out recently, one is a blockchain-based renewables platform led by PTT (the large energy conglomerate) and the other is Velo, a blockchain-based credit and payments platform that has strong cash-in/out and enterprise partners involved.
---
DIGESTS
In 2014, I made a post and a presentation with a list of hard problems in math, computer science and economics that I thought were important for the cryptocurrency space (as I then called it) to be able to reach maturity. In the last five years, much has changed.
---
NEWS
Shanghai headquarters of the People's Bank of China (PBoC), the country's central bank, has officially announced that it will crack down on cryptocurrency exchanges in the city.
Bakkt's growth could continue, one expert predicts.
"Our security camera caught at least one of their cars drive away, which was a grey Nissan Sentra. The police were also able to catch their license plate too."
---
IN THE TWEETS
---
REGULATIONS
After rallying as much as 30 percent within hours of Xi's speech, the price of bitcoin has fallen back to a level even lower than it was before his remarks and dipped to a six-month low below $7,000 on Monday.
The central bank of France wants the eurozone to build a blockchain-based settlement system that will move euros more quickly and at less cost than with existing technologies.
---
NEW PRODUCTS AND HOT DEALS
Orchid says its new VPN protocol and token will make privacy more private. Launch is slated for the first week of December.
Bank of New York Mellon has joined the Marco Polo trade finance consortium running on R3's Corda, becoming the 28th bank to do so. 
---
MEET WITH ME
Los Angeles, November 25-29
Orange County, December 9
Las Vegas, December 20
New York City, January 7-10
---
ADDITIONAL INFO
Hi, I'm Paul Veradittakit, a Partner at Pantera Capital, one of the oldest and largest institutional investors focused on investing in blockchain companies and cryptocurrencies. The firm invests in equity, pre-sales/IEO rounds, and cryptocurrencies on the secondary markets. I focus on early-stage investments and share my thoughts on what's going on in the industry in this weekly newsletter.
👋 Working on building new technologies? I'd love to hear about it, shoot me an email
🙏 I'd appreciate it if you forwarded this email to someone who would benefit from it
💡If you have any content you want to share on this newsletter, please send it to me and we can make it happen
Please click here to help me improve this newsletter and your experience by filling out this NEW survey!