Discover more from VeradiVerdict
A weekly newsletter by Paul Veradittakit, crypto investor at Pantera Capital
Over 26,000 subscribers
SF Blockchain Week Recap
VeradiVerdict - Issue #58
Last week was San Francisco Blockchain Week, and there were tons of investors and entrepreneurs visiting from out of town. The main conference events were organized by my friends at Dekrypt Capital, and they have been great at involving our alma mater, UC Berkeley, in both event hosting and recruiting.
The number of events during the day and into the evenings were tremendous, so folks were spread out everywhere. On Thursday at Epicenter, I moderated a panel titled "The How of Howey: Telegram, Blockstack, and the Future of Utility Tokens." While discussing regulations was a challenging topic, I and the crowd found it pretty insightful to get perspectives from the amazing speakers: Josh Stein of Harbor, Natalia Karnayaneva of Propy, Preston Byrne of Byrne & Storm, and Paul Bao of BitCherry.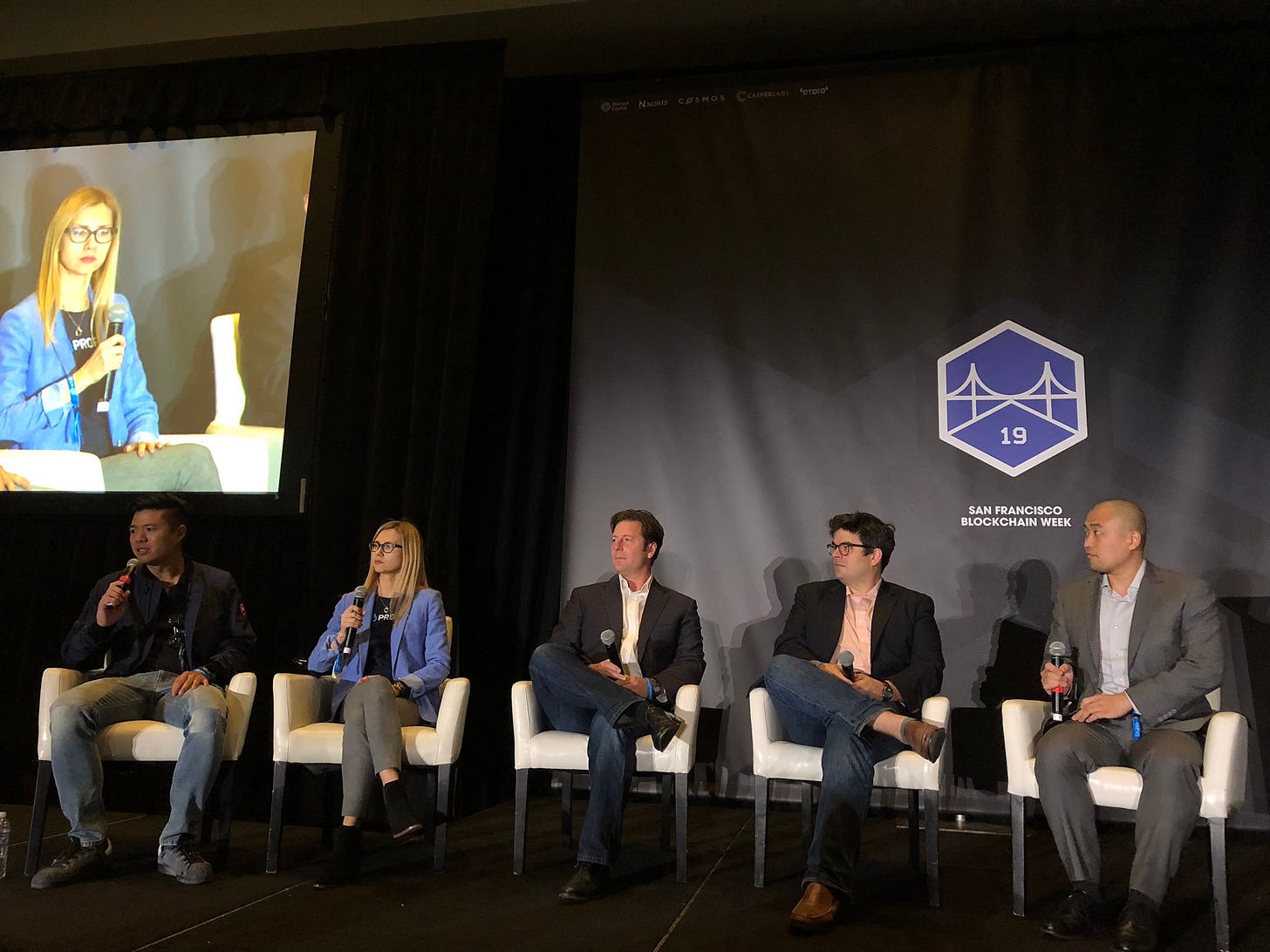 Some common views during the panel include:
Entrepreneurs whose projects launched before the DAO report are working with regulators to find an appropriate middle ground

Launching a token with a functioning product vs pre-product is an important distinction

SEC and CFTC are very open right now to engaging with projects so projects should reach out to have conversations

Utility tokens may be easier to launch outside of the US. For projects in the US, to be most viewed as largely compliant, either avoid US investors or do a combination of a Reg D offering for non-US investors and a Reg A+ for US investors

Entrepreneurs need to decide what is the function of their token and their risk appetite before deciding which type of offering to do for their token

Security tokens are still promising but liquidity is an issue
---
DIGESTS
I tried my hands on studying how Instadapp users behave and understanding the model behind it. Here's my attempt at summarizing it.
Although Blockchain technology got its identity from the cryptocurrency king Bitcoin, it went to make a name solely for itself.
---
NEWS
Huobi Global will kick all of its U.S. customers off its platform later this month.
DX. Exchange, which offered tokenized shares in companies listed on the Nasdaq stock exchange, announced the move following a vote by its board on Monday to discontinue operations as it pursues "a merger or outright sell of the company."
---
IN THE TWEETS
---
REGULATIONS
The U.S. Federal Reserve is hiring a manager to oversee its traditional payments section, while adding new responsibilities to the role, including researching how to integrate digital currencies, stablecoins and distributed ledger technologies.
Crypto startup Knabu is working towards piloting bank regulatory reporting with Factom. Factom is among the first enterprise blockchain companies
An obscure porcelain and education firm is under investigation by a top Chinese regulator after it became one of the most sought-after blockchain stocks last week.
---
NEW PRODUCTS AND HOT DEALS
QuarkChain's focus and solid technologies enable Go version go live and open-sourced on schedule.
Token offering platform CoinList has raised $10 million with backing from Twitter and Square CEO Jack Dorsey.
---
MEET WITH ME
Singapore, Singapore Fintech Festival, November 11-13
Kuala Lumpur, November 14
Bangkok, November 15-19
Los Angeles, November 25-29
---
ADDITIONAL INFO
Hi, I'm Paul Veradittakit, a Partner at Pantera Capital, one of the oldest and largest institutional investors focused on investing in blockchain companies and cryptocurrencies. The firm invests in equity, pre-sales/IEO rounds, and cryptocurrencies on the secondary markets. I focus on early-stage investments and share my thoughts on what's going on in the industry in this weekly newsletter.
👋 Working on building new technologies? I'd love to hear about it, shoot me an email
🙏 I'd appreciate it if you forwarded this email to someone who would benefit from it
💡If you have any content you want to share on this newsletter, please send it to me and we can make it happen
Please click here to help me improve this newsletter and your experience by filling out this NEW survey!