Discover more from VeradiVerdict
A weekly newsletter by Paul Veradittakit, crypto investor at Pantera Capital
Over 26,000 subscribers
The Crypto Asset Management Problem
The rise of cryptocurrency has brought with it a host of new challenges and opportunities. One of the biggest issues facing users is how to store and manage their digital assets in a safe and secure manner. While centralized exchanges and other custodial services offer convenience, they also come with significant risks. Hacks and thefts are all too common, and users have little control or recourse when their funds are lost or stolen. On the other hand, self-custody solutions offer more control and security, but they can be complex and intimidating for the average user. Private keys, seed phrases, and other technical jargon can be confusing and off-putting, and the fear of losing access to funds due to a misplaced piece of paper or an accidental mistake is a constant worry. As a result, a staggering 95% of cryptocurrency users, even among the early adopters, prefer other unsafer alternatives to store their blockchain-based assets.
This presents a major opportunity for the decentralized space to create user-friendly and secure self-custody solutions that can truly empower users to take control of their own funds. By addressing the usability issues and fears that deter many users from self-custody, we can create a more decentralized and resilient cryptocurrency ecosystem that puts users in the driver's seat. With the right tools and approaches, it is possible to make self-custody a viable and attractive option for the masses, not just the technically savvy.
Enter Braavos
Braavos is a comprehensive crypto asset management solution for StarkNet, an Ethereum layer-2 ZK Rollup. It offers a smart contract-based wallet with advanced security and user experience features. By utilizing Ethereum's security, StarkNet's scaling solution and the power of account abstraction, Braavos allows users to keep their assets in self-custody, providing a secure and intuitive user experience for those looking to manage their crypto assets outside of centralized wallets and exchanges.
Braavos offers a range of features on its various browsers extension, as well as its Android and iOS apps, including the ability to:
connect to dApps on StarkNet

use the built-in exchange to easily swap tokens

review transactions in a human readable format with the Transaction Explainer feature

securely transfer and receive ERC20 tokens

Onramp and bridge funds to Braavos from various sources - including, credit card, bank and CEX transfers, as well as bridging funds directly from various other chains

browse NFT collectibles - JPEGs, 3D images, audio and video NFTs

access developer tools. 
Additionally, in terms of security, Braavos has introduced a built-in Hardware Signer that utilizes users' existing mobile device dedicated and isolated security chip capabilities (e.g.: iPhone's Secure Enclave), and biometric identification to secure wallets and prevent theft. This advanced security scheme makes a dedicated hardware wallet redundant for all practical use cases, giving users peace of mind that their assets are safe and secure, coupled with a frictionless experience for issuing transactions on the blockchain - similar to what users are used to when using Apple/Google Pay. 
Braavos is a smart contract based wallet, which means that the user's wallet consists of two parts - the application (like every other wallet) and an account smart contract on-chain that represents the user's account and all transactions go through it. This is called account abstraction and it is extremely powerful as it allows running any logic on a transaction before it gets executed. The Hardware Signer feature mentioned above utilizes this capability by running a transaction signature verification logic that complies with the cryptographic signature scheme supported in mobile devices (secp256r1), instead of relying on the blockchain (StarkNet or any other major blockchain) built-in signature verification, which is not compliant with mobile devices.
However, account abstraction not only allows for arbitrary verification logic, but also for various other features that make the wallet more secure and with a smoother UX. Things like,
Multi-call - the ability to execute multiple contract calls in one transaction.
For example: 'approve token 1', 'approve token 2', 'add liquidity' as one transaction to an AMM (which also prevents the need to give unlimited allowance to the AMM to transfer funds from the user's wallet).

Multi-factor Authentication - like in classic web2, users can define that 2 (or more) signatures are required in order to execute a transaction. 

Account Segmentation - the ability to define types of accounts with different daily withdrawal limits / time delay. Or, the need for 2FA for transactions above a certain amount. 

Paymaster - the ability to pay gas fee not in the native token. 
And as design space is practically limited, much more…
Braavos' wide range of features and advanced security measures make it a powerful choice for anyone looking to take control of their crypto independence.
Future Plans
Moving forward, Braavos is committed to continuing its development of innovative products and features that aim to reduce complexity while maintaining strong security and powerful functionality. The company is launching a suite of upcoming releases that include a "forgot password" mechanism to eliminate the need for seed phrases, multi-factor authentication for added security, and built-in DeFi capabilities for easy yield farming within the wallet. These features are part of Braavos' larger mission to make self-custody a more accessible and user-friendly option for the masses while preserving the core values of decentralization and security. As the DeFi and cryptocurrency markets continue to grow and evolve, Braavos is well-positioned to meet the needs of its users and lead the way in the development of user-friendly self-custody solutions.
Team
Braavos was founded in early 2022 by Motty Lavie, Abraham Makovetsky, and Yoav Gaziel. The team has a wealth of experience in building and scaling technology and teams through their previous ventures. They are deeply committed to the decentralized ethos of the world of cryptocurrency, but also understand that many self-custodial solutions can be intimidating for the average user. With their expertise as CEO, CTO, and director of innovation at Comigo and other organizations, Motty, Abraham, and Yoav are working to eliminate the high-friction barriers to mass crypto adoption.
Conclusion
Aiming to make crypto easy and worry-free, Braavos uses advanced cryptography and Ethereum's security to allow users to keep their assets in self-custody while also taking advantage of StarkNet's scaling and built-in account abstraction, to provide a user experience on par with leading centralized crypto solutions. With its wide range of features, as well as several innovative features in the pipeline, Braavos is a powerful alternative to independence from exchanges. Available as an extension for web browsers and on iOS and Android devices, Braavos is well-equipped to meet the needs of a wide range of users while preserving the values of decentralization and self-custody.
Paul Veradittakit
DISCLAIMER
Pantera Capital Puerto Rico Management, LP and its affiliates ("Pantera") makes investments in crypto assets and in blockchain-related companies.  Pantera and/or its affiliates or personnel may be an investor in, or have relationships or other business arrangements related to, certain instruments, companies and/or projects discussed herein.  This document does not contain any advertisement for Pantera's investment advisory services, or any other services or products, whether provided by Pantera or otherwise.  The information and opinions presented in this document are solely those of Paul Veradittakit; they do not represent, and should not be interpreted as representative of, the views of Pantera or any other individual working for Pantera, and do not represent investment, legal, tax, financial, or any other form of, advice or recommendations.  Neither Pantera nor Mr. Veradittakit is acting, or purports to act, as an investment adviser or in a fiduciary capacity with respect to any recipient of this paper.  Information contained in this document is believed to be reliable, but no representation is made regarding such information's fairness, correctness, accuracy, reasonableness or completeness.  There is no obligation to update this document or to otherwise notify a reader if any matter stated statement or information contained here changes or subsequently is shown to be inaccurate.  Nothing contained herein constitutes any representation or warranty as to future performance of any financial instrument or company.  Forward-looking statements should not be relied upon, and performance or outcomes may differ materially from what is contemplated herein.  Opinions included here incorporate subjective judgments or may be based on incomplete information.  This document does not constitute or contain an offer to sell or a solicitation to buy any securities or a recommendation to enter into any transaction, and no reliance should be placed on this document in making investment decisions. 
---
DIGESTS
Staked ETH withdrawals, scalability and more cool events are on the horizon for Ethereum.
Virtual pets have been around for decades, but with NFTs, we set to own our online cats and dogs this year, not just play with them, says Leah Callon-Butler.
---
BUSINESS
The meme coin is up over 150% in the past 24 hours and have recorded some of the highest trading volumes on Solana-based decentralized exchanges.
The company will rebrand as Riot Platforms, as it diversifies amid a bleak outlook for the wider Bitcoin mining industry.
---
REGULATION
The crypto exchange will pay a $50 million fine and invest $50 million into bolstering its compliance programs.
Bitcoin dipped sharply with stocks before regaining ground following news that Fed has no plans to ease up.
---
IN THE TWEETS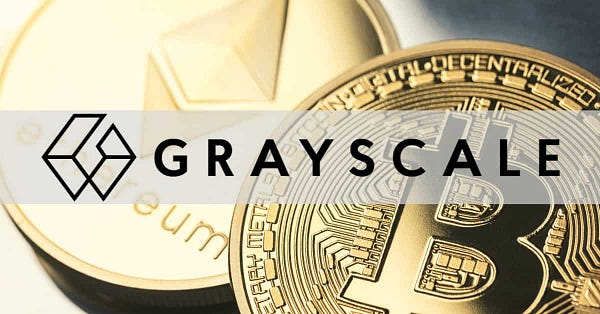 crypto-bits.org
Grayscale Ethereum Trust Discount Sinks to 60%, GBTC Down to 45%
The Grayscale Ethereum Trust (ETHE) has fallen to a record discount of -60% as fears over liquidations mount. The discount to net asset value (NAV) had
---
NEW PRODUCTS AND HOT DEALS
Square Enix isn't deterred by the crypto bear market or gamer pushback, plotting multiple blockchain-powered games ahead.
Curve tokens (CRV) are issued as yield farming rewards to liquidity providers on Curve Finance, and can be converted into vote-escrowed CRV (veCRV).
Thanks for reading VeradiVerdict! Subscribe for free to receive new posts and support my work.
---
LETS MEET UP
PEER Summit, Salt Lake City, Jan 6-8
NFT.NYC, New York City, April 10-14
Walks and coffee meetings in San Francisco throughout the year!
Happy New Year to all of you and thank you for the continuous support!
---
ABOUT ME
Hi, I'm Paul Veradittakit, a Partner at Pantera Capital, one of the oldest and largest institutional investors focused on investing in blockchain companies and cryptocurrencies. I've been in the industry since 2014, and the firm invests in equity, early stage token projects, and liquid cryptocurrencies on exchanges. I focus on early-stage investments and share my thoughts on what's going on in the industry in this weekly newsletter.
Thanks for reading VeradiVerdict! Subscribe for free to receive new posts and support my work.