Discover more from VeradiVerdict
A weekly newsletter by Paul Veradittakit, crypto investor at Pantera Capital
Over 26,000 subscribers
Still Open For Business
VeradiVerdict - Issue #95
When the pandemic started in March 2020, entrepreneurs were wondering if investors were still open for business. Pantera has continued to be very active on investments in the private markets, as we've both re-invested into portfolio companies while also executing on new deals.
During the time, the decentralized finance sector of the ecosystem has skyrocketed, going from $1B of TLV (total value locked) to now $3.5B of TLV. Pantera has historically been heavily involved in DeFi, as you can see just a sampling of representative investments here, doesn't even include base layer protocols like Polkadot or Near.
Announced yesterday, Pantera has led the seed round of another DeFi project, Injective Protocol, a decentralized derivatives exchange that is launching later this year. Injective Protocol has sought to improve the poor liquidity, high latency and lack of compelling product offerings that characterized decentralized exchanges. Today, Injective Protocol's Layer-2 derivatives exchange protocol provides a fully decentralized, trustless, and front-running resistant exchange protocol that improves the experience of decentralized derivatives trading.
What makes this investment unique is that it is the first investment since COVID done completely virtually. The process involved a series of video calls and both online/offline diligence. Looking at the macro environment, monthly DEX (decentralized exchange) volume has been increasing.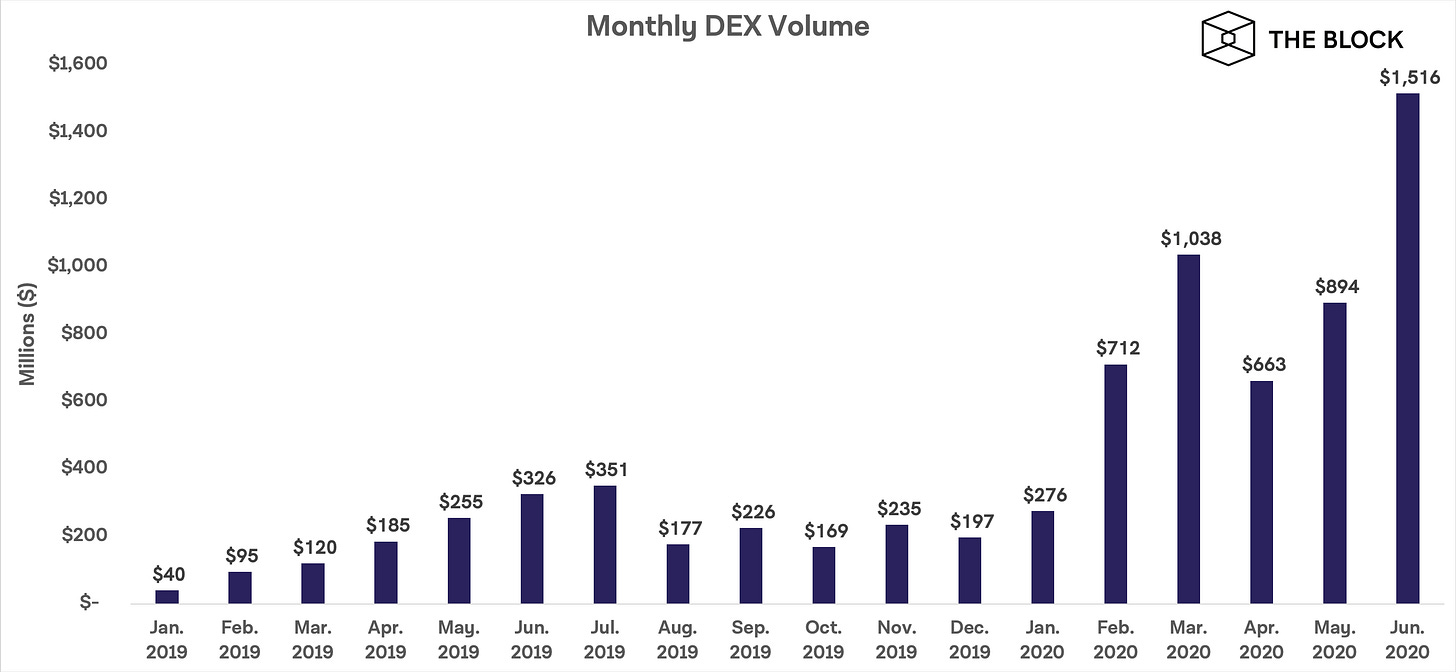 In addition, centralized futures volume has recently hit almost record highs.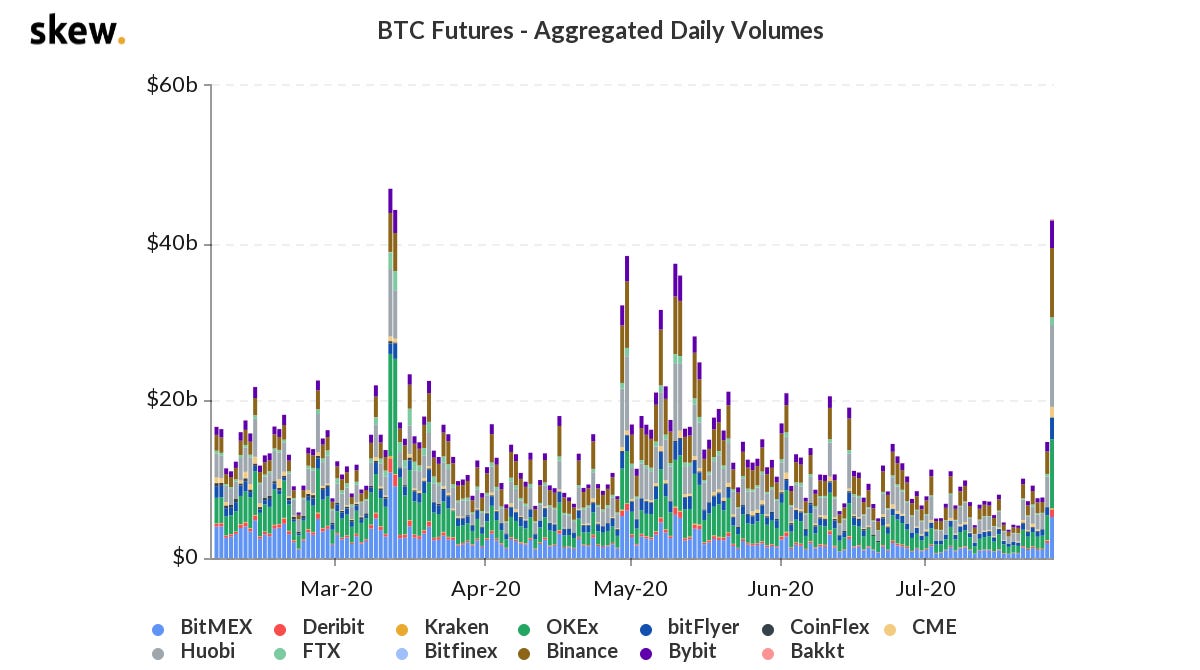 We believe that the decentralized derivatives will be a tremendous vertical for crypto.
Other investors in this round include QCP Soteria, Axia8 Ventures and Boxone Ventures, among others. Injective Protocol aims to solve critical scalability and user experience bottlenecks that trouble decentralized exchanges (DEXs). Beyond providing working capital, the new strategic investors will also provide liquidity solutions for the decentralized exchange as well as support Injective Protocol's business development and market brand recognition internationally.
I believe that Injective Protocol scalably brings advanced derivatives capabilities to DeFi while being uncompromisingly decentralized. Injective is a strong contender to expand DeFi beyond just Ethereum power users and to serve as an integral layer ushering the new dawn of decentralized derivatives. We have been impressed with Eric Chen, the CEO, and the team's ability to execute on both product and go-to-market.
This round of funding helps the team gears up for mainnet launch and token issuance in the later half of this year.
You can sign up for for the testnet waitlist on their website.
- Paul V
---
DIGESTS
Yearn.finance accrued well over $400m in AUM with the most active community participation seen yet. 
The Augur V2 client is a serverless, fast syncing, completely decentralized application. There are:

No hosts

No applications to run

No massive sync times

No admin keys

And it runs entirely contained in any modern browser.
---
NEWS
Ampleforth aims to address the systemic risk by designing a token to be mostly uncorrelated with other cryptocurrencies, and also isolated from swings in traditional financial markets.
Bakkt just reported the largest single-day volumes for its physically-settled monthly bitcoin future contract. 
The price of bitcoin surged by $1,268.19, reaching a six-month high of $11,203.90, or a one-day gain of 12.73%. It's another indication of the resurgence of both investor interest in the technology and renewed confidence in its long-term prospects .
---
REGULATIONS
The U.S. Office of the Comptroller of the Currency (OCC) has opened the door for federal savings associations and national savings banks to hold cryptocurrencies on behalf of their customers.
---
IN THE TWEETS
---
NEW PRODUCTS AND HOT DEALS
A second private sale of the Polkadot token (DOT) netted the Web3 Foundation and Parity Technologies some 3,982.07 bitcoin (BTC) worth an estimated $43.3 million at press time, according to sources.
The team behind the decentralized derivatives exchange Injective Protocol has raised $2.6 million in a seed round led by Pantera Capital.
The Abra Interest account offers an opportunity for anyone in over 150 countries to earn up to 9% interest on their crypto and US dollar stablecoins. 
---
LETS MEET UP
Walks at the park or Zoom coffee meetings
---
ABOUT ME
Hi, I'm Paul Veradittakit, a Partner at Pantera Capital, one of the oldest and largest institutional investors focused on investing in blockchain companies and cryptocurrencies. The firm invests in equity, pre-auction ICOs, and cryptocurrencies on the secondary markets. I focus on early-stage investments and share my thoughts on what's going on in the industry in this weekly newsletter.