Discover more from VeradiVerdict
A weekly newsletter by Paul Veradittakit, crypto investor at Pantera Capital
Over 26,000 subscribers
The Digital Asset Wallet
VeradiVerdict - Issue #77
Recent years have seen a consumerization trend across finance, largely accomplished by the rise of financial technologies. Things like Robinhood, Venmo, banking apps and more, have given users a better understanding and accessibility to the financial sector.
In Summer 2020, Bakkt plans to launch a consumer app with hopes of bringing that accessibility, understanding, and utility to digital assets. Bakkt, whose largest investor is Intercontinental Exchange (ICE), began by offering institutional infrastructure for bitcoin custody and futures and options trading. Bakkt has also been developing the technology and platform to enable merchants and consumers to more easily transact with digital assets and recently closed a $300 million Series B with investments from Pantera Capital, Microsoft's M12, ICE, BCG, and more.

The crux of Bakkt's consumer app is a digital wallet where all of a user's digital assets can be managed. Bakkt treats "digital assets" liberally, so this includes a wide variety of things, from bitcoin to a checking account to rewards programs and airline miles. The idea is to aggregate all digital products that have value in one space for users to manage and use them effectively. 

The mobile app also supports key services, like a crypto trading platform and the ability to send money to peers or even pay for retail goods via a virtual debit card. It also provides the ability for users to immediately convert their digital assets from one form to another –– that means users who earn airline miles or Xbox rewards can exchange them for cash. Bakkt accomplishes this through its acquisition of Bridge2 Solutions, which manages loyalty programs with total worth of $60 billion, including rewards for 7 of the top 10 financial institutions in the country and the nation's 2 largest airlines.

Bakkt's mobile app is key because it (1) shows users why digital assets broadly (spanning airline miles to bitcoin) are useful and hold much more value than they realize, (2) drives user engagement with digital assets through an astonishingly beautiful user experience, and (3) identifies new opportunities for merchants and suppliers to engage with consumers via digital assets. 

Bakkt's mobile app is a critical step forward in helping loop in mainstream users to the digital assets space and bolster the versatility and credibility of crypto and digital assets as legitimate financial tools. 
The Consumerization of Finance
In recent years, the financial industry has become increasingly placed in the hands of individual consumers. Long gone are the days where everything was controlled by brokers and accountants –– individuals now have more financial freedom than ever before. With decentralized investing apps like Robinhood to personal finance mobile tools deployed by the world's largest banks, the space is bringing in increasingly mainstream audiences and giving them complete agency over their finances.
Much of this consumerization relies on the democratization of knowledge. Financial spaces used to be more institutionalized because they relied on highly specific, often-inaccessible knowledge. Many consumer finance tools, like Robinhood, do a fantastic job at building up base-level knowledge for mainstream users, by providing expert analyses, news feeds, and more critical information. The cryptocurrency space faces a largely similar problem. DeFi and cryptocurrency have plenty of benefits for mainstream users –– not just crypto enthusiasts –– but knowledge, confidence, and accessibility around the space have made it hard to loop in such consumers. To solidify the value of digital assets and cryptocurrency, it is critical to bring in mainstream users with accessible platforms that drive clear value. 
How exactly do we do that?
Bakkt is launching an all-in-one platform that enables individual users to manage all of their digital assets. Bakkt has a liberal definition of digital assets –– it's basically anything that has value in a digital form. This obviously includes things like cryptocurrency (Bitcoin, USDT, Dai, etc.) but also gaming assets, rewards points, loyalty programs, etc. Bakkt's core product thus far has been a digital wallet to manage all of these digital assets –– crypto, game points, airplane miles, hotel stay points, even USD. Bakkt President Adam White noted that the app could even host equities and enable equity trading. Bakkt will be deployed via a consumer app, set to launch for sometime in summer 2020.
On top of the management, it gives you the ability to take some key actions with the assets. All assets can be instantly converted to cash or bitcoin. That means users can take airline points they've earned from rewards programs and redeem their monetary value in fiat, making for a seamless transition between digital and physical assets. To engage with these loyalty platforms, Bakkt recently purchased Bridge2 Solutions, an Atlanta-based specialist that handles rewards programs for some of America's largest corporations including 7 of the top 10 financial institutions in the country and 2 of the country's largest airlines. Bakkt's already made the announcement that Starbucks will be its first direct merchant integration, lowering the cost of payments for Starbucks. In sum, the gross amount of loyalties managed by Bridge2 comes to $60 billion.
The platform also powers crypto trading, leveraging the same infrastructure used by ICE to power its global markets including the New York Stock Exchange (NYSE) . It's even possible to link Bakkt with your bank account and deposit or withdraw money, send money to friends, or load into the Bakkt virtual debit card which is available on Apple and Android Pay.
Investors seem confident in the product too. Bakkt raised $300 million in its Series B round, backed by Pantera Capital, ICE, Microsoft's M12 Ventures, Boston Consulting Group, Goldfinch Partners, and more. In sum, the company has raised $482.5 million to date.
Bakkt rings a bell. What did they do before?
Bakkt's been around for a while. Before its consumer app, its main product was the Bakkt Warehouse, a regulated bitcoin custodian geared for institutional users. Bakkt Markets offered things like custody (which performed well, since Bakkt operates under ICE, the gold standard for the space), and the Bakkt Bitcoin Monthly Futures and Options contracts. The key thing to note is that Bakkt's products were primarily targeted at institutional clients filled with cryptocurrency and financial experts. Bakkt's launch of a consumer app expands their focus to more broadly include mainstream users who are interested in maximizing the value of their digital assets, not necessarily the intricacies of futures and options trading.
Why is this so critical?
Bakkt's move to include mainstream consumers fits well with the broader financial trend of democratizing the space. Bakkt's product vision helps advance the standing and usage of crypto and digital assets in three key ways.
First, Bakkt's broad understanding of "digital assets" helps loop in audiences that may not be as knowledgeable about cryptocurrency and Bitcoin specifically. Bakkt's app attracts users from every space of digital assets, like gaming and rewards programs. People fly with airlines and earn miles, stay at hotels and earn free stays, and play their Xbox and receive in-game rewards. However, users often never use these rewards or may have better places to invest their value. Bakkt provides them a platform to convert these rewards into cash which drives higher engagement with the rewards programs. This is especially timely given how many hospitality & travel companies, like airlines, have taken significant losses due to the COVID-19 pandemic; users redeeming miles for flights doesn't do them much good, but users exchanging those miles for cash and then reusing them in the larger economy might help bounce things back. It also increases the amount of conversion between assets like flight miles and game rewards with currencies like USD and Bitcoin. The key is that by looping in the large clientele of Americans who engage with rewards programs and other "digital assets," Bakkt also exposes them to the beauty of cryptocurrency and their powerful platform which increases confidence in the space.
Second, Bakkt's launch of its mobile app is important. We've seen in the past few years how mobile apps have revolutionized the financial sphere. Now stock investing can be entirely done on Robinhood, bills can be evenly split on Venmo, and bank accounts can be wholly managed through the institution's proprietary app; there's no need to go to a physical specialist to help you out. Bakkt's consumer app adds that exact same value, except in the digital asset sphere. Early users of the consumer app have remarked that the most notable thing about it is its amazingly intuitive and beautiful user experience. Demos on the Bakkt website seem to only corroborate these reports. Put simply, the app is easy to use and engaging, which helps draw people into the space of digital assets and get excited about how they're handling their money online. This drives essential interest in the space.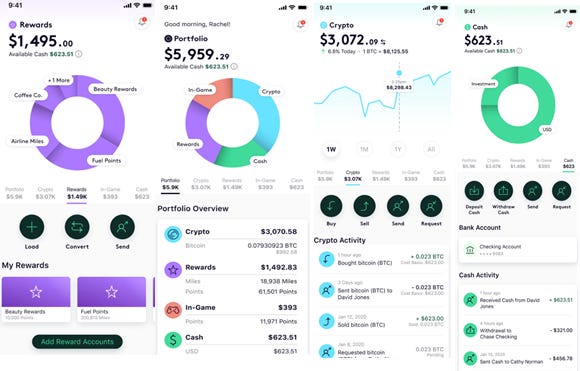 Third, Bakkt exposes a huge amount of opportunities in the digital assets space. By enabling users to easily integrate their digital assets and transact across them, merchants and suppliers may now find new and interesting ways to offer value to users via digital assets and to in-turn boost their own services. Bakkt Chief Executive Officer Mike Blandina noted "I have strong conviction that by driving more integration and efficiency across digital wallets, transaction processing and payment acceptance, there are meaningful opportunities for merchants and consumers to seamlessly interact using digital assets in ways that have not been previously considered." Converting loyalty points to cash is a relatively new development. The hope is that Bakkt helps pave the way for more such developments in the digital asset space, by letting users not worry about the underlying and complex technologies behind it. 
Final Thoughts
We are increasingly seeing the value of cryptocurrency and digital assets in the financial system. They offer unique, user-centric vehicles for individuals to manage their assets and wealth independently without adverse management by third-party services like financial institutions. Onboarding users onto these digital assets, however, has been a tricky battle because of the technical complexities, often unclear use cases, and newness of the space. 
Bakkt's soon-to-be-launched consumer app challenges exactly that. It provides an easy, intuitive platform that makes users excited about digital assets and provides clear avenues for them to manage and profit off of their digital wealth. Its integration with the broader sphere of what can be considered "digital assets," like airline miles and in-game rewards, can help tie digital assets to clear value for users and loop them into the space. Ultimately, Bakkt's consumer app is a critical stepping stone in increasing accessibility to digital asset management and usage and bolstering mainstream confidence and interest in the space. 
---
DIGESTS
Coinbase is operating important infrastructure for the economy during these trying times. I wanted to share a few updates on how we are keeping employees safe and ensuring that we are serving our customers.
---
NEWS
Crypto hedge funds appear to be giving their counterparts in equities a run for their money.
A Global Times report on Tuesday, citing "industry insiders," said the central bank appears to have completed the development of digital currency's basic function
---
REGULATIONS
The government of Hawaii unveiled a regulatory sandbox for digital currency firms on Tuesday.
---
IN THE TWEETS
---
NEW PRODUCTS AND HOT DEALS
Starting today Wyre's Apple Pay/Debit Card Widget will be available in over 20+ countries
Non-custodial portfolio manager Balancer Labs has raised $3 million in a seed round led by Accomplice and Placeholder.
---
MEET WITH ME
Walks and jogs at the park
---
ADDITIONAL INFO
Hi, I'm Paul Veradittakit, a Partner at Pantera Capital, one of the oldest and largest institutional investors focused on investing in blockchain companies and cryptocurrencies. The firm invests in equity, pre-sales/IEO rounds, and cryptocurrencies on the secondary markets. I focus on early-stage investments and share my thoughts on what's going on in the industry in this weekly newsletter.
👋 Working on building new technologies? I'd love to hear about it, shoot me an email
🙏 I'd appreciate it if you forwarded this email to someone who would benefit from it
💡If you have any content you want to share on this newsletter, please send it to me and we can make it happen
Please click here to help me improve this newsletter and your experience by filling out this NEW survey!