Discover more from VeradiVerdict
A weekly newsletter by Paul Veradittakit, crypto investor at Pantera Capital
Over 26,000 subscribers
VC Checklist
VeradiVerdict - Issue #98
Happy summer time to those in San Francisco, as it's been quite toasty!
While many folks are heads down with the new crops of yield farming such as Yam 2.0, Spaghetti Money, and Cream, I thought I would give a perspective and guide that might help entrepreneurs during this time.
One question that I get a lot is "What are venture capitalists (VCs) looking for when evaluating a startup for investment?"
Short answer is that it depends on the investor, with some differences between crypto and non-crypto investors. I thought it would be helpful to share what I think is a decent comprehensive checklist of the possible topics and details that investors will ask. If you have these boxes checked, you should be more prepared than most!
I think this comes at an opportune time, as we are seeing more early-stage deals than ever this year as decentralized finance has hit over $6B in total value locked.
Here is the presentation.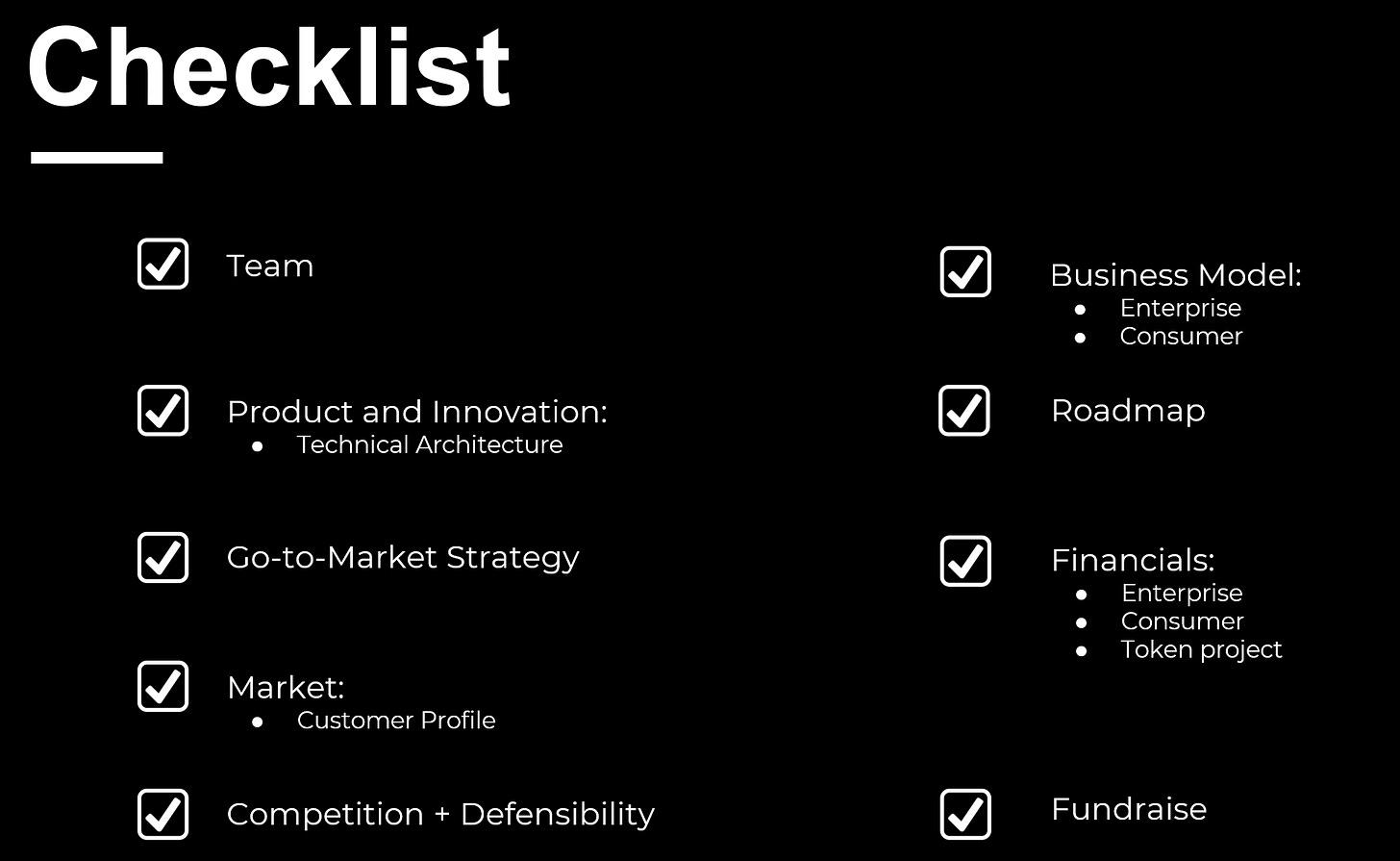 *I'd like to thank Lauren Stephanian on my team for helping with this presentation
- Paul V
---
DIGESTS
So how do you cultivate that skill? More broadly, how do you protect your mental health while investing or trading in cryptocurrency?
Hear from the analysts
---
NEWS
A record high of $6 billion worth of crypto is now locked in decentralized finance (DeFi) smart contracts, according to data analytics site DeFi Pulse.
Oasis Network has created the program which will provide resources and support to more than 20 participating university clubs and departments.
The non-custodial exchange dYdX, which is backed by the likes of Andreessen Horowitz, is partnering with StarkWare to integrate the firm's Layer-2 scaling technology into its perpetual contract offerings.
---
REGULATIONS
According to the exchange, each ERC-20 token should have four qualities: Verified source code, industry-standard library use, limited scope for privileged roles, and simple and modular design.
---
IN THE TWEETS
---
NEW PRODUCTS AND HOT DEALS
As the Money Market Protocol, Aave is establishing itself as the middleware of finance; for the Aave Fam building innovation on top of the Aave Protocol, the V2 will represent a new era where integrators can be further incentivized and participate in its governance. The new tools and features of Aave V2 empower both brand new services and decentralized applications to be built and improved to push the limits of Decentralized Finance and beyond.
Yield Farming — Generate yield by depositing assets into yield generating positions.

Multi Asset Support — Hold 2+ assets in your Set, allowing for broader crypto exposure and enabling index products.

Flexible Trade Execution — Portfolios can easily trade tokens using DEXs and dutch auctions. Tokens in the portfolio can also be completely removed or added in unlike V1 Sets where the trading pair is immutable.
VCCE said the investment would help it for product development and marketing activities. The exchange is set to soon launch a peer-to-peer (P2P) trading platform, and a futures trading platform "in the near future."
---
LETS MEET UP
Walks at the park or Zoom coffee meetings
---
ABOUT ME
Hi, I'm Paul Veradittakit, a Partner at Pantera Capital, one of the oldest and largest institutional investors focused on investing in blockchain companies and cryptocurrencies. The firm invests in equity, pre-auction ICOs, and cryptocurrencies on the secondary markets. I focus on early-stage investments and share my thoughts on what's going on in the industry in this weekly newsletter.