Discover more from VeradiVerdict
A weekly newsletter by Paul Veradittakit, crypto investor at Pantera Capital
Over 26,000 subscribers
VeradiVerdict - 2019 Crypto Predictions -Issue #18

Hi, I am Paul Veradittakit, a Partner at Pantera Capital, one of the oldest and largest institutional investors focused on investing into blockchain companies and cryptocurrencies. I focus on early investments and want to share my thoughts and what's going on in the industry in this weekly newsletter.
If you were forwarded this email, you can click here to subscribe.
---
Editorials
2018 has been a long, eventful year for crypto and while prices have dropped significantly since the start of the year, there have been strides made in the company building side that give hope for 2019.
As we head into the new year, one of the most common questions I get asked is what I see upcoming for the next year. While I don't like predicting crypto price, I think it would be fun to think about a few upcoming trends and see if they shake out in the next year.
Enjoy and Happy New Year to everyone! To a great 2019 for crypto!
Crypto Predictions for 2019
Consolidation - This year we've already seen two of the largest acquisitions in the space with Bitstamp getting acquired by NXMH and Chain getting acquired by Stellar in addition to others like Earn and Paradex. Coinbase hired Emilie Choi to head up BD and corporate development and other established crypto companies are looking at both investing into early stage startups or acquiring. Traditional tech startups are even spending more resources on figuring out their blockchain strategy, as Facebook has hired more employees for its blockchain team and is rumored to be developing a stablecoin for payments in Whatsapp. In 2019, I see a ramp-up in acquisitions by established players like Coinbase, Circle, and Bitmain but also a major significant acquisition by a traditional tech giant.
STOs - Security tokens have been one of the hottest topics of the year. With regulations becoming more of a focus, projects are treating their tokens as if they are securities. As infrastructure is being built for institutions to speculate on non-security tokens, there is a belief that they are more likely to speculate on security tokens, asset-backed tokens that could represent ownership/profits in art, REITs, funds, etc. Recently, Harbor, launched the first institutional-grade security token offering by offering an investment opportunity into a student housing real-estate property owned by DRW. In 2019, I think that STOs (security-token offerings) will gain traction through issuance platforms but will fail to meet expectations in becoming a largely traded asset class as it will take some time for this sector to take off due to education, regulation, and infrastructure.
Death of ICOs - Over $20B has been raised using initial coin offerings in the past 2 years, and we are likely to see a high-percentage of them fail due to not being able to execute because of regulations and/or operational capital. The latter reason could be attributed to the project not actually needing a token, mismanagement of treasury, or just not being able to achieve product-market fit. Recently, we've seen Basis shutdown due to regulatory hurdles. In 2019, I think that a lot of the ICOs that came to market early or in early 2018 will shut down and some of those will be very high-profile.
Institutional Capital - This year we've seen some pretty sizable and high profile funding rounds for infrastructure that will help onboard institutional investors into the space. On the custodian side, Bakkt, Anchor, and Bitgo have raised rounds. On the trading execution side, Omniex, Tagomi, and Lumina have raised rounds. In 2019, while the infrastructure is being built, it will take some more time for institutions to get comfortable around risk and regulations and therefore 2019 won't be the year that they come in a big way.
Scalability - This year, we've seen a ton of projects focused on scalability and most of the capital into tokens this year by Pantera has been surrounding projects tackling this. Coda, Algorand, Dfinity, Thunder, Oasis, etc have raised significant rounds on the Layer 1 side. Celer, Lightning, and Bloxroute have raised significant rounds on the Layer 2 side. In 2019, I believe we'll see launches of most of these scalability projects and at least one of them to get gain solid traction to compete as a next-level platform for smart contracts.
Digests
"Best Of 2018! Simply put, this is the best crypto content of the year — the most interesting, influential & inflammatory threads and essays."
You voted. Our writers debated. Meet CoinDesk's Top 10 2018 Crypto Influencers.
For people living under authoritarian governments, Bitcoin can be a valuable financial tool as a censorship-resistant medium of exchange.
Bitcoin got hammered in 2018 amid the prolonged Crypto Winter, but analysts expect it to rise again as institutional investors buy into crypto in 2019.
News
Ledger claimed that the recently uncovered vulnerabilities in their hardware wallets are not critical.
Blockchain companies have resolved more than 3,000 vulnerability reports in 2018 alone. In return, white hackers pocketed almost a million in bug bounties.
A Chinese survey of 4,200 respondents has shown that 40 percent are willing to invest in crypto in the future, local Chinese crypto news outlet 8btc reports on Dec. 26.
In the Tweets
There is a non-zero chance that Bitcoin will become the global reserve currency.

Probably the most incredible risk/reward opportunity many of us will see in our lifetimes.

What a time to be alive. 🙏🏽
6:17 PM - 18 Dec 2018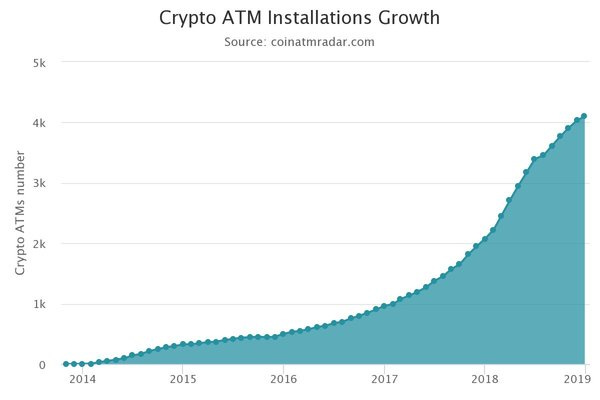 The number of Bitcoin ATMs doubled to 4,000 in 2018, continuing a 3 year trend of 100% year over year growth. https://t.co/mfYDxxkT1l
11:25 AM - 29 Dec 2018
There is an ongoing phishing attack against Electrum users. Our official website is https://t.co/aHiZIZH54e Do not download Electrum from any other source. More on the attack here: https://t.co/x5mPVspKfO
7:57 AM - 27 Dec 2018
1/ So here is a thread on how I turned $32,000 into $1.2m and back to pretty much zero (once taxes are paid).

Just note, I am not bitter or salty in any way at all, the last 2 years have been an amazing ride - travelled the world, been wealthy, been poor.
4:43 AM - 13 Dec 2018
Regulations
If cryptocurrency tax regulations don't adapt, the world may not be ready for mainstream adoption. Many crypto users fail to understand the complexity of current crypto tax regulations.
"The bear market is going to allow many of these institutions to build the proper foundations without rushing to build-out infrastructure without adequate testing for fear of missing out on a gold rush."
A new Indian governmental committee reportedly favors cryptocurrency regulation and legalization over prohibition.
New Products and Hot Deals
Samsung has applied for a U.K. trademark for a cryptocurrency wallet, after denying rumors it would include a native wallet on the Galaxy S10 earlier this month.
Bakkt on Monday announced the completion of its first funding round, to the tune of $182.5 million. The platform which aims to offer the first-ever Bakkt on Monday announced the completion of its first funding round, to the tune of $182.5 million.
After more than a year of development, we are overjoyed to announce EnjinX — an Ethereum explorer designed with a pivotal mission in mind: to speed up mainstream adoption of blockchain technology by making its data easily accessible to anyone.
Meet with Me
Los Angeles, January 11
Let me know if you are in the area and would like to meetup.
Additional Info
👋 Working on building new technolgies? I'd love to hear about it, shoot me an email
🙏 I'd appreciate it if you forwarded this email to someone who would might benefit from it
💡If you have any content you want to share on this newsletter, please send it to me and we can make it happen