Discover more from VeradiVerdict
A weekly newsletter by Paul Veradittakit, crypto investor at Pantera Capital
Over 26,000 subscribers
VeradiVerdict - Automating Coding - Issue #9

Hi, I am Paul Veradittakit, a Partner at Pantera Capital, one of the oldest and largest institutional investors focused on investing into blockchain companies and cryptocurrencies. I focus on early investments and want to share my thoughts and what's going on in the industry in this weekly newsletter.
View and comment this newsletter on Medium
---
Editorials
We recently co-invested the seed round of a YC company, Synthetic Minds, with Khosla Ventures. Synthetic Minds work to bullet proof smart contract, and are looking to automate the reading and writing of code. The founder, Srivastava, holds a PhD from Berkeley, and has been in this field for more than a decade.
The core technology of Synthetic Minds, program synthesis, falls under the same category as the method NASA uses to ensure the safety of mission critical software. With this technology, smart contract developers can build more trust in their high-value and long-lasting code. It will also allow comprehensive and automated auditing of smart contracts.
While we are very excited about the adoption and development in smart contracts that Synthetic Minds will help generate, we are even more thrilled about their long-term mission of democratizing software creation. Through establishing tools that analyze and synthesize code better than human, Synthetic Minds is going to bring automation to coding.
Digests
A hand-curated list of the 100 most influential people in bitcoin and other cryptocurrencies.
A crew of unknown men mosey into a chip manufacturer in China and say, "to hell with the blueprints, jam this pencil-tip size chip in the middle of everything; if you do, you get a bunch of money; if…
The "3 month rule" is an investment strategy developed for the more conservative cryptocurrency investor, like myself, to both preserve capital assets and maximize value while investing in…
In the Tweets
How cool is this: "Mastering Bitcoin 1Ed", on Chinese national TV. Even with a slightly sanitized title (no mention of Bitcoin), the content is the same.

Hoping to visiting China next year. Maybe this brings more opportunities and conference invitations. https://t.co/SHOBoaiF9a
6:46 AM - 25 Oct 2018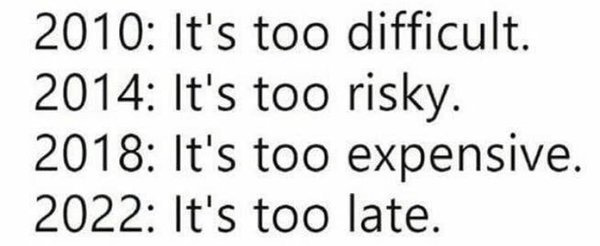 #Bitcoin #BTC 😇 https://t.co/Bnn8f76UlJ
4:58 AM - 28 Oct 2018
One thing that people are ignoring in this quiet market is the fact that, as of tomorrow, Bitcoin will have held $6,000 for over a year. That's huge. It's proving that bitcoin is functioning as a store of value.
10:21 AM - 28 Oct 2018
Good work from @AlethioEthstats. As they point out, the fact that EOS had massive outflows from the crowdsale contract DURING THE SALE is hugely problematic. Why did they depart from the established best practice and do this?

https://t.co/NWqTkVJlEJ
7:14 PM - 27 Oct 2018
News
Visa could support crypto in the future if the global market moves in the direction of embracing consensus currencies like Bitcoin and Ethereum.
Top crypto exchange OKEx will delist almost 60 trading pairs that reportedly have weak liquidity and trading volumes.
Sony Computer Science Labs says it has various use cases for its smart card hardware wallet beyond transactions.
shEOS, a firm which helps companies launch EOS tokens and provides important infrastructure for that network, has recently created a new protocol called EOS21 which enables the smooth transition of ERC-20 tokens to the EOS ecosystem.
Alibaba Cloud is expanding its enterprise-level Blockchain-as-a-Service outside China.
Cryptocurrency mining firm Bitfury is considering an IPO in Europe in 2019. If Bitfury goes public, it could seek a valuation of $3 billion to $5 billion.
A new IBM research report finds most polled central banks believe they should issue a wholesale central bank digital currency (CBDC), although they remain uncertain if blockchain can provide sufficient cost and efficiency benefits.
Regulations
Japan's primary financial regulator has formally granted the cryptocurrency industry with a self-regulatory status by allowing an industry body to police domestic exchanges.
The man who killed net neutrality in the US is racing-up with innovations like blockchain to effectively regulate them.
As reported by CnLedger, a trusted cryptocurrency news source in China, the country's merchants can legally accept crypto as a payment method.
New Products and Hot Deals
This latest financing round enables dYdX to continue to build out their product suite and hire world-class talent.
At Dharma, we're building a borderless, permissionless, decentralized credit market — layer by layer, piece by piece. Today, we're excited to announce Dharma Lever, the easiest way to margin lend crypto-assets in high volume.
When we first announced OpenZeppelin in 2016, smart contract security was in a crisis. Major hacks occurred every month, the same logic was being reimplemented again and again, and basic software…
TL;DR Aligning stakeholders' interests in an organization is hard. The current fundraising models (ICO or private fundraising) impose significant limitations on the mechanisms available to align…
At Kyber, we have been facilitating seamless exchange and liquidity flows between all parts of the decentralized ecosystem. End users can buy/sell tokens instantly on KyberSwap and many of the…
Interstellar is pleased to announce a preview release of Starlight, an implementation of bidirectional payment channels on Stellar. Payment channels allow parties to transact privately, instantly…
Meet with Me
I will be traveling this fall for certain events, and to meet with investors. Let me know if you and your colleagues would like to meet in person.
Zurich, Crypto Summit, October 28-29
Prague, DevCon 4, October 30-November 2
Macau, Sora Summit, November 13
New York, Consensus Invest, November 27