Discover more from VeradiVerdict
A weekly newsletter by Paul Veradittakit, crypto investor at Pantera Capital
Over 26,000 subscribers
VeradiVerdict - Ethereum 2.0 - Issue #10

Hi, I am Paul Veradittakit, a Partner at Pantera Capital, one of the oldest and largest institutional investors focused on investing into blockchain companies and cryptocurrencies. I focus on early investments and want to share my thoughts and what's going on in the industry in this weekly newsletter.
View and comment this newsletter on Medium
---
Editorials
This past week was the tenth anniversary of Satoshi's whitepaper. It also brought some exciting news on Ethereum. JP Morgan announced that they had created an enterprise version of the ethereum blockchain, and Vitalik Buterin also signaled to us that a switch to proof-of-stake is "no longer so far away". Here's the video.
At Devcon 4 in Prague, Vitalik reviewed the series of integrated or abandoned efforts that led Ethereum to where it was. He then outlined the path to Ethereum 2.0, dubbed Serenity, which would be the final phase of Ethereum's development roadmap, bringing Ethereum from proof-of-work(PoW) to proof-of-stake(PoS).
With PoW, miners solve cryptographic puzzles to mine blocks to the blockchain. These puzzles become harder over time, requiring input of a lot more energy and expensive hardware. This leads to waste of resources and inefficiencies. Moving to PoS means that validators(not miners) will validate blocks by putting their Ether as a stake. If they bet on the wrong block, their Ether will be gone. The Casper protocol is a particular implementation of PoS for Ethereum, and would serve as an intermediary step in Ethereum's transition from PoW to PoS.
In addition, Serenity will institute sharding, which would help to solve the scalability bottleneck that plagued Ethereum as it is. Ethereum's main chain will be divided into separate chains, or shards, that associate with each other as well as the main block. Sharding provides parallel processing of transactions, increasing the transaction speed of the network several folds.
Digests
Institutional investors are increasingly getting involved in bitcoin and other cryptocurrencies – while the number of retail investors in the space is staying stagnant – according to a new report by Morgan Stanley.
A recent speech from a CFTC commissioner is concerning for free software development
In the Tweets
How I fooled people into thinking I can code:

- Bitcoin SaaS API docs
- trying APIs w/ Postman
- Bitcore playground
- electrum console
- bitcoin.js and trezor command-line
- https://t.co/tlnGRD0nb2 and https://t.co/PaNVs2pdzc
- @opentimestamps
- wikipedia
- mastering Bitcoin https://t.co/7agbRF3CgZ
6:15 AM - 5 Nov 2018
All crypto benchmarks that report more than a few hundred TPS should be considered suspect. Case in point:

Wait A Minute, EOS Is Not A Blockchain? https://t.co/HCKVvzwIEG via @zycrypto
5:23 PM - 4 Nov 2018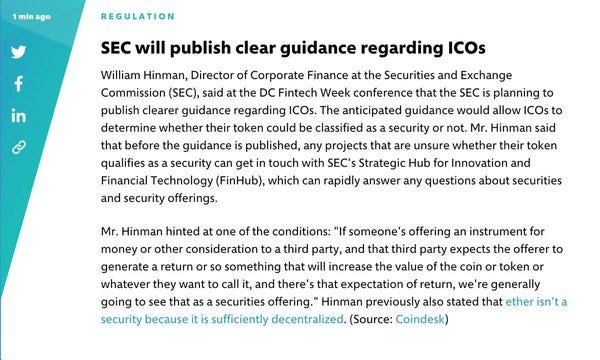 Hinman, who previously stated that Ethereum isn't a security, said today at a conference that any token that has an expectation of return is generally going to be seen as a securities offering by the SEC. This tells me that both XRP and BNB are textbook securities. https://t.co/quLUzo1m2Q
9:44 AM - 5 Nov 2018
News
JP Morgan is using a blockchain to "tokenise" real assets, suggesting the emerging technology could radically change global capital markets.
Israeli startups have brought in more than $600 million in funding from initial coin offerings (ICOs) in the first three quarters of 2018, according to an industry report.
South Korean crypto exchange Bithumb has teamed up with crowdfunding platform seriesOne to launch a compliant security token exchange in the U.S.
A number of verified Twitter accounts were compromised Monday – including those owned by a U.S. lawmaker, a film company, and a book publisher – all to impersonate SpaceX and Tesla founder Elon Musk.
After 1pm PT on Friday, November 2, we will begin accepting inbound transfers of Basic Attention Token (BAT) to Coinbase Pro. We will accept deposits for at least 12 hours prior to enabling trading…
Zcash's core differentiator, shielded transactions, are computationally heavy – so much so that most users and exchanges can't support it.
Regulations
Hong Kong's Securities and Futures Commission (SFC) says it will bring crypto funds under its securities regulations to improve investor protection.
Switzerland's Financial Market Supervisory Authority (FINMA) is giving tough guidance to banks wanting to trade in crypto assets.
The People's Bank of China (PBoC), the country's central bank, is looking to clamp down on airdrops – free distributions of crypto tokens.
New Products and Hot Deals
Launched earlier this year, Lition is already a licensed energy supplier in Germany with clients in 12 major cities (including Berlin, Hamburg and Munich) who are now using its decentralized energy market. Built on top of the ethereum blockchain, the Lition market connects consumers directly with energy producers big and small.
The number of mobile apps built around kin – the cryptocurrency created and launched by mobile messaging app Kik – is growing.
The company behind the viral blockchain phenomenon CryptoKitties is planning to enhance its platform – and it's received backing from some major tech firms to do it.
With its latest funding round, Coinbase, the cryptocurrency exchange turned Silicon Valley unicorn, is amassing a "war chest" for a "rainy day."
We're happy to announce that StarkWare recently closed a $30M equity round, led by Paradigm. Other new investors include Intel Capital, Sequoia, Atomico, DCVC, Wing, Consensys, Coinbase Ventures…
Decentraland is a virtual reality platform built on top of the Ethereum network, making it possible for individuals, brands, and studios to develop rich, interactive 3D content hosted on
Meet with Me
I will be traveling this fall for certain events, and to meet with investors. Let me know if you and your colleagues would like to meet in person.
Macau, Sora Summit, November 13
New York, Consensus Invest, November 27