Discover more from VeradiVerdict
A weekly newsletter by Paul Veradittakit, crypto investor at Pantera Capital
Over 26,000 subscribers
VeradiVerdict -Grin- Issue #20

Hi, I am Paul Veradittakit, a Partner at Pantera Capital, one of the oldest and largest institutional investors focused on investing into blockchain companies and cryptocurrencies. I focus on early investments and want to share my thoughts and what's going on in the industry in this weekly newsletter.
If you were forwarded this email, you can click here to subscribe.
---
Editorials
Today marks the launch day of Grin, a new project built on top of a privacy protocol called Mimblewimble. MimbleWimble protocol that addresses the privacy issue through a different blinding factor approach and the support of the CoinJoin system. Unlike the Bitcoin protocol, MimbleWimble will not reveal transaction addresses or the amount being sent/received, while cuts out the complexity other privacy protocols have generated. The blinding factor here is the CoinJoin system developed by Dr. Greg Maxwell which combines multiple transactions into one block and clouds the transaction graph. Therefore, instead of taking up a lot of storage for the data on transaction information, Grin does not increase blockchain size as its transactions accumulates.
Besides Grin, Mimblewimble has other implementations such as Beam. Although both coins share the privacy-oriented protocol, Beam follows the traditional VC-funding route (like ZCash), speeding in full development while Grin maintains its community-driven approach (like Bitcoin and Monero).
People have been talking about the Grin launch because there is no form of investment or founders' reward that assisted in the launch of this coin. The development of Grin is entirely funded by donations and the community and the supply starts from 0. This entire structure is very similar to the Bitcoin narrative and thus making it more attractive for the spectators than other ICOs.
Firms like Altonomy has already announced that it will provide OTC trading for Grin and several OTC platforms have witnessed discussions and transactions of Grin.
To participate in the actual mining process, join telegram communities where suitable graphic cards are recommended. Currently only Linux or MacOS systems support Grin miners, and Grin's Github page provides a pretty detailed mining prerequisites as well we set-up guide. Windows users can use Gringold and Grinpro miners). To ensure you get a block while mining at home, join a mining pool and provide your hash rate to the pool to be compensated with Grin. There are several mining pool communities for Grin and they can all be found on its Github page,
Some people have tried to mine Grin on the testnet, and since the coin launches today, their methods can be applied on the official network. GPU is required for mainnet mining. To do so you may also download the prerequisites, ensure there is enough memory, and follow the Blade Doyle mining guides in your terminal (this can be found on medium).
Digests
Major mining conglomerates in the crypto sector recorded large losses, struggling to deal with market conditions.
With some institutional players signalling diametrically opposite stances on crypto, we turn to the charts to see what the market's next move will be.
Scams and frauds were still prevalent in 2018 despite a decline in the cryptocurrency market value.
Business Insider spoke with several prominent crypto investors to get a sense of the big developments and trends they anticipate seeing in 2019.
In the Tweets
(This following tweet is a good meme)
Ethereum Classic ($ETC) was 51% attacked yesterday. This is the largest cryptocurrency that has ever been 51% attacked, and it has really interesting implications for the future of PoW currencies. Thread. 👇
5:45 PM - 8 Jan 2019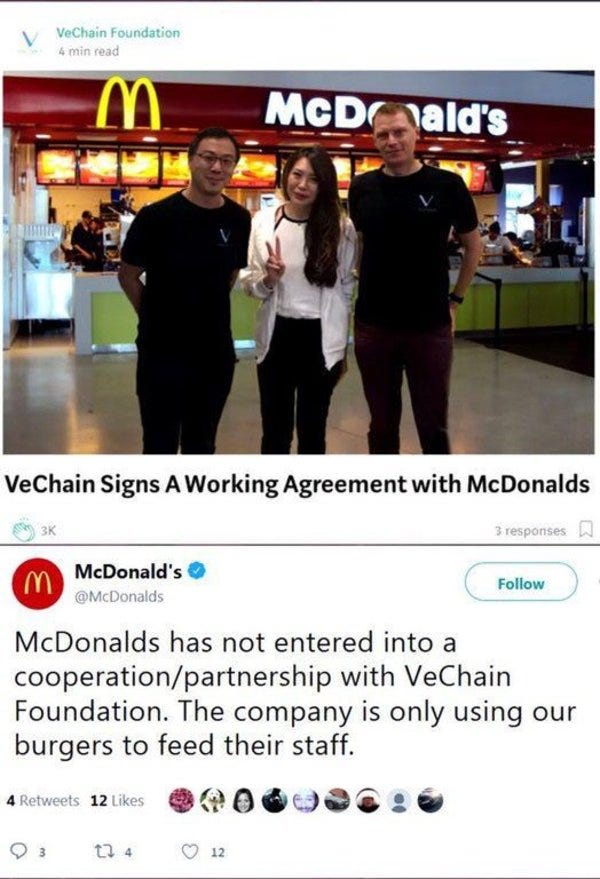 😂😂😂 See McDonalds response tweet https://t.co/pHHgfhaDrD
7:46 PM - 13 Jan 2019
CRITICAL VULNERABILITY IN BEAM WALLET

9.1.2019 20:20 GMT

Critical Vulnerability was found in Beam Wallet today.

Vulnerability was discovered by Beam Dev Team and not reported anywhere else.

Vulnerability affects all previously released Beam Wallets both Dekstop and CLI.
12:32 PM - 9 Jan 2019
News
Regulatory uncertainty surrounding crypto has scared startups offshore. Now an Ohio congressman is pushing a new digital token bill, aiming to keep innovation inside U.S. borders. `
The Latin American peer-to-peer (P2P) cryptocurrency markets have a seen a significant spike heading into 2019, with the Colombian, Peruvian, and Venezuelan Localbitcoins market posting record volume when measuring in both fiat and BTC. The Argentinian, Dominican, and Mexican markets also posted record volume for P2P trade in recent weeks.
Cryptocurrency exchange Cryptopia has been hacked. The team confirmed the security breach, outlining that the losses are 'significant.' 'Significant Cryptocurrency exchange Cryptopia has been hacked. The team confirmed the security breach, outlining that the losses are 'significant.'
On Sunday, Bitcoin Cash (BCH) developer Jonathan Toomim unveiled a project he's been working on called Xthinner, a new block propagation protocol that Xthinner can compress blocks by 99.6 percent and performs roughly 4x to 6x more efficiently than block propagation concepts like Compact Blocks and Xthin.
Regulations
Cameron-Huff said that he is happy to accept bitcoin as payment (as well as fiat) and, in what he sees as another pioneering step forward, he has a fixed-fee payment system for his clients.
The closure of the Securities and Exchange Commission (SEC) and the Commodity Futures Trading Commission (CFTC) has put key developments – namely, the approval and launch of products and services involving cryptocurrencies – on hold.
The Office of the Vermont Secretary of State and the Vermont Department of Financial Regulation have signed a memorandum of understanding to conduct the pilot that will examine the tech's potential in digital record keeping and registration and regulatory processes.
New Products and Hot Deals
Totle offers an application programming interface (API) allowing crypto wallets to offer certain exchange functions, including payments and transactions, arbitrage exploitation and rebalancing
The service will allow investors to trade nearly 200 digital assets, including bitcoin, currently offered on the Bittrex trading platform.
Atomic swaps allow for on-chain exchanges, or transactions, between cryptocurrencies on two separate blockchains — in this case, Bitcoin and Qtum — without the need to rely on a third party.
Meet with Me
San Francisco, niTron Conference, January 17th - 18th
San Mateo, Grin Conference, January 28th
Palo Alto, Stanford Blockchain Conference, January 30th - February 1st
Additional Info
👋 Working on building new technologies? I'd love to hear about it, shoot me an email
🙏 I'd appreciate it if you forwarded this email to someone who would might benefit from it
💡If you have any content you want to share on this newsletter, please send it to me and we can make it happen