Discover more from VeradiVerdict
A weekly newsletter by Paul Veradittakit, crypto investor at Pantera Capital
Over 26,000 subscribers
VeradiVerdict - How is EOS doing? - Issue #22

Hi, I am Paul Veradittakit, a Partner at Pantera Capital, one of the oldest and largest institutional investors focused on investing into blockchain companies and cryptocurrencies. I focus on early investments and want to share my thoughts and what's going on in the industry in this weekly newsletter.
If you were forwarded this email, you can click here to subscribe.
---
Editorials
EOS has been a blockchain protocol that has gotten notability for their year-long crowdsale but more recently, I've been hearing from investors about the traction of decentralized applications building on the platform. I decided to look into it a bit further and give both a quick primer on EOS and a snapshot of the activity.
TL;DR
• EOS is a blockchain protocol for running Dapps. It uses smart contracts and peer-to-peer systems to distribute processing jobs among a network of computers rather than using a centralized system. All of its operations are displayed on a public blockchain that's cryptographically secured.
• EOS's main advantages over other Dapp platforms (Ethereum, Tron, Graphene, etc.) are its scalability, parallel processing capabilities, lack of transaction fees (no gas), and its unique decentralized operating system that makes Dapp development easier than ever.
• EOS' core use case is building decentralized marketplaces to exchange assets of various sorts––personal information, financial capital, virtual assets, etc. Still, like most blockchains, the largest user market on EOS is gambling, with over 67% of users making transactions on the platform for gambling.
• In late 2018, the price of EOS surged 25% and the blockchain hit a market cap of $2.5 billion. The total value of all transactions processed over EOS is almost at $3.5 billion, and EOS has become the second-most popular platform for supporting Dapps.
What is EOS?
EOS (also known as EOS.io) is a blockchain platform that powers Dapps. It provides most of the traditional computational capabilities including CPUs, GPUs, RAM, hard-disk memory implemented through a decentralized peer-to-peer network built off of smart contracts.
What is a Dapp?
Dapp is short for decentralized application. All computer applications have two main components: the frontend, which the user directly interacts with, and a backend that generally runs on centralized servers (AWS, Azure, Google Cloud, etc.). Dapps maintain the frontend aspect of an application, but rather than running their backend on a centralized server, they run on a peer-to-peer network powered by all computers that use the Dapp. Computing power and resources are distributed among all the computers, or nodes, on the Dapp. Nodes work together to power the Dapp through the use of smart contracts. All the of the Dapp's operations are recorded on a public blockchain and the Dapp uses a cryptographic token to maintain the security and privacy of its users.
Dapps either build their own platform and run on that platform or use a third-party platform like Ethereum or EOS to power their processing.
What are popular Dapp platforms?
The list of popular Dapp platforms includes EOS, Ethereum, Tron, STEEM, ONT, NEO, and NAS.
Generally, Ethereum has been the most popular Dapp platform. Ethereum has always had first-mover advantage and their incomparable smart-contract capabilities have made them the lone wolf ahead of the pack. But Ethereum's growth is limited by its low transaction speed, which limits the latency of Dapps that run on its protocols. Ethereum's gas (essentially a transaction fee) is fairly hefty and has also disincentivized developers from using it.
What makes EOS different?
In 2018 and early 2019, EOS has gained massive traction in terms of users and Dapp applications running on the platform. Here's a few reasons why EOS is so valuable to developers and users:
1. Scalability. EOS is the popular choice for Dapps that target mainstream users because they use an algorithm called distributed proof-of-stake (DPOS) to compute consensus. Most platforms use other algorithms like proof-of-work (POW) to compute consensus that require agreement among almost all of their nodes––incredibly costly when you have millions of computers on the network. Ethereum, for instance, runs at 25 transactions/second. EOS's DPOS architecture allows Dapps on the protocol to scale easily and quickly.
2. Parallel Processing. EOS is architected with smart contracts so that processing is distributed evenly among many different processors to reduce processing time and improve latency. This provides a comparative advantage against other Dapp protocols like BitShares and Graphene which have poor smart-contract processing.
3. Low Cost. Almost all Dapp protocols charge a transaction fee (oftentimes referred to as gas, especially on Ethereum) to pay back miners that help support the network. EOS doesn't charge any transaction fees for Dapps, meaning that Dapps can run and scale on the protocol without worrying about paying fees to an external service.
4. Decentralized Operation System (OS). EOS' main advantage over Ethereum lies in its main feature as an operating system, not just a processor, that runs on a decentralized network. Ethereum powers processing by distributing computing work among all the nodes on the work. EOS does the same, but also runs an operating system (think Windows or macOS) for Dapp developers and users to interact with.
What have people been doing with EOS?
Here are a few interesting Dapps built on top of the EOS protocol:
• Everipedia: This was one of the first large Dapps built on EOS (traditionally built on Ethereum). Everipedia implements Wikipedia on the blockchain, tokenizing contributions to the knowledge base and rewarding contributors in their decentralized systems. It also includes more multimedia content. The co-founder of Wikipedia, Larry Sanger, recently joined Everipedia as Chief Information Officer.
• EOSfinex: This extension of Bitfinex plans to apply their financial exchange model to decentralized exchanges like Ethereum and now, EOS. EOSfinex extends the traction and established market experience of Bitfinex to the speed, scalability, and operating system of the EOS protocols, making it a promising project.
• WAX Project: WAX stands for Worldwide Asset Exchange. It's a decentralized global market place to trade assets, specifically targeting gaming that has virtual assets worth more than $50 billion. The WAX platform enables anonymous, secure trading of digital assets; one of their initial trading platforms (Opskins) has already seen 150+ million transactions.
• EOS Knights: EOS knights is one of the first mobile games that runs on the EOS protocols. The platform powers trading of digital, gamified assets. It currently ranks at #2 on the Dapp Rankings list made by Dapp Radar.
• Medipedia: Also known as MEP, this application implements peer-to-peer matching and consultation for health tourism with the ultimate goal of removing the middle-man in many of these services. Medipedia experienced incredible growth and traction during its initial deployment on Ethereum but has since moved to EOS, citing concerns with Ethereum's speed and scalability.
The vast majority of use cases for EOS come down to building decentralized marketplaces to exchange data, which includes things like knowledge, personal data (advertising information, online profile, healthcare information), capital, and assets (physical and digital). Dapps that target huge markets, large transaction volumes, and high-speed processing generally are moving towards EOS to power their architecture. Like most blockchains, gambling is the largest player on EOS blockchains, with over 67% of all users using EOS for betting. 10% use EOS for financial services, 5% use EOS-powered games, and 2% use other tools.

Figure 1: EOS Use Cases and Distribution of Activity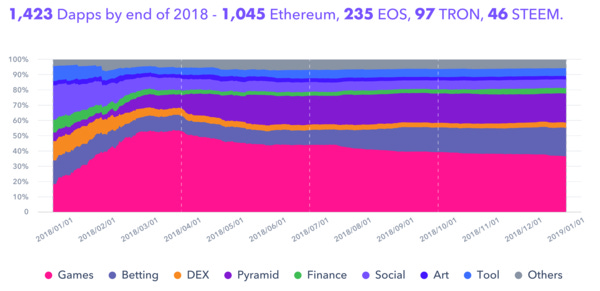 Figure 2: Dapp Growth Across All Blockchains In Different Sectors
What do the numbers say?
The price of EOS surged over 25% in late 2018-early 2019, making it the fourth most expensive cryptocurrency with a market cap of approximately $2.5 billion. In only six months, EOS also became the largest blockchain in terms of transaction amount and volumes. By the end of 2018, EOS had 235 Dapps on the network, coming in second in total number of Dapps only to Ethereum. The network supported transactions with a net worth of almost 3.5 billion USD.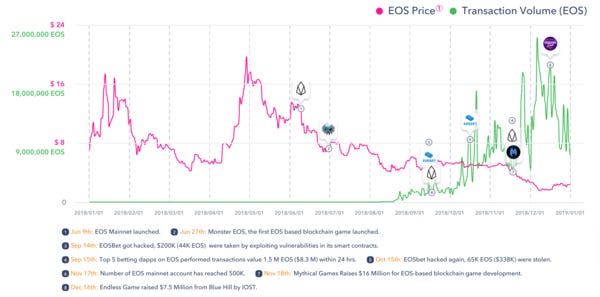 Figure 3: Price Fluctuations in EOS
Final Thoughts
Ethereum has always been the biggest player in the Dapp scene due its first-mover advantage and robust smart contract architecture. But in only 6 months, EOS has stolen much of Ethereum's market share as Dapp developers are drawn to its scalability, latency, and processing powers. Though still early in growth, EOS looks to be a promising Dapp market for 2019, with new Dapps and use cases being developed everyday.
Digests
Even if you are a believer in crypto as an asset class, building a fund to buy tokens on a fundamentals basis is really hard. It's hard to underwrite the ultimate demand of the token, its true…
Validity Proofs and Fraud proofs are both used in different L2 scalability solutions. In this post we analyze and compare them.
In the Tweets
EOS and Tron are crushing it.

Recently, https://t.co/Nku3m9x77d released their Annual Dapp Market Report. It summarizes data and provides insights into dapp ecosystems.

EOS Snapshot:
- 235 dapps
- $3.5b Tx Vol
- 171k active users
- 107m Tx

More here: https://t.co/oJC3lkewqW
12:52 PM - 25 Jan 2019
1/ 🚨🚨🚨BREAKING: UK Securities regulator rejects the SEC's "fully decentralized" test for utility tokens in new guidance, says utility tokens are not securities within their jurisdiction, regardless of functionality.
9:40 AM - 23 Jan 2019
In my latest essay with @hasufl, we analyze Grin's launch and the fairness of different distribution models focusing on two crucial dimensions: issuance length and price equality. https://t.co/cCOB8LOCqU
8:03 AM - 25 Jan 2019
News
One of the so-called 'Big Four' account firms, Deloitte, seems to be very bullish about blockchain technology.
Regulations
The UK's Financial Conduct Authority has released a consultation paper on utility tokens, rejecting the SEC's decentralization test as criteria to be a security token.
Mining hardware sales accounted for 94 per cent of Bitmain's total revenue in the first half of 2018
Coinbase has added new resources for U.S.-based users to more easily claim their crypto trades during tax season.
New Products and Hot Deals
Galaxy Digital, the crypto bank founded by former Goldman Sachs partner Michael Novogratz, is raising a credit fund to offer US dollar loans to cryptocurrency firms.
Veil has acquired Predictions.Global, the popular webpage for reviewing Augur's decentralized prediction-markets data. The purchase is said to form part of Veil's goal to make Augur's platform accessible to the mainstream through user-friendly interfaces.
Anchorage is coming out of stealth and launching its cryptocurrency custody service to the public.
RealBlocks, a U.S.-based blockchain-powered real estate tech platform, announced on Friday it secured $3.1 million through its latest seed funding round,
Meet with Me
Palo Alto, Stanford Blockchain Conference, January 30 - February 1
Los Angeles, March 6
San Diego, April 12
New York, Consensus Conference, May 13-15
Additional Info
👋 Working on building new technologies? I'd love to hear about it, shoot me an email
🙏 I'd appreciate it if you forwarded this email to someone who would might benefit from it
💡If you have any content you want to share on this newsletter, please send it to me and we can make it happen