Discover more from VeradiVerdict
A weekly newsletter by Paul Veradittakit, crypto investor at Pantera Capital
Over 26,000 subscribers
VeradiVerdict - IEOs (the new way to crowdfund) - Issue #29

Hi, I am Paul Veradittakit, a Partner at Pantera Capital, one of the oldest and largest institutional investors focused on investing into blockchain companies and cryptocurrencies. I focus on early stage investments and want to share my thoughts and what's going on in the industry in this weekly newsletter.
Please click here to help me improve the newsletter and your experience by answering just ONE question!
If you were forwarded this email, you can click here to subscribe.
---
Editorials
Summary
For those of you who have been under a rock, we are currently in a bear market for cryptocurrency prices. While there has been over $20B invested into ICOs, the downward trend of prices started around this time last year during tax season and when there were rumblings of regulatory crackdown from the SEC. Since then, the pre-sale market for ICOs has been relegated to private accredited investors, sometimes only non-US investors. In addition, projects and investors are waiting until at least 1 year after the transaction to start trading/issuing these assets.
Until there is more regulatory clarity from the SEC, token projects have avoided retail. I've always speculated that instead of projects building their own crowdfunding portal or using 3rd party crowdfunding portal for retail investors, if exchanges got into the crowdfunding, it would change the game. Exchanges already provide the liquidity channel for tokens, do KYC of users, and can whitelist/blacklist depending on criteria.
Enter the IEO or Initial Exchange Offering and this is going to be a huge trend on how token projects raise from retail investors and do regulated crowdfunding for the foreseeable future.
What is IEO?
IEO, or initial exchange offering, is the process of developers sending minted tokens to an exchange (or multiple exchanges) that in turn sell to individual investors. Instead of sending cryptocurrencies into a smart contract that governs the ICO, participants need to create an exchange account and purchase the project token directly from the exchange. The exchange acts as a guarantor and conducts a project due diligence check on the project team, and developers are no longer required to perform KYC (know your customer) verification.
For exchange platforms, they benefit through an IEO by collecting listing fees, obtaining new users that may eventually become loyal, and engaging in joint marketing with the IEO teams.
Here are some information on IEO platforms and their past projects.
KuCoin
KuCoin announced an initiative called Spotlight that will serve as a launch platform for the exchange to partner with blockchain projects on IEOs.
Huobi
Huobi will have its own IEO service through launching the Huobi Prime platform later this month. The CEO of Huobi has stated that unlike Binance Launchpad that assembles a large crowdfunding platform, Huobi Prime is a selective token listing channel based on Huobi Token.
Binance
The IEO service of Binance is called Binance Launchpad, which announces the date and time of project launch site wide and notify its users the details (accepted cryptocurrencies, token supplied on Binance Launchpad, and individual cap) of the launch. One of the recent token sale for fetch.ai took only 11 minutes and 14 seconds to meet the 6M cap. Celer Network today raised $4m in 17 min today. Other IEO projects include BitTorrent. There is a $1,500 cap per person, and the BNB token is needed in most cases.
Bitmax
BitMax introduced the concept of "reverse mining" offering a separate incentive structure for market makers, and launched margin trading of up to 10x leverage for many of its trading pairs.
DOS Network (DOS) launched a community token promotion program for BitMax.io users, and the the promotion was sold out within 1minute and 34 seconds. Bitmax has now announced more listing partnership with tokens like Alluva and Fantom.
Bittrex
Bittrex cancelled its first initial exchange offering of RAID that was supposed to take place on March 15. After e-gaming data analytics company OP.GG issued a statement distancing itself from RAID, Bittrex made an announcement that it will no longer continue with the scheduled IEO.
Digests
Perpetual swaps are a popular instrument in crypto. They are a cash settled future that auto-rolls every user's position and uses spot markets to imply a funding rate to keep the contract in line…
Facebook's reported stablecoin project could be a significant moneymaker for the social media giant, according to Barclays analyst Ross Sandler.
50% of all assets will live on an open source financial protocol in 50 years.
In the Tweets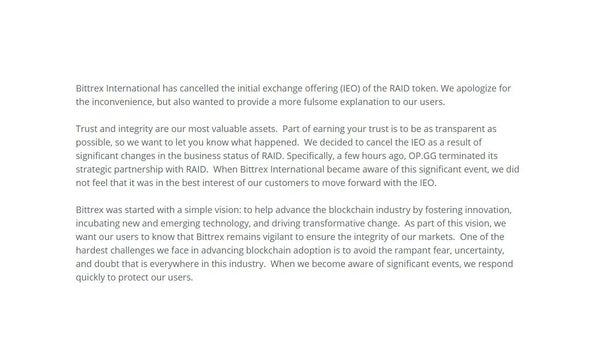 Bittrex International has cancelled the initial exchange offering (IEO) of the RAID token. We apologize for the inconvenience, but also wanted to provide a more fulsome explanation to our users. https://t.co/2pbaZ2X9Dp https://t.co/EXnFd76z2o
10:43 AM - 14 Mar 2019
JUST IN: Six banks have signed up to issue stablecoins through World Wire, an @IBM network built on the @StellarOrg blockchain. https://t.co/eT5hpasKai Report by @IanAllison123.
9:01 AM - 18 Mar 2019
News
U.S. crypto exchange Bittrex is following in the footsteps of fellow crypto exchange Binance's "Launchpad" initiative and introducing new token offerings.
Amun, a company that wants to make buying crypto as easy as stock, has pulled in $4 million in funding to offer more established channels for crypto ownership.
Investment management company Invesco is launching a blockchain exchange-traded fund (ETF) on the London Stock Exchange today.
Longtime Mozilla Chief Operating Officer Denelle Dixon has officially joined the crypto ecosystem.
Regulations
We're often asked whether that policy, articulated mid-last year by Director of the Division of Corporate Finance William Hinman, truly represents the …
A bill has been proposed in the state of Texas by Phil Stephenson that would require a person receiving cryptocurrencies as payment to first "verify the identity of the person sending payment.
New Products and Hot Deals
Venture capital firms Polychain Capital and Digital Currency Group (DCG) have invested an undisclosed sum in cryptocurrency futures exchange CoinFLEX.
We're proud to announce our Series A investment round. We closed a $9M round, led by $400M crypto investment firm, Paradigm, along with participation from Bain Capital, 1confirmation, and others.
Samsung Electronics has just revealed the cryptocurrency wallet for its just launched flagship phone, the Galaxy S10.
Meet with Me
San Diego, April 12
Los Angeles, April 27
New York, Ethereal Summit, May 10-11
New York, Consensus Conference, May 13-15
New York, Token Summit, May 16
Additional Info
👋 Working on building new technologies? I'd love to hear about it, shoot me an email
🙏 I'd appreciate it if you forwarded this email to someone who would might benefit from it
💡If you have any content you want to share on this newsletter, please send it to me and we can make it happen
Please click here to help me improve this newsletter and your experience by answering ONE question!