Discover more from VeradiVerdict
A weekly newsletter by Paul Veradittakit, crypto investor at Pantera Capital
Over 26,000 subscribers
VeradiVerdict - Infrastructure For Institutional Capital - Issue #26

Hi, I am Paul Veradittakit, a Partner at Pantera Capital, one of the oldest and largest institutional investors focused on investing into blockchain companies and cryptocurrencies. I focus on early stage investments and want to share my thoughts and what's going on in the industry in this weekly newsletter.
Please click here to help me improve the newsletter and your experience by answering just ONE question!
If you were forwarded this email, you can click here to subscribe.
---
Editorials
TL;DR
Recent VC investments in exchanges, custody providers, and trading infrastructure companies are setting the stage for institutional capital to enter the space
Companies need to focus on brand building, a great product experience, and a responsive customer service while regulatory licenses provides a moat
Cambridge Associates, an asset allocator, suggested that institutions should consider investing in the asset class, as there is much progress and potential in the blockchain ecosystem
Institutional Capital for Speculation and Fund Investment
I got asked this week when institutional capital will be entering the space both for speculation and investing into funds as limited partners. I have always thought that clarity in regulations and institutional infrastructure would be needed for that to happen.
I do believe that there will be some more regulatory clarity by the end of the year. In terms of institutional infrastructure, there have been investments recently from VCs into areas like exchanges, custody, and institutional trading execution/portfolio management.
The Block recently did a market map of Pantera's portfolio which includes both equity and ICO investments. As you can see, many of institutional infrastructure investments fall in the Trading & Exchanges section on the right.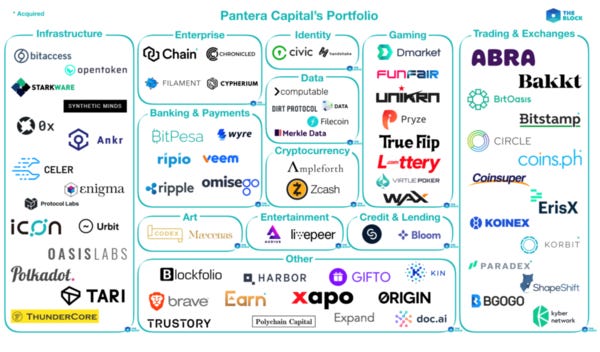 Pantera Portfolio by The Block
On the exchange side, we have Bakkt, ErisX, and Seed CX that have raised rounds to launch futures products for cryptocurrencies. Getting CFTC approval is key for these, yet the government shutdown earlier this year has delayed launches. On the custodial side, Anchorage, Bitgo, and Coinbase have launched with strong tech and licenses. Support for ERC20 tokens, brand, and insurance will be key. On the trade execution/portfolio management side, Tagomi, Omniex, and Lumina have simplified access to best-priced trading and management of cryptocurrencies. Setting up exchange accounts, going through multiple KYC processes, and trading can be friction for family offices and institutional investors.
I think it will take a bit of time before institutional investors come into the space in a big way but the companies tackling important infrastructure above should be ready for when that will happen with a focus on product, brand, and customer support. Regulatory compliance and licensing provide a moat. Same conclusion with security tokens and institutional capital.
Institutional investors are starting to realize that cryptocurrencies and blockchain technologies are here to stay, seeing this space as an alternative asset class and portfolio diversification. Why not invest less than 1% of AUM with high upside? Yale endowment invested into Paradigm and the police pension fund invested into Morgan Creek. Last week, Cambridge Associates issued a report that the blockchain industry is developing, not faltering, and that institutional investors should being exploring it.
I believe that relationships and brand matter quite a bit for institutional investors to become LPs but more are eager than ever to get educated and explore a potential investment into this asset class.
Digests
Facebook CEO Mark Zuckerberg is seriously evaluating blockchain's potential to allow internet users to log in to various services via one set of credentials without relying on third parties.
Location services are critical to the global economy, but GPS infrastructure is surprisingly fragile. To help solve these problems, FOAM is building a decentralized location services network.
In the Tweets
It was over in a about 10 seconds. The queue was totally packed within seconds. The processing is just draining the queue slowly. Congrats to @fetch_ai !
6:06 AM - 25 Feb 2019
When XRP?? Now! XRP/USD, XRP/EUR, and XRP/BTC order books will soon enter transfer-only mode, accepting inbound transfers of XRP in supported regions. Orders cannot be placed or filled. Order books will be in transfer-only mode for a minimum of 12 hours. https://t.co/MWUtUm4wRh
10:00 AM - 25 Feb 2019
News
Token launch platform CoinList is rolling out its first offering of 2019.
Crypto security company BitGo is making good on plans to facilitate insurance for digital assets by providing $100 million of cover against theft or the loss of cryptographic keys via the Lloyd's of London insurance market.
Bitfinex said that U.S. federal law enforcement informed them in November of last year that it had obtained access to some of the cryptocurrency funds stolen when the exchange was hacked.
Regulations
Hong Kong hopes to become a trusted centre for trading of digital assets. That is forcing Coinsuper and other crypto currency exchanges to shift to deep-pocketed traders.
According to a published notice, the U.S. Securities and Exchange Commission (SEC) has begun reviewing a proposed rule change for a bitcoin ETF filed by NYSE Arca and Bitwise.
New Products and Hot Deals
Coinbase has acquired blockchain analytics startup Neutrino as part of a wider push to offer more diverse crypto assets across borders.
Samsung announced on February 21, 2019, that their newest phone, the Galaxy S10, will include secure storage for its users' cryptocurrency private keys.
Meet with Me
Los Angeles, March 6
San Diego, April 12
New York, Consensus Conference, May 13-15
Additional Info
👋 Working on building new technologies? I'd love to hear about it, shoot me an email
🙏 I'd appreciate it if you forwarded this email to someone who would might benefit from it
💡If you have any content you want to share on this newsletter, please send it to me and we can make it happen
Please click here to help me improve this newsletter and your experience by answering ONE question!