Discover more from VeradiVerdict
A weekly newsletter by Paul Veradittakit, crypto investor at Pantera Capital
Over 26,000 subscribers
VeradiVerdict - Largest Acquisition in Philippines - Issue #21

Hi, I am Paul Veradittakit, a Partner at Pantera Capital, one of the oldest and largest institutional investors focused on investing into blockchain companies and cryptocurrencies. I focus on early investments and want to share my thoughts and what's going on in the industry in this weekly newsletter.
If you were forwarded this email, you can click here to subscribe.
---
Editorials
On Friday, it was announced that one of our portfolio companies, Coins.ph, was acquired by Southeast Asia's leading ride-hailing and payments company, Go-Jek, in one of the largest tech acquisitions in the Philippines and the largest publicly disclosed acquisition for Go-Jek. Founded in 2014, Coins.ph is the market-leading mobile wallet in the Philippines with the vision that banking involves connecting customers directly with the financial services they need when they need it. The product provides first and foremost a mobile/digital wallet which enables a low-cost blockchain based remittance solution, peer-to-peer money transfer into the Philippines ($26 billion market, 3rd largest in the world). In addition, the product serves other use-cases such as bill payment, top-ups, and e-commerce to over 5,000,000 users, or one-tenth of the country's population.
Pantera has achieved some of the largest acquisitions in the blockchain space already in Bitstamp, Chain, and Korbit, but this acquisition is special because when people ask me what use-case I am most excited about for the blockchain, it is bringing banking to the unbanked, and that is what Coins.ph is doing. The thesis for the investment was that the Philippines and Southeast Asia was an ideal geography to showcase how cryptocurrencies could enable banking for the unbanked and faster/cheaper remittances. I traveled to Manila to evaluate the market and the company, and these were the factors that made the investment compelling:
Market - 4 out of 10 Filipinos use Facebook, 2 out of 10 households are banked, and 1 out of 20 Filipinos own a credit card. For Southeast Asia's 618 Million population, 40% are unbanked and there is 5% credit card penetration. $26 Billion of remittances are with the Philippines.

Solution - Coins.ph provides a great product and user experience to access cryptocurrencies and eventually just Philippine Pesos on the mobile device. On-boarding is more seamless and includes risk-based KYC. At the time, you would have to wait in line at the bank to perform even a same-bank transaction with another party, as there was no online-banking or venmo-equivalent. Coins.ph solves both domestic and international transactions with their product, and the blockchain provides instant, global cross-border settlement and access to a global network of fintech services. Filipino families could accept remittances through typical western union-type centers or even a network of ATMs through the company.

Team - The team is led by CEO Ron Hose, previously a founding partner at Innovation Endeavors, an early stage venture capital fund backed by Eric Schmidt. Ron was also the co-founder of TokBox, a consumer video conferencing company backed by Sequoia Capital, Bain Capital and Stanford University that was later acquired by Telefonica. Ron hired the top talent in the country but also used his network from VC and Silicon Valley to bring top international talent to move to Manila to work for him.

Regulations - Before making any investment in a foreign jurisdiction, we talk with lawyers and regulators in the region. I was impressed with my conversations and Ron's efforts to work with existing regulations and to educate relevant parties. Coins.ph was the first company in Southeast Asia to be regulated as a Virtual Currency Exchange and Electric Money Issuer (e-wallet). Coins.ph was also the first virtual currency provider in the Philippines to be licensed by the Bangko Sentral ng Pilipinas (BSP) with a Virtual Currency Exchange license.
Pantera was one of the largest investors in the seed round in 2014 and also participated in a Series A round led by the Accion Frontier Inclusion Fund (Quona), Wavemaker Labs, and Kickstart Ventures that included Innovation Endeavors, Naspers, Digital Currency Group, Wavemaker Labs, Global Brain, BeeNext and Rebright Partners.
Instead of raising another round, Ron decided that the best path to scaling would be through an acquisition by Go-Jek. Go-Jek is an Indonesia company that is valued at $9 Billion and specializes in ride-hailing, logistics, and digital payments. Its overseas moves saw it enter Vietnam, Thailand, and Singapore. Philippines was named as another proposed destination, and Go-Jek has made the strategic decision of entering the country through fintech. Go-Jek and Coins.ph will partner to encourage a cashless society and to enhance access to financial services in the Philippines. That would mean that Go-Jek would look to expand Coins.ph's suite of offerings into insurance and lending.
Digests
Independent security analysts at ICORating have given 16 percent of the world's biggest crypto trading platforms an A rating, and none an A+.
Two popular refrains by crypto commentators in 2018 were "the herd is coming" and a call for "mainstream adoption."
The rise of new stablecoins was a defining story in the second half of 2018, but the reality is that exclusive discounts partly fueled their growth.
In the Tweets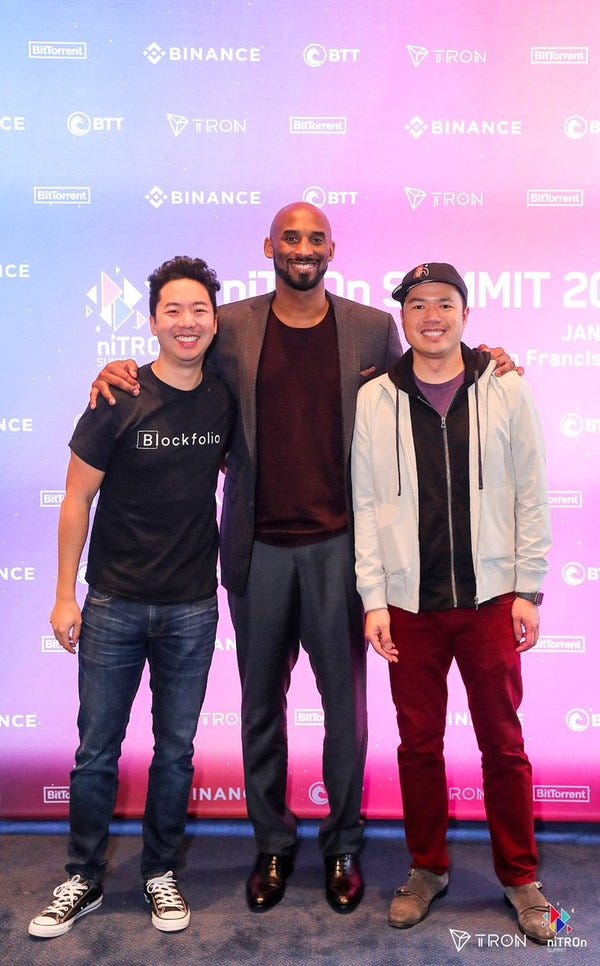 Thanks @justinsuntron and @Tronfoundation for giving me the opportunity to speak and @kobebryant for the inspirational words on teamwork and perseverance! @PanteraCapital @blockfolio #blockchain #tron #Crypto https://t.co/r8o60E3VZF
6:07 PM - 20 Jan 2019
Long Reads Sunday #30.

Grin goes live; Ethereum Constantinople delays; Wyoming leading the regulatory pack; 2019 as year of the DAO?; hostile token takeovers and, of course, ⚡ lightning. 2019 is revving up so smash those coffee mugs, it's long reads time. /1

👇 https://t.co/5VeCA2ecFi
8:30 AM - 20 Jan 2019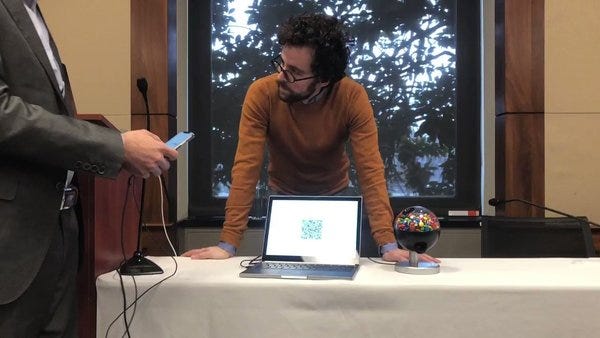 Video of Coin Center demonstrating a Lightning Network microtransaction in Congress with a candy dispenser https://t.co/9IUqLOuTNO
12:20 PM - 18 Jan 2019
From #reckless to wumbology, my latest piece is on the massive @lightning infrastructural build out we're seeing. It'll be a big year with improvements coming across liquidity provisioning, privacy, usability, and security. https://t.co/gVPwX31kg4
9:52 AM - 18 Jan 2019
News
Ethereum core devs have reportedly postponed the activation of Constantinople hard fork until late February.
A recently observed form of malware uses a concerning new trick to avoid detection and mine cryptocurrency on cloud servers.
Some of the brightest minds in America are pooling their brain power to create a cryptocurrency that's designed to do what Bitcoin has proved incapable of: processing thousands of transactions a second.
Regulations
There are certain measures investors can take in order to minimize their taxable income by utilizing their capital losses incurred from selling bitcoin this year.
Cryptocurrency exchange Huobi has relaunched as a fully licensed platform in Japan after merging with BitTrade.
Malaysia has given cryptocurrencies the regulatory green light — but they have to adhere to securities laws and will be governed as such.
New Products and Hot Deals
You know those machines at the grocery store that transform your gallon jug of spare change into more usable currency? They're about to start selling Bitcoin
Blockchain startup Spring Labs is partnering with 16 lenders and fintech firms to test a system to eliminate centralized entities like credit bureaus from their role in granting loans to individuals and companies.
Coinbase is continuing its push to suck up talent after the $8 billion-valued crypto business snapped up Blockspring, a San Francisco-based startup that enables developers to collect and process data from APIs.
Go-Jek announced it has acquired local fintech company Coins.ph through "substantial investment," which gives it a majority stake in the business.
Meet with Me
San Mateo, Grin Conference, January 28th
Palo Alto, Stanford Blockchain Conference, January 30th - February 1st
Los Angeles, March 6
New York, Consensus Conference, May 13-15
Additional Info
👋 Working on building new technologies? I'd love to hear about it, shoot me an email
🙏 I'd appreciate it if you forwarded this email to someone who would might benefit from it
💡If you have any content you want to share on this newsletter, please send it to me and we can make it happen