Discover more from VeradiVerdict
A weekly newsletter by Paul Veradittakit, crypto investor at Pantera Capital
Over 26,000 subscribers
VeradiVerdict - Pantera Venture Fund Oversubscribed - Issue #31

Hi, I am Paul Veradittakit, a Partner at Pantera Capital, one of the oldest and largest institutional investors focused on investing into blockchain companies and cryptocurrencies. I focus on early stage investments and want to share my thoughts and what's going on in the industry in this weekly newsletter.
Please click here to help me improve the newsletter and your experience by answering just ONE question!
If you were forwarded this email, you can click here to subscribe.
---
Editorials
Pantera Capital is on pace to be oversubscribed for its third VC fund, which was targeted to be $175m. We have stopped taking smaller checks and finishing up diligence with institutional investors to round out the fundraise. The fund started deploying capital last year and is already invest in over 10 companies. Below you can see the breakdown of sectors.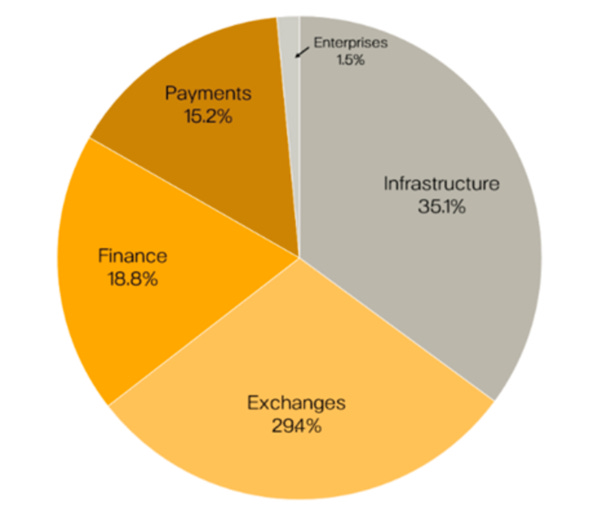 Pantera Venture Fund III Sector Breakdown
Investments in exchanges like Bakkt and ErisX continue, as regulations have become more paramount in offering institutions futures and spot exchanges, and both of those companies are led by executives with institutional experience. International exchanges, which were mentioned in the previous newsletter, are great bets until exchange consolidation occurs. Other institutional infrastructure including trade execution platforms like Tagomi, staking-as-a-service companies like Staked, and custody solutions.
Scalability remains a focus, as Pantera has made quite a few investments in decentralized applications and exchange infrastructure. Starkware provides scalability and privacy to blockchains, exchanges, and applications through the use of STARK technology, cryptographic proofs that are zero-knowledge.
Developer tools are important so that developers can focus on creating applications with user experience and security in mind. Synthetic Minds helps developers synthesize for vulnerabilities in their smart contracts, automating code auditing. Other infrastructure include fiat-onramps for decentralized applications and node infrastructure for companies/enterprises to interact with blockchains.
Lastly, consumer products like Blockfolio are essential portals to provide data, asset management, and a social network for cryptocurrency holders and enthusiasts. Other types of products include marketplaces around STOs (security token offerings), NFT (non-fungible tokens), and games.
With this new fund, Pantera is looking to increase its investment and portfolio management team, so feel free to apply for analyst/associate roles in addition to a role to help build a portfolio platform.
In other news, BTC is rocketing and almost at $5,000. My fun theory is that the rally started when Asia woke up and that there is a reaction to the April fools article of a Bitcoin ETF being approved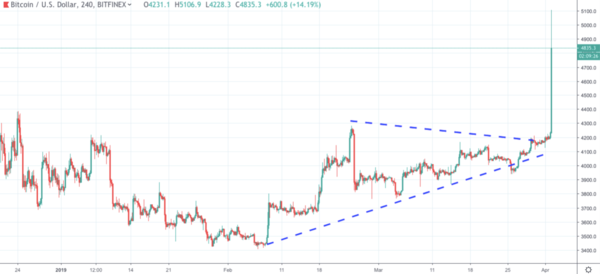 BTC/USD
Digests
BitMEX Research examines the market dynamics of Lightning network routing fees and the financial incentives for Lightning node operators to provide liquidity.
2019 is shaping up to be the year of staking. There are many firms working on products, services, projects, investment products, and initiatives that seek to develop, commercialize, and advance the…
It is now confirmed, the bear market resistance line was broken, as well as the 150 daily MA.
Crypto investors that had the guts to hold through the turbulent times now can relax, the worse is behind them.
Congratulations on surviving this intense bear market, we tried to make you sell but you never let go.
As Bitcoin was making its bull break crypto bulls on reddit /biz tradingview and twitter were exhilarated.
The crowd cheered "This is it!" "The correction is over" "Bears must be crying …
In the Tweets
Crypto world. The regulators that would be relevant here are like not even aware of the question, and would likely not treat it as a priority if they were given the small sums in question. TBH this question feels like concern trolling to me, but have to run it down. https://t.co/704lOA94Zw
7:46 AM - 27 Mar 2019
Online payments will follow password storage and contacts to become a core mobile OS feature, rather than remain with third parties.

Sensors, biometrics, and browser integration all reduce fraud, increase convenience, and enable new features.

Software eats consumer banking.
7:09 PM - 30 Mar 2019
News
Huobi – that had its first successful IEO yesterday on its Prime platform has followed Binance's path with setting token holding rules for IEOs in an attempt to pump the price of the Huobi Token.
Big four auditing firm PricewaterhouseCoopers (PwC) is the top recruiter for blockchain-related jobs on recruitment platform Indeed.
A decentralized crypto lending platform says it has unveiled new features designed to make it easier to access liquidity without sacrificing their portfolio.
Regulations
Switzerland's finance watchdog has found that the cryptocurrency mining firm Envion AG, which raised millions through an initial coin offering (ICO), held the sale illegally and "seriously violated" laws.
Bitcoin ETF proposals show the SEC softening its views and the public remaining ambivalent.
The U.S. SEC has delayed its decision on the VanEck and Bitwise Bitcoin ETF applications
New Products and Hot Deals
Universal Protocol's stablecoin Universal Euro will be pegged to the euro on a 1:1 basis and will allow holders to earn interest.
B3i, a blockchain startup owned by some of the world's largest insurance companies, quietly raised about $16 million last month, bringing its total capital to over $22 million, according to corporate registry filings in Switzerland.
About $118 million has been raised in ICOs in Q1 of 2019, over 58 times less than $6.9 billion, the amount raised in the same period the previous year.
Meet with Me
San Diego, April 12
Los Angeles, April 27
New York, Ethereal Summit, May 10-11
New York, Consensus Conference, May 13-15
New York, Token Summit, May 16
Additional Info
👋 Working on building new technologies? I'd love to hear about it, shoot me an email
🙏 I'd appreciate it if you forwarded this email to someone who would might benefit from it
Please like or react
💡If you have any content you want to share on this newsletter, please send it to me and we can make it happen
Please click here to help me improve this newsletter and your experience by answering ONE question!