Discover more from VeradiVerdict
A weekly newsletter by Paul Veradittakit, crypto investor at Pantera Capital
Over 26,000 subscribers
VeradiVerdict - Payment - Issue #6
Hi, I am Paul Veradittakit, a Partner at Pantera Capital, one of the oldest and largest institutional investors focused on investing into blockchain companies and cryptocurrencies. I focus on early investments and want to share my thoughts and what's going on in the industry in this weekly newsletter.
View and comment this newsletter on Medium
---
Editorials
At Pantera, we have been very excited about blockchain's application in the payment space. Recently, Pantera made a follow-up investment in Veem in a round led by Goldman Sachs, and participated by GV, Kleiner Perkins, and SVB. Pantera led Veem's seed round.
Veem is a global B2B payments company that combines blockchain technology and legacy money transfer infrastructure into a multi-rail platform for optimized business payments. The company aims to offer fast, secure, and low cost transactions for small to medium size businesses by determining the most efficient route for domestic and cross-border money transfers.
The team at Veem has considerable experience in the payments sector. Marwan Forzley (CEO) sold his last company, eBillme, to Western Union. Beforehand, Forzley and his team also worked together at Western Union for several years. We believe Veem's multi-rail approach to optimizing SMB payments is one of the best solutions in the market.
Digests
We at Harbor believe that the next big wave in capital markets will be the tokenization of private securities. Unlike cryptocurrencies, security tokens are ownership in real-world assets, such as commercial real estate, private companies, investment funds, debt, fine art, etc.
Two cryptocurrency projects, Grin and Beam, are close to realizing versions of the Mimblewimble protocol, which combines versions of several cryptographic tricks designed to increase Bitcoin's privacy.
Venture Capital investors' role as active participants in decentralized data networks: staking, validating, voting, curating and running nodes.
In the Tweets
Blockchain Tourists : Ecosystem participants (speculators, entrepreneurs, opportunists etc) who come in during the hype cycles and then leave when things get tough. You can't blame them - by definition, tourists tend to only like good weather...
10:17 AM - 7 Oct 2018
Bitcoin ETF won't happen in 2018. VanEck & Cboe will likely launch first ETF in 2019

But crypto saw many positives already

1. Bakkt
2. Coinbase / BitGo Custody
3. Citigroup, Goldman Custody
4. ErisX / $30 Billion Ameritrade BTC / ETH Futures
5. Crypto Bank in Swiss by UBS Execs
7:42 PM - 6 Oct 2018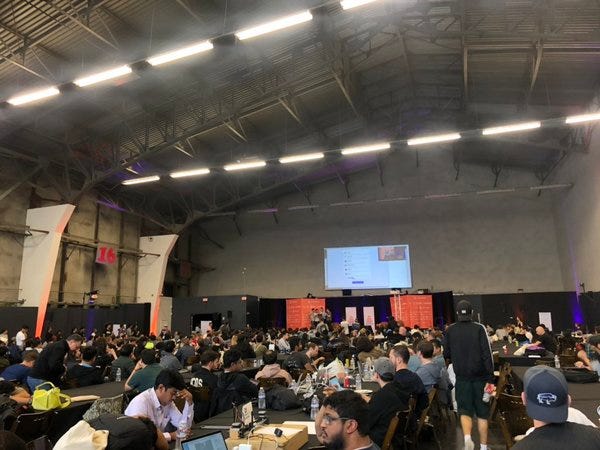 Based on what I saw at #ETHsf, Crypto Twitter's claims of Ethereum's demise have been greatly exaggerated! https://t.co/QqjfdXO98L
3:44 PM - 7 Oct 2018
News
Crypto exchange Gemini has obtained insurance coverage for the digital assets it holds in custody, it announced Wednesday.
While ethereum, the second largest blockchain by market cap, and other smart contract protocols, have been the choice for the majority of entrepreneurs interested in creating new crypto tokens, with a sidechain created by RSK, bitcoin will now have the ability to host the new fundraising mechanism as well.
Yale, the prestigious Connecticut-based academic institution, invested in a $400 million crypto fund operated by veterans in the digital asset sector.
On October 6, Larry Cermak, former editor at Diar, reported that crypto exchange Bitfinex partnered with HSBC, a $133 billion banking giant based in London.
The Bureau of Immigration of the Philippines had ordered the deportation of a South Korean national who is wanted in South Korea over his involvement in a bitcoin pyramid scheme.
Regulations
A "vulnerability" is created every time criminals convert from cryptocurrency to government-issued ones, an official with U.S. Immigration and Customs Enforcement said Tuesday.
The SEC is seeking public comments as it prepares to begin reviewing nine bitcoin ETF applications that it previously rejected.
New Products and Hot Deals
If approved by regulators, the move could allow Circle to help match investors with fledgling companies trying to raise money via initial coin offerings.
Crypto wallet provider Abra is launching a new token in a bid to offer investors more exposure to the cryptocurrency market.
Brokerage giant TD Ameritrade, a slew of high-speed traders, and a long list of Wall Street firms are getting behind a brand new market for crypto called ErisX. The venture, would provide a place for individuals and institutions to trade cryptocurrencies and derivatives tied to digital assets.
The company is in talks with Tiger Global and its existing shareholders for an investment of up to $500 million.
Blockchain startup Skale Labs raised nearly $10 million in an effort to develop a blockchain scalability infrastructure for ethereum, the company announced Thursday.
Meet with Me
I will be traveling this fall for certain events, and to meet with investors. Let me know if you and your colleagues would like to meet in person.
San Francisco, SF Blockchain Week, October 9
Las Vegas, Money 2020 USA, October 21-24
Zurich, Crypto Summit, October 28-29
Prague, DevCon 4, October 30-November 2
Macau, Sora Summit, November 13
New York, Consensus Invest, November 27