Discover more from VeradiVerdict
A weekly newsletter by Paul Veradittakit, crypto investor at Pantera Capital
Over 26,000 subscribers
VeradiVerdict - Portfolio Tracking - Issue #8

Hi, I am Paul Veradittakit, a Partner at Pantera Capital, one of the oldest and largest institutional investors focused on investing into blockchain companies and cryptocurrencies. I focus on early investments and want to share my thoughts and what's going on in the industry in this weekly newsletter.
View and comment this newsletter on Medium
---
Editorials
We recently led Blockfolio's series A round, participated by Mayfield and Pathfinder, Founder Fund's early stage investment vehicle. Blockfolio enables users to track their portfolio from a sleek and thoughtfully designed mobile application. It is the leading mobile-only portfolio tracking app in the blockchain space.
Their platform allows users to receive up-to-date exchange prices and market analysis, set pricing alerts, track their PnL and Cost Basis, and much more. Blockfolio is dedicated to creating an ecosystem within their platform to attract and retain as many users as possible.
The product has attracted more than 4.5 million users to date. It lists over 6,000 cryptocurrencies, and integrates with more than 240 online exchanges, to effectively manage their holdings, check market data, and to receive updates from cryptocurrency project developers.
We believe that Blockfolio has one of the best applications in the market today. Their multifaceted approach of being an on-ramp, asset manager tool, and social network for cryptocurrencies is a blend of functions that few to no other competitors have.
I have been pretty selective about board participation but felt so strongly about this project that I will be joining the board. I have been impressed with Ed Moncada, the CEO, and the rest of the team and believe that the company can be the cornerstone of an emerging blockchain ecosystem in Los Angeles.
Digests
One of the main narratives around Bitcoin is the Digital Gold or Store of Value ("SOV") use case. Naturally compared to Gold, which has historically proven to be the best store of value. With…
Michael J. Casey is the chairman of CoinDesk's advisory board and a senior advisor for blockchain research at MIT's Digital Currency Initiative.
In the Tweets
Fidelity, TDA, and Goldman Sachs, have doubled-down on their cryptocurrency efforts why haven't prices react positively?

Per Anthony "Pomp" Pompliano:

"The good news of today bakes the returns 3 years from now. This is exactly how Jeff Bezos thinks about Amazon!!
11:02 AM - 22 Oct 2018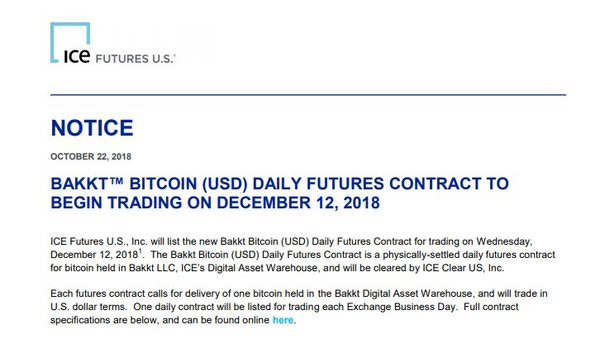 Bakkt will officially begin clearing Bitcoin futures on Dec 12, 2018.

Previously, the US SEC rejected 9 Bitcoin ETFs that based their price on the futures market because the BTC futures market was not sufficiently liquid.

The entrance of Bakkt could change the viewpoint of SEC https://t.co/BhGRCR7Qe2
1:34 PM - 22 Oct 2018
There are more security token exchanges than security tokens 🤷
8:46 PM - 21 Oct 2018
News
Shortly after the announcement that its first crypto product will be physical Bitcoin futures, NYSE parent company ICE has revealed the launch date.
Ticketmaster has scooped up blockchain-based ticketing platform Upgraded, aiming to add a layer of transparency to the ticketing world.
The financial-services firm, which is known for its retail-brokerage and 401(k) offerings, announced Monday its cryptocurrency custody and brokerage solutions for institutions.
Joint efforts with former partner and billionaire Bitcoin bull Mike Novogratz, Goldman Sachs has thrown its weight behind BitGo in a bid to support the custodian's lofty plan to build a "one trillion-dollar crypto wallet" for Wall Street.
The cryptocurrency exchange has overlapping management and owners with Tether Ltd. Both firms have come under increasing scrutiny following USDT's dramatic break with dollar parity last week, when the exchange rate briefly dropped as low as $0.85 on the Kraken exchange. It has yet to fully recover.
ABN AMRO, one of the largest banks in the Netherlands, has launched a blockchain pilot aimed to bring new efficiencies to container-based international trade.
Officially confirmed: decentralized internet project TRON and China's largest internet search provider Baidu will cooperate on cloud computing resources.
North Korea's infamous hacking group, dubbed Lazarus, has managed to steal over half a billion dollars in cryptocurrencies, a report indicates
Regulations
A global money-laundering watchdog has said it will begin publishing rules for international cryptocurrency regulation by next summer.
A new Hong Kong Stock Exchange reports advises that crypto and blockchain should be regulated in consistency with existing regulatory frameworks.
New Products and Hot Deals
Synthetic Minds, which aims to build safer blockchain code, today announced it has raised $5.5 million in a new round of funding from Khosla Ventures and Pantera Capital.
Cobo, a cryptocurrency wallet startup headquartered in Beijing, has raised a $13 million Series A to enter new international markets. Cobo is also now taking pre-orders for Cobo Vault, a hardware wallet that it claims is military grade.
I am excited to announce that Paradigm has raised an equity seed round led by Polychain Capital with participation from Dragonfly Capital and Chapter One. The entire team and I are grateful to be…
Singapore's sovereign wealth fund is investing in the world's largest cryptocurrency exchange by way of its venture wing.
Overstock's Medici Ventures has invested in a blockchain-powered social networking platform Minds, Inc.
Meet with Me
I will be traveling this fall for certain events, and to meet with investors. Let me know if you and your colleagues would like to meet in person.
Las Vegas, Money 2020 USA, October 21-24
Zurich, Crypto Summit, October 28-29
Prague, DevCon 4, October 30-November 2
Macau, Sora Summit, November 13
New York, Consensus Invest, November 27