Discover more from VeradiVerdict
A weekly newsletter by Paul Veradittakit, crypto investor at Pantera Capital
Over 26,000 subscribers
VeradiVerdict —SEC and ICOs — Issue #15

Hi, I am Paul Veradittakit, a Partner at Pantera Capital, one of the oldest and largest institutional investors focused on investing into blockchain companies and cryptocurrencies. I focus on early investments and want to share my thoughts and what's going on in the industry in this weekly newsletter.
---
Editorials
Regulations has been an important topic in the cryptocurrency space this year. Recently, the SEC has brought actions against two ICO projects, and projects are structuring transactions and even re-issuing contracts to better protect themselves, mostly around what type of asset the government sees them issuing and transferability of that asset. Investors are also protecting themselves more in case the company issues or deals with securities and also what constitutes a public launch of the project.
Both companies and investors will likely be spending more money and time to make sure that they can be as complaint as possible and protected.
Digests
I have a hypothesis that digital currency will be widely used in virtual reality, especially in virtual worlds. The reason is simple. When people transact in virtual worlds, it doesn't make sense to use the currency of one country.
Blockchain has been settling within various industries over the years that it has been active. The road has not been smooth. Some hurdles have to be overcome as blockchain continues to prove its worth to both consumers and producers.
Things in Cryptocurrencies are as chilly right now as the winter gets up here in Canada. But here's the thing… the carnage that started in the digital coins has now spread over to other financial markets as well.
In the Tweets
"Bitcoin's and Ethereum's network values are down 81% and 93%, respectively, whereas demand for their respective native functionalities is down 74% and 7%, respectively.

In the case of Bitcoin, 26% of the network activity remains since the peak, while for Ethereum 93% remains." https://t.co/0bKL3w7xhv
2:44 PM - 9 Dec 2018
Despite having Joe Lubin's billions, and despite having 1,200 employees, ConsenSys has accomplished very little and has little revenue -- so it's finally laying off 13% of staff. On. Unconfirmed, Forbes's @JeffKauflin discusses how the company got here. https://t.co/QyEIKWu3yt
5:58 AM - 7 Dec 2018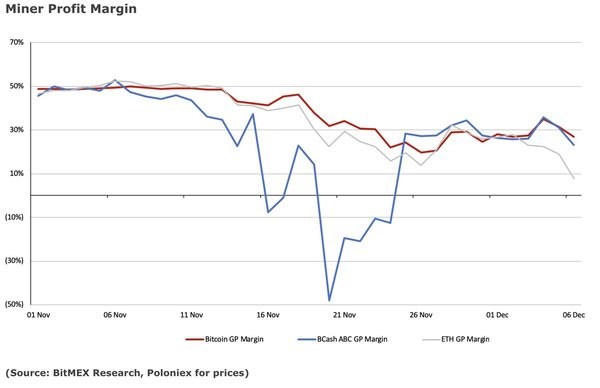 The Price Crash & The Impact On Miners

We analyse the impact the recent price decline may have on the mining industry. The Bitcoin hashrate has fallen by around 31% since the start of November 2018, equivalent to around 1.3m Bitmain S9 machines

https://t.co/aojy9inB0F https://t.co/maixWSPgLY
2:28 AM - 10 Dec 2018
Looks like @facebook is pursuing blockchain. I take issue with their data and privacy breaches, problems that #IOST will be able to make things of the past, but this is an obvious signal for all the naysayers out there that #Crypto is here to stay

https://t.co/79CKp0WYwf
10:05 AM - 10 Dec 2018
News
Mastercard filed the patent Method and System for Anonymization of Electronic Transactions Via Blockchain. The move comes as several multinational corporations attempt to stake intellectual property claims around emerging blockchain technology.
As we announced in September, Coinbase's goal is to offer support for all assets that meet our standards and are fully compliant with local law. Over time, we intend to offer our customers access to greater than 90% of all compliant digital assets by market cap.
In investing there is uncertainty about returns. Some investments do well, others do poorly. But that is not the only risk that investors are concerned about when they are investing professionally on behalf of others. There is also the issue of perception…
You can read more to think about the shortcomings or potential of this specific ETH 2.0 proposal, but I think what Muneeb and team are doing here is very important, and something I've been proposing for a year and a half when I started proposing people share more public due diligence efforts for token sales
Announced Monday, UNICEF is investing $100,000 in six blockchain startups to "solve global challenges using blockchain technology," ranging from healthcare delivery transparency to managing finances and resources.
The Livepeer project is an open source project that is focused on decentralizing live video transcoding and broadcasting over the internet that is built atop the Ethereum blockchain.
Exchange is a core function that underpins the entire crypto economy — from game items to meme markets to local maize markets in Ghana, decentralized exchange is what enables new markets to function in a global and trustless manner.
Token (re)design. Numerai announced an overhaul of their NRM token (including a 50% reduction of supply), following the unveiling of Erasure. It's tempting to see an emerging narrative in this, but Numerai is a rather unique case (a token actually used AND a centralized entity that can implement the changes).
Transaction privacy is a fundamental requirement for many kinds of financial services, and the inability to provide this privacy has prevented Ethereum from providing compelling alternatives to traditional financial instruments. There are several blockchains and blockchain projects that use cryptographic techniques to provide this privacy, but this privacy is reserved for the 'native' cryptocurrency of the blockchain in question.
Regulations
Last week, the U.S. federal court ruled a case between the SEC and a crypto initial coin offering (ICO) project called Blockvest in favor of the project.
The Bitcoin ETF was thought to be coming in early 2019, but it will be delayed again, as the SEC has further pushed back its decision.
Governments will likely focus on two areas: taxation and regulation surrounding offerings/marketing to the public. Having seen that cryptocurrencies are becoming more safely policed, the general public may become more willing to use and adopt them.
Major Korean crypto exchanges have arranged a crypto regulation debate in the National Assembly, discussing Anti-Money Laundering policies and customer protections.
New Products and Hot Deals
This year the Ethereum community went from #hodl to #buidl, with an unwavering commitment to developing decentralized applications. With this in mind, we are happy to unveil the Gnosis Ecosystem Fund (GECO).
Everybody who follows DCG knows that we're extremely excited about Decentraland (you can read more about our thesis here). We own MANA and LAND, and have been actively exploring other initiatives to accelerate the development of the decentralized metaverse. In that vein, we are thrilled to announce Metaverse Ventures, a wholly owned subsidiary of DCG that will invest exclusively in companies building products and services for Decentraland.
After several months of development, I'm excited to finally release the new MKR.tools dashboard. This post will briefly highlight a few of the new features and layout future plans for the dashboard.
We are excited to announce the release of 0x Instant! With just a few lines of code, you can now add crypto purchasing seamlessly to any app or website.
Meet with Me
I will be at the London Blockchain Week from February 8th-14th, 2019. Let me know if you and your colleagues would like to meet in person.