Discover more from VeradiVerdict
A weekly newsletter by Paul Veradittakit, crypto investor at Pantera Capital
Over 26,000 subscribers
VeradiVerdict - Thailand (Southeast Asia Crypto Hub) - Issue #1

Hi, I am Paul Veradittakit, a Partner at Pantera Capital, one of the oldest and largest institutional investors focused on investing into blockchain companies and cryptocurrencies. I focus on early investments and want to share my thoughts and what's going on in the industry in this weekly newsletter.
View and comment this newsletter on Medium
---
Editorials
I hope everyone had a lovely long Labor Day weekend! I would assume that not a lot of people know that I am Chinese-Thai, ethnically Chinese but culturally Thai. My parents emigrated from Thailand to the US, so I have a desire to support the Thailand entrepreneurial ecosystem.
The Pantera team travelled to Thailand a few months ago because we had heard that Thailand was putting themselves in a prime position to be the hub of Southeast Asia for crypto. We already had a portfolio company with a crypto exchange in Thailand so we knew there was some speculative activity.
From our trip, we met with the Ministry of Finance and other folks who suggested that regulations would be more defined in the country and that regulators were interested in creating licenses for both exchanges and ICOs to exist in a compliant way. We have already seen companies applying for both types of licenses. The government talked about a central bank digital currency and using the blockchain for other use cases such as energy and real estate.
One of our other portfolio companies, Omise, has set up a large office space that will encourage more crypto entrepreneurs to learn, discuss, and build crypto companies.
It's still early but I believe that Thailand is setting up the right infrastructure to be the center of blockchain activity in Southeast Asia so it's quite exciting!
Digests
Top five biggest exchange hacks and a chronicle of 2018. What is the modern crypto exchanges' response to the "burn in hell" message from Vitalik Buterin?
So here's how Ethereum ends up succeeding wildly but ETH becomes worthless.
Coinbase shares original research on the growing roster of crypto and blockchain courses at top universities and a Qriously survey showing a steady rise in student interest
The traditional corporate structure heavily favors those that control capital, either through equity or debt financing. The info-tech revolution had already started to erode the primacy of capital as…
While United States regulators are still trying to figure out how to think about cryptocurrencies, Thailand's government is already mapping out its own central bank digital currency.
In the Tweets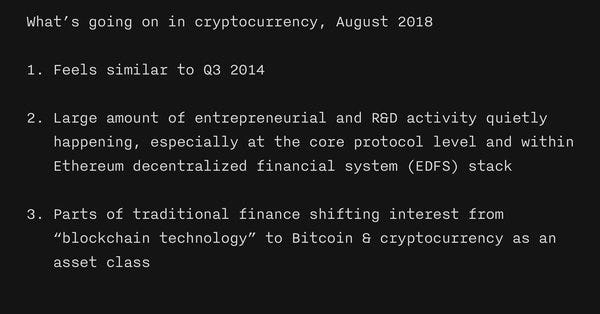 9:25 PM - 27 Aug 2018

I am Craig Wright. https://t.co/8jgR7WPhM8
6:53 PM - 30 Aug 2018
The crypto asset space is filled with grand experiments. We have experiments in governance, in consensus mechanisms, in types of distributed ledgers, in token economics. Some of the best learning is likely to come from spectacular failures.
9:02 AM - 28 Aug 2018
SEC: #Ethereum is too 'decentralized' to be considered a security.

Ethereum: Fifteen of our developers have decided to reduce issuance.

#MuhDecentralization
4:42 AM - 1 Sep 2018
News
A proposal that, if enacted, would change how much new cryptocurrency is released on the world's second-largest blockchain was finalized Friday, with developers agreeing to include the code for such a change as part of Ethereum's upcoming October upgrade, Constantinople.
CBOE Global Markets is planning to launch ETH futures by the end of 2018. CBOE will reportedly base its ETH futures on Gemini's underlying market; the operator also based its Bitcoin futures on the New York-based crypto exchange run by the Winklevoss twins.
The world's 6th-most popular website has launched a service to allow readers to trade bitcoin, Ethereum, and other cryptocurrencies.
Japan's National Police Agency (NPA) is to fund development of new software to help track individuals behind illicit crypto transactions.
Regulations
The South Korean province of Gyeongsangbuk-do will work with blockchain startup Orbs to replace its loyalty scheme with Gyeongbuk Coin.
Need to track virtual currency transactions going opaque, says RBI annual report.
A special economic zone in China's Guangzhou city is following the lead of Beijing's financial district in banning activities that promote cryptocurrencies.
New Projects and Hot Deals
"We need fast confirmation time for a service-oriented blockchain platform. Thus the consensus algorithm of LINK Chain is delegated proof-of-stake consensus and practical Byzantine fault tolerance."
Cloud computing and virtualization firm VMware said Tuesday that it has developed an open-source blockchain infrastructure designed to be both scalable and energy efficient.
DFINITY's approach to the scalability problem is to resolve the dilemma between full decentralization versus delegating the mechanics to nodes or super nodes. DFINITY says it has tested its network to the point where it can finalize software computations in under 5 seconds, which is extremely fast.
The founder behind a $1.4 billion startup unicorn called TMON is revealing he has raised a $32 million seed round to build a stablecoin called Terra, which comes with an existing user base.
Civil Media Company is planning to license the AP's content to its various newsrooms as one aspect of the deal, according to the report. Another aspect will see AP and Civil collaborating to track Civil newsrooms' original content and enable more effective licensing for the blockchain startup.
"We're dedicated to designing an experience that can further simplify how people can access and store cryptocurrency and are thrilled to see the overwhelming support we've received from our partners, investors, and community."
Meet with Me
I will be traveling this fall for certain events, and to meet with investors. Let me know if you and your colleagues would like to meet in person.
Singapore, Cumberland Crypto, September 14-16
Hong Kong, SuperReturn, September 17-18
Singapore, Consensus Singapore, September 19-20
Las Vegas, Money 2020 USA, October 21-24
Prague, DevCon 4, October 30-November 2
Macau, Sora Summit, November 13
Hangzhou, Money 2020 China, November 14