Discover more from VeradiVerdict
A weekly newsletter by Paul Veradittakit, crypto investor at Pantera Capital
Over 26,000 subscribers
VeradiVerdict - What's the secret to Deal Flow? - Issue #34

Hi, I am Paul Veradittakit, a Partner at Pantera Capital, one of the oldest and largest institutional investors focused on investing into blockchain companies and cryptocurrencies. I focus on early stage investments and want to share my thoughts and what's going on in the industry in this weekly newsletter.
Please click here to help me improve the newsletter and your experience by answering just ONE question!
If you were forwarded this email, you can click here to subscribe.
---
Editorials
Last week, I received a few similar questions around how deal flow comes into Pantera. Every investment firm has their own thoughts/strategies on this topic but the overwhelming overlap across all firms is their network. I wanted to shed some light on how I think about deal flow for Pantera and there are three main ways on how deals come in:
1. Network - investors, entrepreneurs, and folks within/surrounding the ecosystem.
Pantera has co-invested with other angel investors and venture capital firms throughout the last 6 years. We rarely take the entire round, syndicating mostly during our second fund deployment and leading mostly during the current third fund deployment.

Pantera has invested into 94 companies across both the ICO and venture strategy. We try to provide general and strategic value to our companies and have gotten good referrals from our portfolio. Good entrepreneurs learn from other good entrepreneurs, and we look to fund the best entrepreneurs.

Pantera is one of the earliest investment funds focused on blockchain/crypto so we taken the opportunity to build relationships with corporations, banks, law firms, and other entrepreneurs.
2. Research - using our theses to actively look for companies that are a fit.
Local on-ramps - Pantera has had a thesis around investing into on-ramps in different geographies. We prioritized certain geographies due to factors like capital controls, inflation, wealth, and mobile penetration.

Developer infrastructure - Pantera has recently invested into infrastructure that fit certain sought-after use-cases like fiat-crypto on-ramp, node/tools as a service, and staking as a service.
3. Inbound - cold emails through our brand recognition.
Thought-leadership - Pantera and its employees speak at conferences, provide newsletters/content, and host events.

Community - Pantera and its employees being active on social media and across communities within universities, surrounding regulations, and inclusive of media.
Below is an estimated snapshot of how the above categories break down: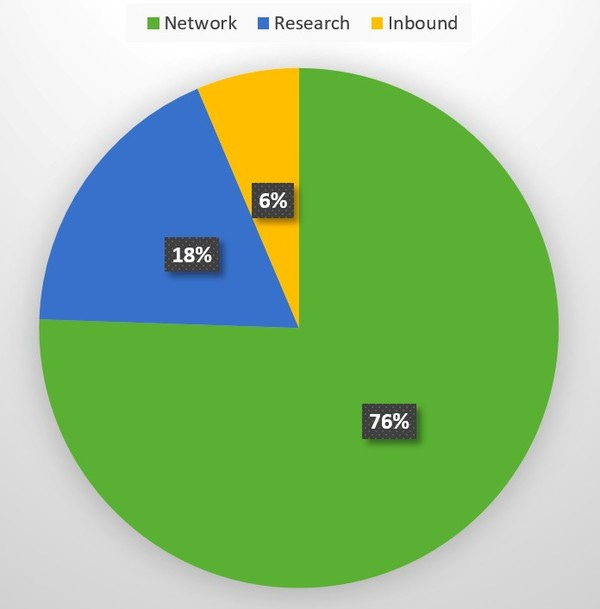 Pantera Deal Source Breakdown
A large majority of our deals are coming through our network while research is second. While we have some that come through cold emails, it is much more rare. We look at every inbound email, but I suggest going through someone in our network to get in touch with us. As an investor, you look for reasons to not invest and getting in touch through someone you don't know shows hustle and helps de-risk the team factor. The ideal situation is to get on an investor's radar and build up the relationship and credibility over time before fundraising. Even if you don't have a conversation, introducing yourself and providing updates/progress go a long way. Strong referrals from other investors and entrepreneurs that we trust along help.
Digests
The panopticon was a prison design conceived by the rationalist Jeremy Bentham, and detailed in his 1798 writings of the same name. As a feat of architecture, the panopticon served to create two…
In the Tweets
This is kinda fake news for a few reasons. #ethereum @AugurProject

1) Almost all of these purposefully confusing markets are being created by one person, not a bunch of people. The activity on those markets is also by one person / address.

https://t.co/9jLIeGqun9
10:18 PM - 19 Mar 2019
News
By Adrianne Jeffries and Russell Brandom
A week ago, 24-year-old Charlie Shrem landed at JFK, home from giving a talk about the virtual currency Bitcoin at an e-commerce convention in Amsterdam….
Finance publication Forbes has released a list of 50 $1 billion firms that are implementing blockchain technology.
Cryptocurrency exchange Gemini announced Monday that it has added "full" support for segregated witness (SegWit), an important bitcoin code change that paves the way for scaling improvements.
Regulations
CFTC Chairman Christopher Giancarlo wouldn't discuss specific proposals, but his general comments about crypto regulation offer hints at the reasons Bakkt is languishing
The Financial Crimes Enforcement Network (FinCEN), a bureau within the U.S. Department of the Treasury, has imposed its first-ever penalty on a peer-to-peer crypto exchange for violating AML regulations, among other violations.
The Technion has filed a civil suit against a faculty member for allegedly profiting from the technology he developed while working at the institute.
New Products and Hot Deals
The new partnership between HMS and Solve.Care aims to reduce government healthcare costs and improve interoperability and accessibility.
Blockchain-powered gaming startup Unitopia has received $5 million in funding to develop a blockchain equivalent of video gaming platform Steam.
China's first blockchain-enabled notary has reportedly opened its offices in Beijing.
Meet with Me
Los Angeles, April 27-30
New York, Ethereal Summit, May 10-11
New York, Consensus Conference, May 13-15
New York, Token Summit, May 16
Additional Info
👋 Working on building new technologies? I'd love to hear about it, shoot me an email
🙏 I'd appreciate it if you forwarded this email to someone who would might benefit from it
💡If you have any content you want to share on this newsletter, please send it to me and we can make it happen
Please click here to help me improve this newsletter and your experience by answering ONE question!