Discover more from VeradiVerdict
A weekly newsletter by Paul Veradittakit, crypto investor at Pantera Capital
Over 26,000 subscribers
VeradiVerdict - Why This Is A Great Time To invest In Crypto - Issue #25

Hi, I am Paul Veradittakit, a Partner at Pantera Capital, one of the oldest and largest institutional investors focused on investing into blockchain companies and cryptocurrencies. I focus on early stage investments and want to share my thoughts and what's going on in the industry in this weekly newsletter.
Please click here to help me improve the newsletter and your experience by answering just ONE question!
If you were forwarded this email, you can click here to subscribe.
---
Editorials
TL;DR:
The bear market is great as companies are focused on building and entrepreneurs are in it for the right reasons
Top talent has come into and continues to come into the space
This is a great time to invest because of favorable valuations. Structures include equity, equity-token hybrid, and discounted SAFTs
Investors are going to find great value and long-term successful companies during this time
Two common questions that I have gotten recently are what I think about this bear market and how is it to invest in crypto at this time?
I think that the bear market is good for crypto as we are going to see significant company building and progress made during this time. Entrepreneurs that are building companies or are starting off right now are in the space for the right reasons and have a long term mentality.
In 2017, there have been reports that over 200 hedge funds emerged to invest in crypto. The most important thing that came out of this bubble was that top talent from Facebook (e.g. Bitwise), Microsoft (e.g. Dirt Protocol), Google (e.g. Origin Protocol), Uber (e.g. Ampleforth), etc have come to build in the space. In 2018, we have seen a tremendous decline in crypto prices likely due to a result of regulations and a massive shake out of non-legitimate projects. With this bear market, many crypto funds are running out of money, corporate development funds are not active, and individual investors have left the market.
For the last few months, I've heard entrepreneurs mentioning that it's been tougher to find investors. While this is happening, top talent continues to see an opportunity to build important infrastructure in this space and are continuing to enter and build. It leaves long term investors an opportunity to invest into companies at favorable valuations at this time, especially for companies that depends upon transaction volume as the main business model. Capital is still available for entrepreneurs but the bar is higher. Entrepreneurs should try to raise a bit more to buffer for the winter while the longer the bear market lasts, the more favorable valuations and structures can be for investors.
Most rounds that are being closed right now are equity rounds, while even companies doing a token later on are considering doing equity rounds while they figure out their token strategy.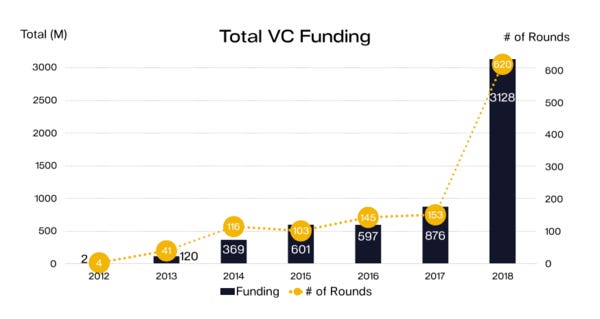 Blockchain VC Funding (by year)
There is an increasingly popular SAFT secondary market emerging where investors are selling discounted SAFTs to other investors. Lastly, I'm also seeing more hybrid equity-token deals where an investment garners exposure in both equity and tokens for the same amount of money invested. Once a token project is ready to launch their token, finding market makers and liquidity is key. Some are still interested in getting their token in the hands of more retail investors and platforms like Coinlist and Binance Launchpad are popular channels.
Thus, investors investing during this time are going to find great value and some companies creating long-term successful companies in this space.
Digests
Institutional investors should consider dipping their toes into cryptocurrencies, according to Cambridge Associates, a consultant for pensions and endowments.
A blockchain-based storage network and cryptocurrency
As described in a new white paper, researchers from the prestigious Swiss university ETH Zurich invented a relay network called SABRE that they hope will one day be built on top of bitcoin.
Many thanks to Lewis Westbury, Deepak Warrier, and Nathan Toups for their thoughtful feedback and contributions to the research for this post. We're also grateful to both Nathan (creator of Kill…
When designing cryptonetworks — really, emerging economies — how do we avoid some of the monetary and fiscal policy failings of "real-world" economies?
In the Tweets
Immediately fundable: mobile/tinder style betting app, overlay over augur, fair prices, swipe right to buy, left to sell, down to see next market, up for all the other chrome/acct stuff, resolve winners asap at 98 https://t.co/Pj1W3ZfAV4
9:28 AM - 14 Feb 2019
As predicted, banks are changing their tune on crypto. But this JPM project misses the point – introducing a closed network today is like launching AOL after Netscape's IPO. 2 years later, and bank coins still aren't the answer
https://t.co/39EAiSJwAz https://t.co/e7t7iz7h21
10:45 AM - 14 Feb 2019
In which way has the new alleged JPMorgan crypto coin anything to do with blockchain/crypto? It is private not public, permissioned not permissionless, based on trusted authorities verifying transaction not trustless, centralized not decentralized. Calling it crypto is a joke
11:25 AM - 14 Feb 2019
News
Mitsubishi UFJ Financial Group (MUFG), the largest bank in Japan and the fifth largest in the world measured by total assets, announced Tuesday, that it is establishing a joint venture with Akamai to launch an open payment network in Japan based on the blockchain.
When "liking" your favorite tweet isn't enough, you can now send small bitcoin transactions.
Polkadot is a global network of blockchains and the foundation for a new, peer-to-peer internet. The platform is powerful enough from a scalability, interoperability, developability and governance…
Dharma Lever solves actual user problems today with a level of UX we expect from today's best products.
Regulations
Apple has submitted what might seem like an arcane filing with the Securities and Exchange Commission (SEC) – but the document contains tantalizing details about the computing giant's interest in blockchain tech.
The Wyoming state government has been expanding its status as a hub for crypto and blockchain technology by passing several new bills this February.
New Products and Hot Deals
Engineers at the lender have created the "JPM Coin," a digital token that will be used to instantly settle transactions in its wholesale payments business.
Chinese search engine Baidu has launched a blockchain operating engine hoping to make decentralized application (dApp) development as easy as creating mobile apps.
Order Domino's Pizza over the Lightning Network from anywhere in the US. Get 5% off, ~30 min delivery and
Meet with Me
Los Angeles, March 6
San Diego, April 12
New York, Consensus Conference, May 13-15
Additional Info
👋 Working on building new technologies? I'd love to hear about it, shoot me an email
🙏 I'd appreciate it if you forwarded this email to someone who would might benefit from it
💡If you have any content you want to share on this newsletter, please send it to me and we can make it happen
Please click here to help me improve this newsletter and your experience by answering ONE question!