Discover more from VeradiVerdict
A weekly newsletter by Paul Veradittakit, crypto investor at Pantera Capital
Over 26,000 subscribers
Virtual Hangouts
VeradiVerdict - Issue #78
Despite being quarantined within our homes to protect the health of our society, it doesn't mean we still can't continue to socialize, strengthen relationships, and build culture. 
Pantera held its first virtual happy hour last week, and it was great to see folks in their natural habitat.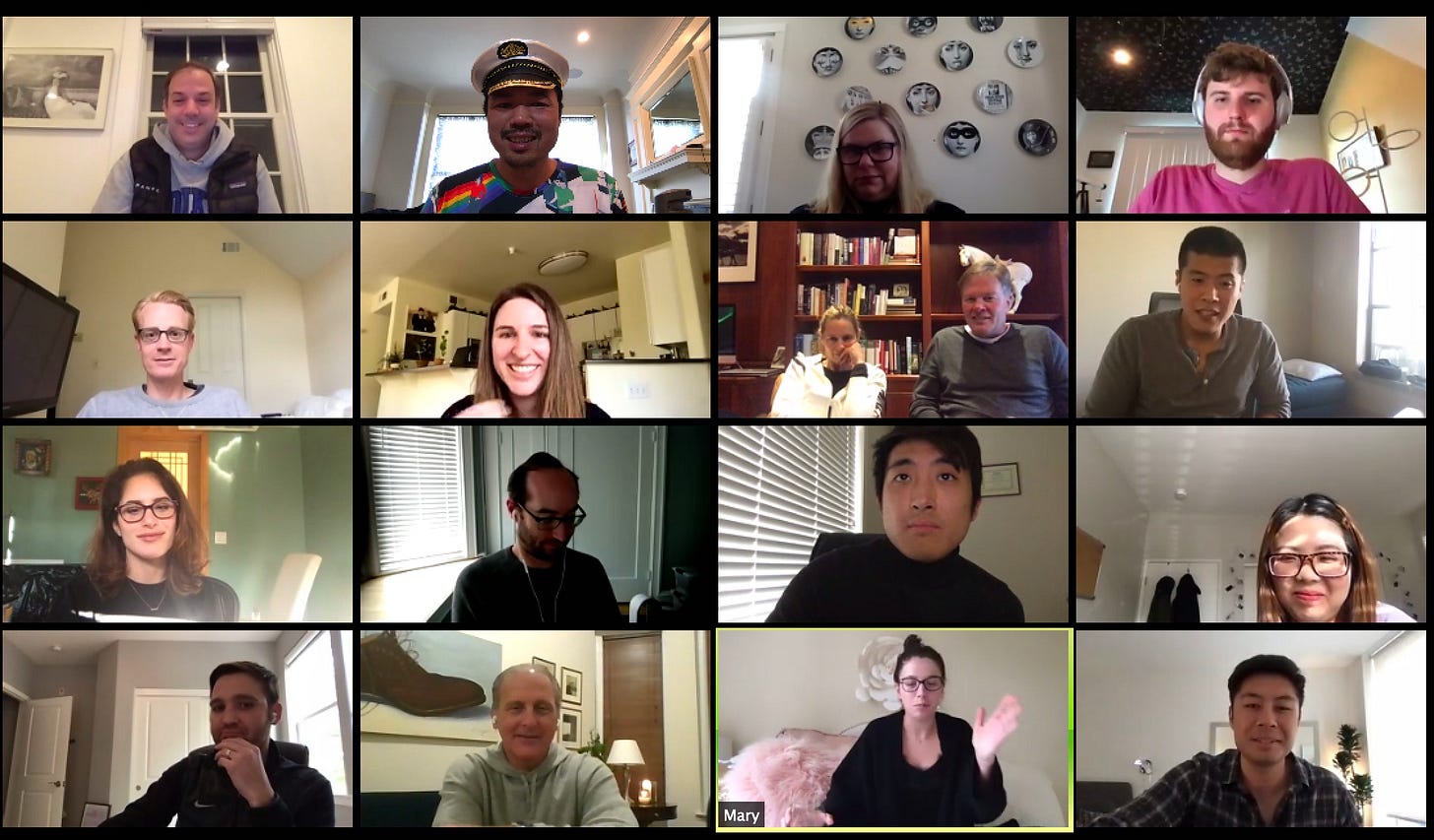 A few parameters below were set and next time we may incorporate some party games:
Drop in/out during a time window
Alcoholic drink preferred
Overall, I had 3 different virtual happy hours last week and whether it's personal or work-related, I think it's important for our mental health during this period to interact casually.
Here are a few other ideas for virtual hangouts:
Poker tournament (pokerstars.net)

Donut (https://www.donut.com/) - slack extension to regularly pair up team members who don't know each other well for conversations

Movie night (https://www.netflixparty.com/)

Company gym on zoom - hire a trainer to train employees online

Facebook messenger hangout with friends - easy face filters for fun
---
DIGESTS
The information below provides the context for the market events and details the impact on Maker, the quick responses from Governance, and the important insights gleaned from the experience. 
In this edition, we analyze recent market activity and Bitcoin's Value Proposition.
---
NEWS
Civic Wallet, protected by Coincover, is Multisig and Non-Custodial, Giving Users More Control When Storing and Transacting With Digital Currency
A recent audit report of ETH 2.0's specifications revealed security vulnerabilities regarding the protocol's P2P messaging system and block proposer system, and Ethereum co-founder Vitalik Buterin claimed that the team is working on the problems' long-term solutions
---
REGULATIONS
A United States District Court has granted an injunction against Telegram, preventing the company from issuing its GRAM tokens at the present time.
---
IN THE TWEETS
---
NEW PRODUCTS AND HOT DEALS
The crypto exchange is looking to pay as much as $400 million for the deal, people familiar with the matter told The Block
Blockchain analytics startup CoinMetrics has raised a $6 million Series A funding round led by returning investor Highland Capital Partners.
---
MEET WITH ME
Walks and jogs at the park, 6 feet apart
Zoom coffee meetings
---
ADDITIONAL INFO
Hi, I'm Paul Veradittakit, a Partner at Pantera Capital, one of the oldest and largest institutional investors focused on investing in blockchain companies and cryptocurrencies. The firm invests in equity, pre-sales/IEO rounds, and cryptocurrencies on the secondary markets. I focus on early-stage investments and share my thoughts on what's going on in the industry in this weekly newsletter.
👋 Working on building new technologies? I'd love to hear about it, shoot me an email
🙏 I'd appreciate it if you forwarded this email to someone who would benefit from it
💡If you have any content you want to share on this newsletter, please send it to me and we can make it happen
Please click here to help me improve this newsletter and your experience by filling out this NEW survey!