Discover more from VeradiVerdict
A weekly newsletter by Paul Veradittakit, crypto investor at Pantera Capital
Over 26,000 subscribers
Virtual Networking with Vitalik Buterin
VeradiVerdict - Issue #82
Yesterday, San Francisco just extended its shelter-in-place order to May 31st. This is the new normal and instead of in-person events and networking, going virtual will be the trend for a while.
Pantera has already started hosting webinars on different topics for its portfolio companies. I've already virtually attended happy hours and demo days in the past few weeks.
Finally, with many Layer One protocols launching starting this summer and into the rest of the year, we are happy to support some of our portfolio companies and other top companies in the space in what we think is the first significant virtual crypto conference since the pandemic, Ready Layer One.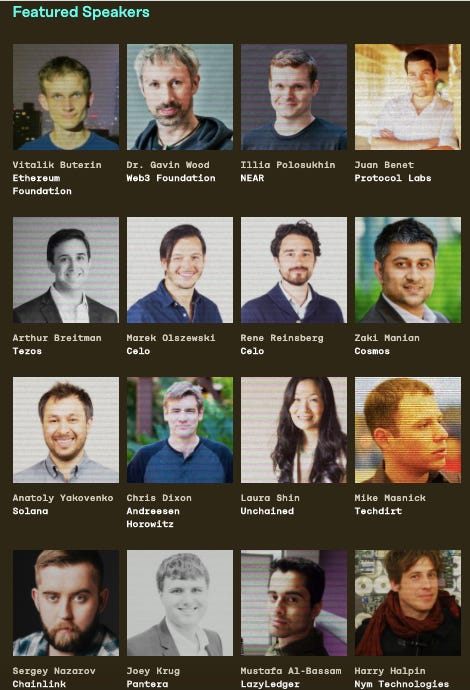 Ready Layer One is taking place next week (May 4-6) and it has hands down one of the best lineups in crypto. It's a 3-day interactive (digital) event organized by Celo, Cosmos, NEAR Protocol, Polkadot, Protocol Labs, Tezos and Solana. Think of it as the intersection between a hackathon, a conference, a masterclass seminar and a vaguely anarchist festival for developers and builders of a decentralized web. Attendees will be able to host their own pop-up talks/workshops and network via video chat with other attendees. 
Speakers include:
- The founders of every co-hosting L1 protocol: Vitalik Buterin (Ethereum Foundation), Dr. Gavin Wood (Web3 Foundation/Polkadot), Juan Benet (Protocol Labs), Arthur Brietman (Tezos) Rene Reinsberg (Celo), Illia Polosukhin (NEAR Protocol) Anatoly Yakovenko (Solana) and Zaki Manian (Cosmos)
- Joey Krug (Pantera) will lead a discussion on Crypto Payments with Neil Bergquist (Coinme), Ryne Saxe (Eco) and Tyler Spalding (Flexa Network)
- Chris Dixon (Andreessen Horowitz) in a fireside chat with Robert Hackett (Fortune Magazine) 
- Laura Shin, host of Unchained, doing a LIVE podcast with the founders of Polkadot, Tezos, Cosmos & NEAR Protocol. 
- Mike Masnick, author of "Protocols, not Platforms: A Technological Approach to Free Speech" 

Tickets are only available via invite or application, but the NEAR team has shared a small allocation of tickets for VeradiVerdict. They are limited and first come first serve, so I'd advise you claim your ticket ASAP before they're gone! Click here to register for your ticket. 
---
DIGESTS
How Startups Should Think About Capital Efficiency
Since January 1, 2020, the share of job postings for cryptocurrency jobs has increased 4.77% on jobs site Indeed.
The Internet tailwinds that propelled Silicon Valley's meteoric growth for decades are stalling out. The ripple effects will jolt the tech industry.
Since launching in 2018, The Block has cemented its position as a source for independent news and research in the digital asset space.
A chat with Set Protocol CEO Felix Feng on social trading
---
NEWS
The CEO of Bakkt, the digital assets platform owned by Intercontinental Exchange (ICE), is stepping down from his post four months after being named to the post.
---
REGULATIONS
The U.S. Securities and Exchange Commission (SEC) and Kik Interactive are both doubling down on their desire for a speedy resolution to a nine-month-old legal case over whether Kik's 2017 initial coin offering was a securities sale. 
---
IN THE TWEETS
---
NEW PRODUCTS AND HOT DEALS
FTX, a cryptocurrency derivatives exchange that has mainly served the Asia market, is planning to launch a spot exchange in the U.S. 
Draper Goren Holm's plugin lets content creators generate passive income with a cryptocurrency exchange.
Applied Blockchain, a London-based enterprise blockchain solutions firm, has raised £2 million (~$2.5 million) in new funding. 
---
MEET WITH ME
Walks and jogs at the park, 6 feet apart, wearing masks
Zoom coffee meetings
---
ADDITIONAL INFO
Hi, I'm Paul Veradittakit, a Partner at Pantera Capital, one of the oldest and largest institutional investors focused on investing in blockchain companies and cryptocurrencies. The firm invests in equity, pre-sales/IEO rounds, and cryptocurrencies on the secondary markets. I focus on early-stage investments and share my thoughts on what's going on in the industry in this weekly newsletter.
👋 Working on building new technologies? I'd love to hear about it, shoot me an email
🙏 I'd appreciate it if you forwarded this email to someone who would benefit from it
💡If you have any content you want to share on this newsletter, please send it to me and we can make it happen
Please click here to help me improve this newsletter and your experience by filling out this NEW survey!