Discover more from VeradiVerdict
A weekly newsletter by Paul Veradittakit, crypto investor at Pantera Capital
Over 26,000 subscribers
What is InstaDApp?
VeradiVerdict - Issue #55
Pantera just led a seed investment into InstaDApp and below you can find out more about the project:
One of the drawbacks of decentralized finance (DeFi) is that a variety of financial actions like lending and trading are distributed among various different products (i.e. Compound, MakerDAO, etc.). It's hard to keep tabs on what assets in each of these platforms are doing, and even harder to move them between platforms to optimize returns.
InstaDApp presents an easy-to-understand front-end portal with an underlying smart wallet layer that visualizes a user's position across a variety of DeFi platforms. It also leverages smart contracts to translate simple user actions (like moving an asset from one platform to another) to the necessary computational steps necessary to execute those actions.

InstaDApp is also entirely non-custodial, which means the decentralization of products and user ownership of assets is still preserved; the only difference is that the experience of asset management is significantly easier. 

InstaDApp currently integrates with Compound, MakerDAO, and Uniswap and has $35 million locked into their platform, making them the 3rd largest DeFi platform globally. This is a 9-fold increase in asset value from this past July, indicating that InstaDApp is a promising product for bringing more people into the DeFi space.
The Inherent Complexity of Decentralization
DeFi (decentralized finance) is one of the fastest growing verticals in technology today; new developments in blockchain architectures, consensus protocols, and economic paradigms have created a variety of products for lending, borrowing, swapping, and trading cryptocurrency assets.
Yet, one of the inherent problems about decentralized finance is that it's decentralized; with more control being given directly to users, DeFi products tend to be fairly separated from one another. There's no one central agency that provides a user with all of the tools it needs to successfully manage their assets. One might access two products for lending, another for borrowing, and so on––to optimize factors like interest rates and maximize returns.
Navigating these platforms and their interactions is a particularly difficult problem, one that might inhibit more individuals from joining the DeFi space. 
So, what's the fix?
Meet InstaDApp. InstaDApp is a user interface that allows individuals to track their blockchain assets distributed over a breadth of products and move them around based on financial paradigms and real-time market data.
InstaDApp natively integrates with a variety of decentralized finance protocols to allow users to visualize the position of their assets at any time in a comprehensible dashboard and make informed decisions about where to move their assets. 
The product makes it infinitely easier for users to move assets and set up financial paradigms to maximize returns. It's essentially a front-end for the collective decentralized financial ecosystem, significantly reducing the barrier to entry for users, particularly non-technical ones.
How does it all work?
InstaDApp links their product to user's holdings in various DeFi platforms and constantly pulls data to display on its dashboards. Prior to InstaDApp, users would have to manually keep tabs on each individual platform to identify optimal interest rates, collateral, etc. InstaDApp summarizes all this information in one-view, drastically reducing the effort necessary to manage one's assets well.
More importantly, when users identified a more optimal asset management position, users would previously need to execute a series of complex transactions to move their assets around; they would have to work with each platform individually to complete these steps, making asset movement an incredibly complicated and frustrating problem. InstaDApp leverages the power of smart contracts to translate simple instructions from a user on where to move their assets into the series of complicated steps necessary to actual move them; it then executes those steps, making the experience of managing assets significantly easier for users. They take no fees for any of these executions; the user only needs to supply the funds to pay the gas price for moving assets.
InstaDApp is also completely non-custodial and stores all transactions and assets in a Contract Wallet that's entirely governed by smart contracts. All data is publicly available, and InstaDApp hold none of the users assets, preserving the security benefits of decentralization but also adding in the convenience of a centralized asset management platform.
What platforms does InstaDApp currently work with?
Right now, InstaDApp allows users to interface with Compound (an algorithmic lending tool), MakerDAO (collateralized loans), and UniSwap (a liquidity reserve). One of its biggest use cases today is its bridge between MakerDAO and Compound which allows users to easily view the advantages of either protocol and make informed, easily-executable decisions on where to move their funds.
How much traction has it gotten so far?
An incredible amount. In July, they had roughly $4 million in assets locked into their platform from users; today, that number is $35 million in assets. Most of that is ETH. This makes them the 3rd largest DeFi platform in the world, only after MakerDAO and Compound (which they integrate with).
Their 9-fold increase in value after a very short period of time is highly promising, indicating high interest in a front-end product like this and also growing general interest in the DeFi ecosystem.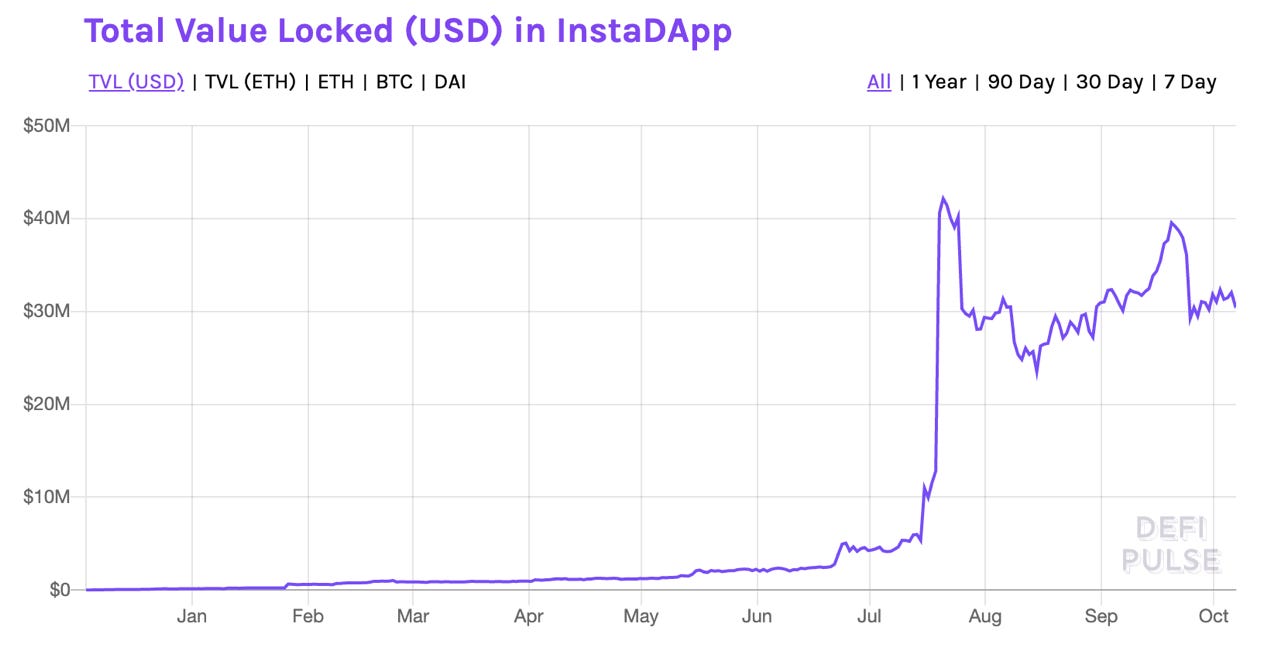 InstaDApp's Growth Since Launch [Source: DeFi Pulse]
Final Thoughts
Ultimately, InstaDApp significantly simplifies the experience of asset management in the decentralized finance world. It preserves the benefits of decentralization by operating as non-custodial and leveraging smart contracts to ensure that users always have 100% control and ownership of their assets. However, it greatly improves convenience for users by providing them with a single product that can help visualize their assets' positions and easily move their assets around to optimize returns and maximize profits.
InstaDApp's convenience add is critical in advancing the stage of decentralized finance. Though decentralization is valuable, it inherently has some friction with onboarding new users because there is no central entity through which a user can control all of their positions and assets. InstaDApp makes it much easier for new users to engage with the decentralized space, creating a promising future for the product, but also the ecosystem of DeFi itself.
---
DIGESTS
This research presents VPN⁰, the first distributed virtual private network offering a privacy preserving traffic authorization and validation mechanism.
---
NEWS
Prompted by a flailing economy and plunging fiat currency, Venezuela is one of the world's largest markets for bitcoin adoption. According to data from LocalBitcoins, Venezuelans have purchased over $250 million worth of BTC in 2019 to date.  
InstaDApp is a DeFi portal that aggregates the major protocols using a smart wallet layer and bridge contracts, making it easy for users to make the best decisions about assets and execute previously complex transactions seamlessly.
---
IN THE TWEETS
---
REGULATIONS
The firm has reached a settlement with the SEC regarding the sales of two financial products it offered in 2014 and 2015.
A group of individuals is lobbing a $1.4 trillion class action lawsuit against the company behind Bitfinex and Tether, the latest in the company's looming legal battles.
---
NEW PRODUCTS AND HOT DEALS
A protocol built to put financial middlemen out of business has secured a $5 million seed round led by Pantera Capital.
Ethereum scaling network SKALE has raised over $17 million in new funding.
---
MEET WITH ME
Osaka, Devcon 5, October 8-11
Tokyo, October 15-17
San Francisco, Pantera Blockchain Summit, October 21-22
San Francisco, SF Blockchain Week 2019, October 28 - November 1
Singapore, Singapore Fintech Festival, November 11-13
Bangkok, November 14-15
Los Angeles, November 25-29
---
ADDITIONAL INFO
Hi, I'm Paul Veradittakit, a Partner at Pantera Capital, one of the oldest and largest institutional investors focused on investing in blockchain companies and cryptocurrencies. The firm invests in equity, pre-sales/IEO rounds, and cryptocurrencies on the secondary markets. I focus on early-stage investments and share my thoughts on what's going on in the industry in this weekly newsletter.
👋 Working on building new technologies? I'd love to hear about it, shoot me an email
🙏 I'd appreciate it if you forwarded this email to someone who would benefit from it
💡If you have any content you want to share on this newsletter, please send it to me and we can make it happen
Please click here to help me improve this newsletter and your experience by filling out this NEW survey!