Discover more from VeradiVerdict
A weekly newsletter by Paul Veradittakit, crypto investor at Pantera Capital
Over 26,000 subscribers
China's President Embraces Blockchain Technology
🎃VeradiVerdict - Issue #57🎃
Last week, the price of Bitcoin briefly eclipsed $10,000/BTC. The driver behind this was the news that China's President Xi Jinping stated that blockchain would be important for the next round of technological innovation and industrial transformation. He mentioned that the blockchain can be disruptive in fields such as finance, education, employment, elderly care, poverty alleviation, health care and food security, infrastructure management, and public services. Entrepreneurial push of blockchain in China is not new, and I've previously mentioned that China has been pretty positive on the use of distributed ledger technology for commercial enterprise projects.
Two projects that have taken an active role in enterprise blockchain in China include VeChain and PlatOn. VeChain provides a Blockchain-as-a-Service platform for use-cases such as supply-chain finance and IOT, while PlatOn is working on a smart cities initiative for Hangzhou, the tech city that is home to Alibaba.
As you can see from the graphic below, the news contributed to a growth of search for both Blockchain and Bitcoin on both WeChat and Baidu, and a correlated increase in the price of BTC when China woke up on 10/26/2019.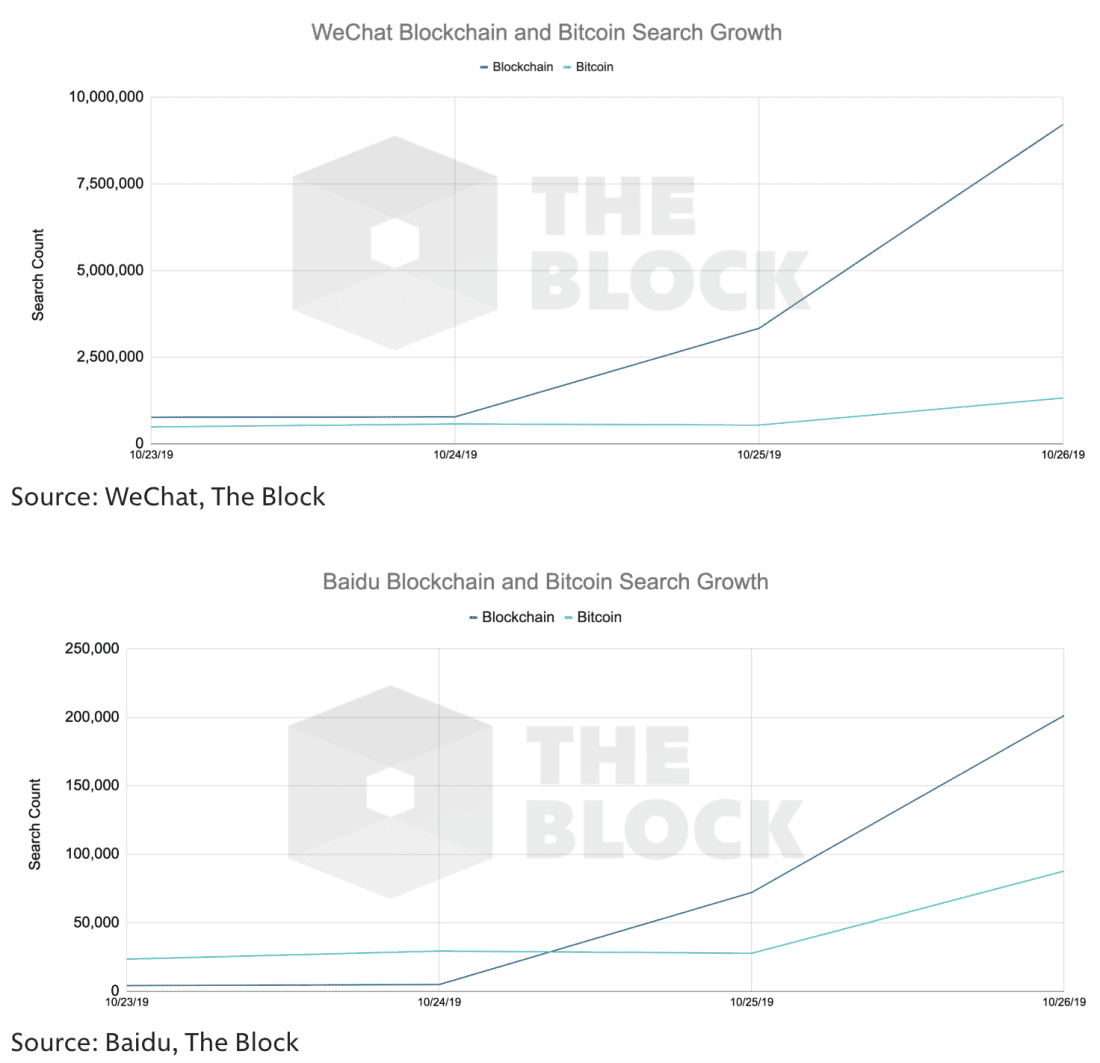 What's interesting is that the President of China was talking about Blockchain and not Bitcoin, yet there is high correlation between Blockchain and Bitcoin in the media and it was reflected in price. A day later, there was an announcement of a new law to be passed on January 1, 2020 that will help tackle some of the regulatory and legal issues of commercial cryptography use-cases. The new law will also promote educational efforts for blockchain onto government officials. Cryptocurrencies are still banned in China and likely won't change as China plans to launch its own nationwide digital currency soon. Huang Qifan, Vice Chairman of China Center for Economic Exchanges (CCIEE), stated that China will be the first central bank to offer its own sovereign digital currency and has been working on it for the last 5-6 years.
On Oct 24th, the PBCC of China held a collective study that emphasized on the directory and regulation of the blockchain technology and its related security risks. One potential implementation within the party is a registration platform for all party members. There are over 80 million CPC members in China as of 2015. The data of party members are previously stored in local databases across the country. Because of the fluidity of party members today, there are errors and lags in the data gathering process of local bureaus.
If all the members have their information registered on a blockchain, data accuracy and authenticity can be ensured nationwide. The platform can service as a convenient tool for member identification or regional transfer.
Each provincial or district Party organization can serve as a node of the blockchain system. With hybridchain technology, each node has different clearances and can participate in the maintenance of the local database.
What is the significance of this news?
President Xi Jinping's statement is very positive for blockchain in China and a strong chess move in the race between US and China for blockchain innovation. China's development of its own digital currency and push for more education and commercial use-cases of blockchain across different enterprise verticals are significant and should be interesting to compare against public blockchain (open financial system) use-cases like decentralized finance. Nevertheless, it would be great to see some additional progress from the US around legal and education for blockchain and cryptocurrency. 
---
Pantera SFBW Events
Tuesday 10/29/2019 - Launching Token Ecosystems with Pantera Capital, Circle, Seedinvest, NEAR Protocol, bloXroute, Polkadot, and Oasis Labs
Wednesday 10/30/2019 - Meter Up: The State of DeFi Interoperability with Pantera Capital, Proof of Capital, Primitive Ventures, Paradigm, and 1kx
Wednesday 10/30/2019 - Do Blockchains Dream of Cryptographic Sheep? with Pantera Capital, Vega Protocol, and NEAR Protocol
Thursday 10/31/2019 - The How of Howie: Telegram, Blockstack, and the Future of Utility Tokens - 4pm
---
DIGESTS
Previewing Bakkt's focus on payments in an evolving landscape
---
NEWS
A recent report by Binance highlighted how staking as a service has evolved from a promotional gimmick in its early days to a consensus defining parameter. The report highlighted that the staking services on the top 10 chains accounted for a $25.8 billion in market cap.
A senior Chinese foreign-exchange regulatory official called for "special attention" to be paid to blockchain as the nation looks to gain advantages from digital finance.
China's Communist Party (CPC) is taking its leader's support for blockchain to heart. Following Xi Jinping's bombshell speech last week urging his countrymen to "seize the opportunity" created by the technology, the CPC released a decentralized app (dapp) for members to attest their loyalty on a blockchain.
---
IN THE TWEETS
---
REGULATIONS
The Standing Committee of the 13th National People's Congress in China passed a cryptography law on Saturday that will be effective on January 1, 2020, according to a Chinese media report.
---
NEW PRODUCTS AND HOT DEALS
Institutional cryptocurrency custody provider Anchorage has launched an on-chain governance voting platform for MakerDAO's Maker (MKR) token holders, in an attempt to increase voter turnout.
Bitcoin derivatives provider Bakkt has announced the launch date of an options contract for its bitcoin futures
BitPesa, a Nairobi-based Cryptocurrency liquidity platform has raised $16 million and formed a new holding company AZA Group, to run its brands BitPesa, TransferZero and BFX.
---
MEET WITH ME
San Francisco, SF Blockchain Week 2019, October 28 - November 1
Singapore, Singapore Fintech Festival, November 11-13
Kuala Lumpur, November 14
Bangkok, November 15-19
Los Angeles, November 25-29
---
ADDITIONAL INFO
Hi, I'm Paul Veradittakit, a Partner at Pantera Capital, one of the oldest and largest institutional investors focused on investing in blockchain companies and cryptocurrencies. The firm invests in equity, pre-sales/IEO rounds, and cryptocurrencies on the secondary markets. I focus on early-stage investments and share my thoughts on what's going on in the industry in this weekly newsletter.
👋 Working on building new technologies? I'd love to hear about it, shoot me an email
🙏 I'd appreciate it if you forwarded this email to someone who would benefit from it
💡If you have any content you want to share on this newsletter, please send it to me and we can make it happen
🎃Happy Halloween
Please click here to help me improve this newsletter and your experience by filling out this NEW survey!